The 'Schitt's Creek' Scene That Had Catherine O'Hara Laughing the Hardest
There's an abundance of fantastic original streaming content available today, which is both good and bad. On the one hand, it's nice that you can almost always find something enjoyable to watch, but on the other, it's increasingly difficult to find truly memorable shows. It is possible, however, and one of those needles in a haystack was the Canadian sitcom Schitt's Creek, which aired on CBC from January 2015 to April 2020. 
Every aspect of Schitt's Creek was well done, from the perfectly snarky writing and incredibly well-developed characters to the countless memorable scenes and one-liners. It's no surprise that Schitt's Creek fans all over the world have favorite moments, but they're not the only ones — the cast members each have their favorites as well.
According to the Canadian Broadcast Corporation's website, there was one scene in particular that actress Catherine O'Hara couldn't stop laughing about.
The 'Schitt's Creek' hype
Schitt's Creek has often been compared to fine wine, getting better with age. When it initially aired on CBC, it enjoyed a warm reception — in Canada. It wasn't until Netflix picked up previous seasons in 2017 that it became a pop culture phenomenon all over the world.
What made the show so popular was primarily its relatability. Vulture explained the plot line perfectly when it wrote: "The show imagines what would happen if a superrich family of socialite royalty — think the Kardashians — suddenly found themselves nearly penniless and living out of a motel room in the middle of nowhere."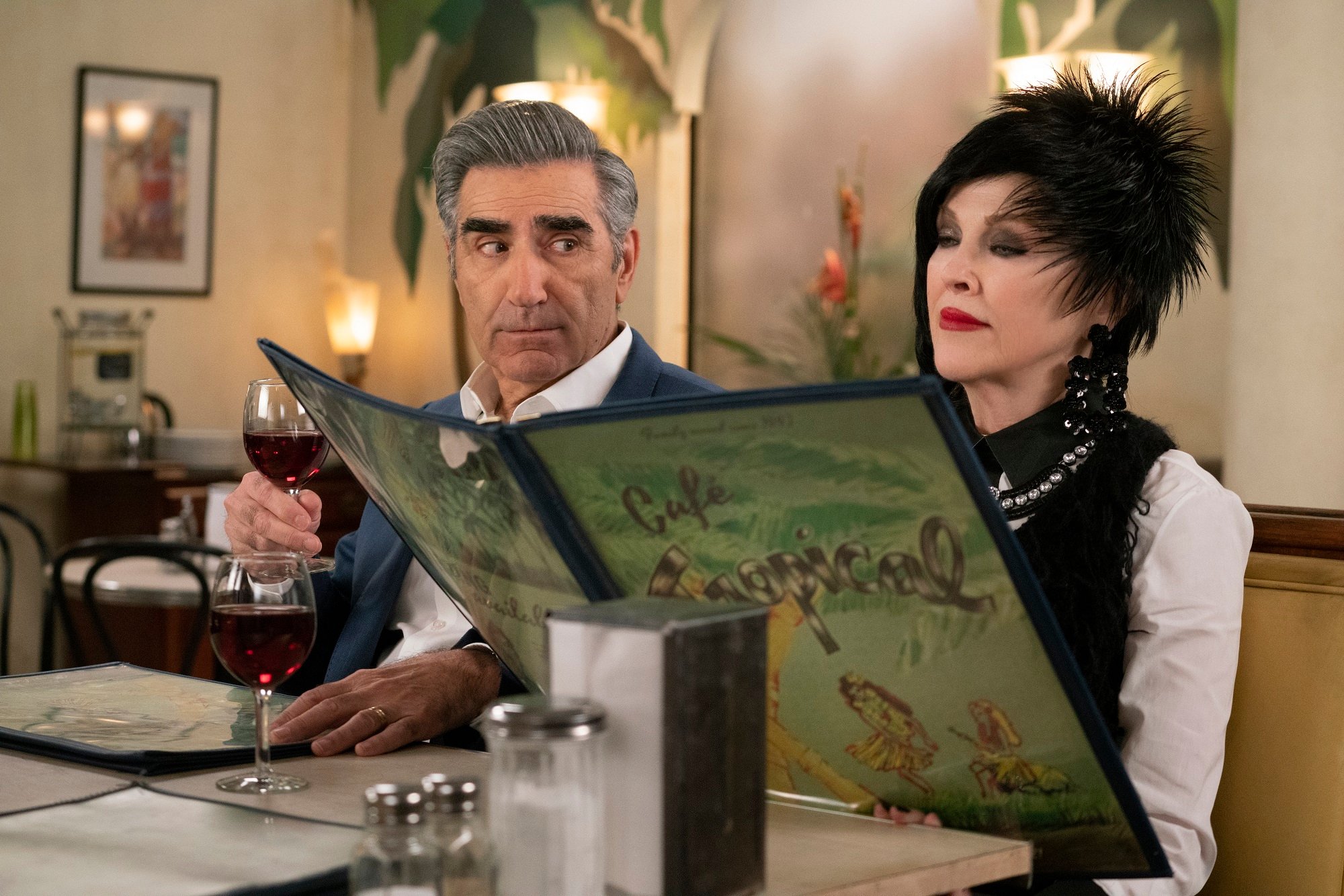 The "superrich family" refers to the Roses, headed up by Johnny and Moira Rose (played by Eugene Levy and Catherine O'Hara), and they're uber-spoiled adult children, David and Alexis (played by Dan Levy, who is Eugene's son, and Annie Murphy).
The Roses, who made their money in successful video rental stores, were frauded by their business manager and lose essentially everything — all but a hole-in-the-wall town called Schitt's Creek, which was purchased years ago as something of a joke. While few of us are superrich (or even moderately wealthy, if we're being frank), almost everyone can relate to the trials and tribulations the Rose family goes through.
There's loss, love, personal development, and the oh-so-real complex relationships all families have. 
Canadian comedy queen Catherine O'Hara
Schitt's Creek simply wouldn't have been the same without the perfect amount of drama O'Hara brought to Moira's character. Well-known in Canada and the U.S. as a veteran on the silver screen, O'Hara got her start in the 1970s in Toronto's Second City improv comedy troupe, where she worked alongside comedy greats including John Candy, Dan Akroyd, and Schitt's Creek co-creator Eugene Levy. 
O'Hara is perhaps best known for playing Kate McCallister, Kevin's mom in the 1990s' box office hits Home Alone and Home Alone 2: Lost in New York. She played an equally iconic role on Schitt's Creek as the Rose family matriarch and former soap opera star, winning over fans and industry critics alike with her elaborate collection of wigs and mysterious accent.
The actress nabbed a Canadian Screen Award for best lead actress in a comedy, and her award was one of a record-breaking 26 total for Schitt's Creek, according to Hello! magazine.
The scene that made O'Hara LOL
O'Hara has had many memorable career moments. She's improvised on-screen, she's been starstruck, and she even met her husband on a movie set (Beetlejuice). There was one particular scene on Schitt's Creek that made her laugh so uncontrollably she'll likely never forget it.
In January 2020 on The Tonight Show Starring Jimmy Fallon, O'Hara told Fallon that the hardest she'd ever laughed while filming was when Moira and David were selling Allez-Vous, a pyramid scheme makeup brand. David had tested tanning cream on his face and O'Hara said he "looked like a goldfish caught in headlights."
Trying to control her laughter even then, she said: "I couldn't stop, I was so unprofessional." Imagine a veteran actress like O'Hara giggling nonstop beside you. No wonder the world loves her!