The Secret That Elvis Presley Asked Linda Thompson to Keep to Spare Priscilla's Feelings
Elvis Presley had his share of romantic entanglements during his lifetime. While Priscilla Presley is probably his most famous partner, he was also linked to Peggy Lipton, Cybill Shepherd, Ginger Alden, and Linda Thompson.
Thompson, who was once married to and had children with Caitlyn Jenner, dated Presley for a few years after his split from Priscilla. During her time with the rock star, he once advised her on how to keep things cool to avoid hurting Priscilla's feelings.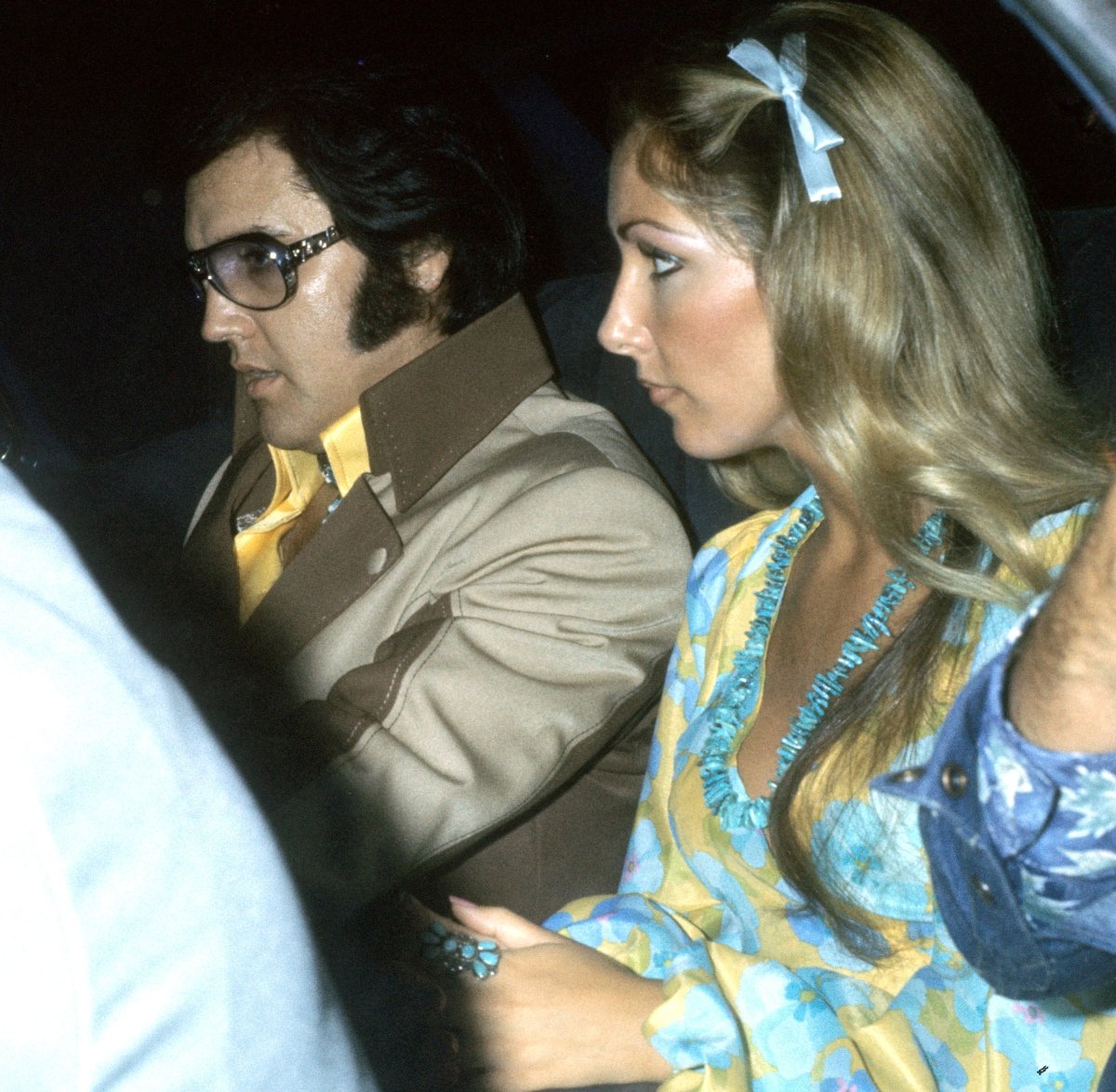 Elvis Presley wooed Linda Thompson on their first meeting
Fresh off of winning the Miss Tennessee Universe crown, Thompson and one of her pageant friends met Presley at a movie screening in Memphis. They received a last minute invitation to the event from one of her friends, and it was at a theater where he used to hold after hours showings.  
Thompson and Presley flirted all evening, and by the end of the night, had made out for most of the double feature. Thompson wrote in her memoir A Little Thing Called Life: On Loving Elvis Presley, Bruce Jenner, and Songs in Between that she gave him her number that night and she saw him again two weeks later.
Once she returned from her family vacation, he arranged for her to travel to Las Vegas, and thus began the relationship between the young college student and the King.
For her first trip with him, he arranged for a limo, plane, and hotel, and Thompson described the experience as "feeling like I was safely living in the pages of a fairy tale."
When Thompson met Priscilla Presley, Elvis had conditions
It's no secret that Elvis still cared deeply about his ex, Priscilla, even after their breakup. They treated each other well. Thompson's initial encounter with Priscilla happened not long after she met Lisa Marie for the first time.
In her book, she said Elvis had to attend a parent conference. He wanted her to join him and wait in the car as she'd probably meet his ex after. Thompson said he prepped her for the meeting.
He said to her, "Honey, do me a favor. You're probably going to meet Priscilla. Don't wear all the rings and other jewelry I've given you because I never gave Priscilla that much jewelry." Elvis continued, "I gave her things, sure, but not nearly like I've showered you with gifts. I don't want to make her feel bad."
Thompson wrote she adored Lisa Marie and Elvis, and the last thing she wanted to do was make Priscilla feel bad. She removed all her baubles and hid them away.
Presley made the introduction and Priscilla was very kind and cordial, and thanked Thompson for treating Lisa Marie well.
A young Lisa Marie gave Thompson a new understanding
Thompson expressed she was conscious about making sure Presley felt comfortable. When Lisa Marie came out to Las Vegas for her birthday party, the little girl let something slip. While having a fun moment playing dress-up, the tot casually told Thompson her mother didn't like her.
Thompson took it in stride as a kid moment, and Lisa Marie revealed the reason. "Well, my mommy says it's because when she was married to my daddy, he didn't take her anywhere, but my daddy takes you everywhere. You are always with my daddy, and my mommy never got to be with my daddy. So that's why."
This didn't upset Thompson, but it made her feel sad for Priscilla. "I knew the situation Lisa had described was quite true," she wrote. She added that she traveled everywhere with Elvis and he explained to her that wives didn't come on tour.
At the time, Thompson said she made a mental note to herself to remain a girlfriend. She stayed with him for more than four years.