The Secret to Salma Hayek's Stunning No-Makeup Selfie Glow is No Secret
Actress Salma Hayek's make-up free Instagram post this week had jaws dropping. The Like A Boss star is 53, after all, and looks easily ten years younger.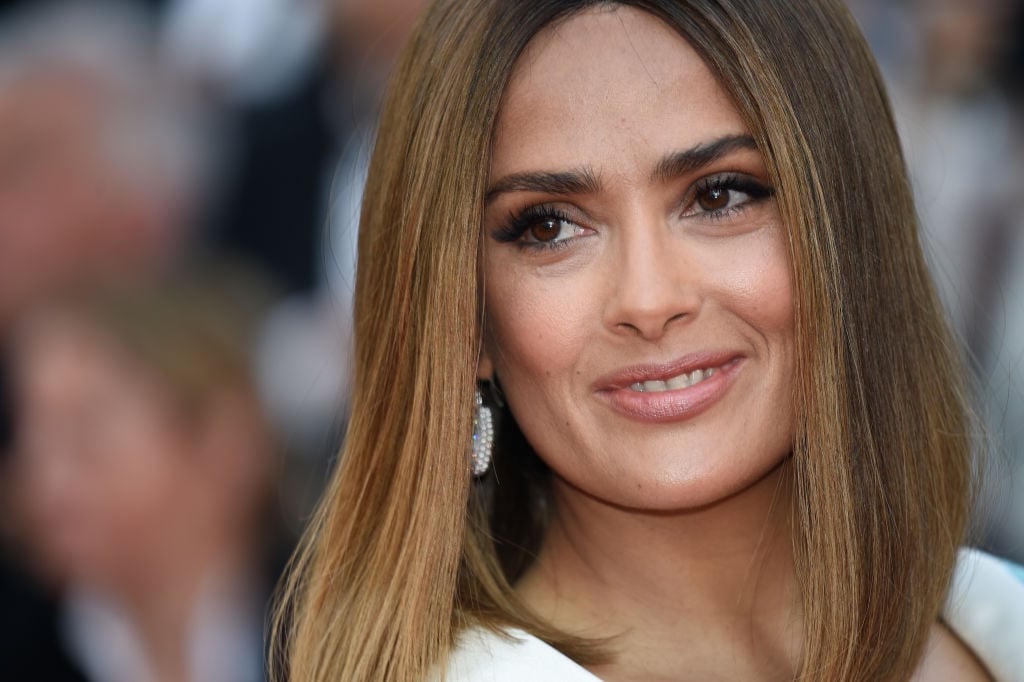 And while her gorgeous looks surely have genetics in their favor, she's made clear in the past that taking care of her skin is no secret. Here's what she has shared.
Salma Hayek swears by her grandmother's skincare regimen
Hayek learned, by watching her grandmother, that women can age gracefully and gorgeously. With a "less is more" philosophy, Hayek has achieved, at an age that many in Hollywood consider "expired," a flawless beauty that leaves observers concluding that it must be genetics. It isn't.
RELATED: Why Salma Hayek Turned Down 'Selena' and What She Really Thinks of Jennifer Lopez's Performance In the Movie
"I think that my beauty routine, and how I see beauty is from what I've learned from my grandmother," the Mexican-Lebanese star explained to Glamour. "It made me realize that there are things that were not out there because [most brands] go by trends. There are things that are really good that are pushed to the side just because they're trying too hard to sell you the new thing to always create some kind of event." 
Salma Hayek's not-so-secret beauty secrets
The actress imparted to The New York Times in 2017 the beauty lessons learned from her grandmother, including and seemingly most importantly, don't over-cleanse your skin. Especially, don't wash your face in the mornings.
"I never cleanse my skin in the morning. My grandmother taught me that at night your skin replenishes all the things you lost during the day. Also, if I cleanse very well at night, why would it be dirty when I wake up? It's for companies to have you use more products."
RELATED: Salma Hayek Says This 1 Thing Is the Worst Part of Getting Older
The mother of one – Valentina, 12 – is a firm believer in keeping it simple. Overcomplicating skincare leads to frustration and abandoning the discipline altogether.
"I spritz rose water — it's so gentle and wakes the skin up," she said. "Then I apply moisturizer. . . I don't do sunscreen unless I'm going to be out in the sun all day. Why? I don't think the chemicals in sunscreen are good for your skin. I believe in using it when you need it."
She also warns against exfoliating too much. "Exfoliating a lot may make you look good in the short term," Hayek said, "but not I think in the long term. I see many women in L.A. who have exfoliated so much they look shiny."
Her recent flawless Instagram post
Hayek's Instagram post, in which she appeared to have been swimming this week, showcased her dedication to her grandmother's beauty philosophy saying simply, "Agua #water#nomakeup."
RELATED: The Time Salma Hayek Impulsively Breastfed Someone Else's Baby
Her astonished followers remarked, "As a Latina woman I am so proud to call you my hero ! You make us all so proud. You're beautiful inside and out!" and "I love that you post REAL natural photos, refreshing to not see photoshopped perfection. Thank you."
RELATED: What Is Salma Hayek's Net Worth and What Is Her Background?