The Stars of 'Killing Eve' Don't Think There Can Be a Happy Ending; Maybe That's The Point
The central relationship on 'Killing Eve' is between Villanelle and Eve. They've come a long way, but can they actually have a happy ending?
The main attraction to the show Killing Eve is the strong connection Sandra Oh's Eve Polastri and Jodie Comer's Villanelle have toward each other. And not only that, but also that their bond is so strained and tension-filled. The "cat and mouse" game from Season 1 has turned into something much deeper for both of them, but that doesn't mean a happy ending is in the cards for the main characters. [Spoiler alert: Spoilers ahead for Killing Eve, through Season 3].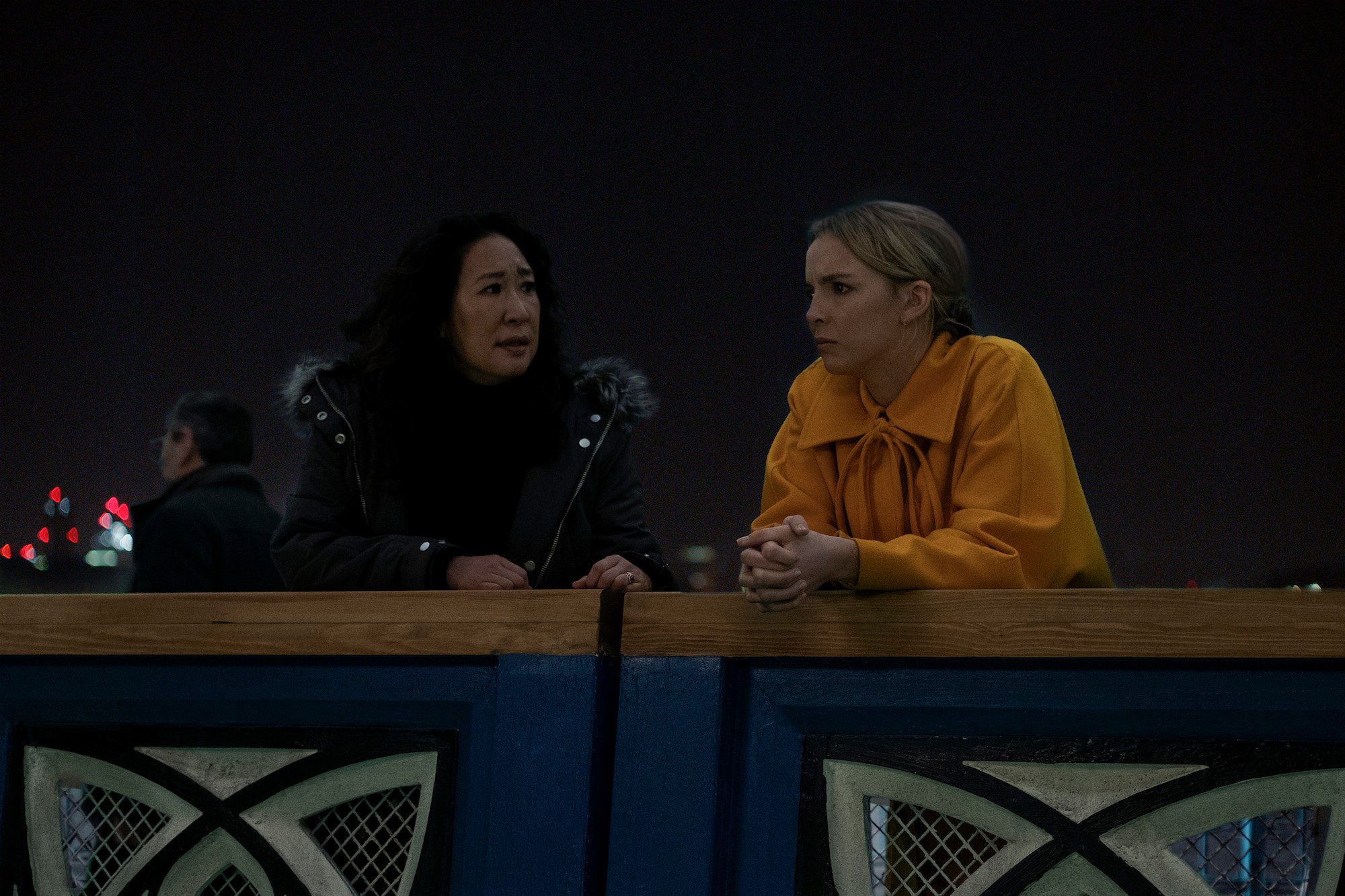 Villanelle and Eve have always had a tumultuous 'relationship'
When fans are first introduced to the lead characters, Eve is at a stable, yet boring, job with MI5. She's then recruited into MI6 by Carolyn due to Eve's knowledge of female serial killers. And, of course, her fervor for Villanelle, specifically. And Villanelle is a seemingly psychopathic assassin for The Twelve who really has no issue murdering people for money. She loves the drama of dressing up and getting a kill. 
The two become absolutely obsessed with the other and the tension is palpable through the screen. Whether the tension is because they're trying to figure the other out, or straight-up sexual tension, Eve and Villanelle are glued to one another. 
The end of Season 1 finished with Eve stabbing Villanelle in the gut while her guard is down. The Season 2 ending showed Villanelle shoot Eve in the back when she refused to run away with her. But Season 3 ends with the two at an impasse on a bridge, both sort of at peace with where they've been. Could they be getting closer to a happy ending overall? Not so fast. 
Comer thinks the two 'walk away' from each other at the end of Season 3
For one, that Season 3 finale didn't really hint at the two getting together. It's completely up to the viewer's interpretation, and it could go either way until fans get an answer in Season 4. But for Comer, the two don't walk back to each other 
"I feel like they both walk away," Comer shared in a BAFTA live stream interview on June 5. "I think initially, I think they both walk away. Who knows. Season 4 is a whole — who knows what's gonna happen. But I think they walk away in that moment, what sits is that moment."
Judging on the scene, the characters, and their faces, it seemed like Eve turned back around because she didn't want to walk away. When Villanelle suggested it, Eve put up some resistance. And Villanelle turned back around almost like she knew Eve would do the same, but was double-checking. 
However, Villanelle's growth in this season alone is so different to the character seen in the last season's finale. Whereas she tried to manipulate Eve into staying with her, claiming her as an object in Season 2, this Villanelle gave Eve the choice to leave. Many theorize they don't walk away, but for Comer, she sees that as a break they might both need. 
Neither Comer nor Oh see a happy ending on the horizon for Villanelle and Eve
So, as for how the whole series will end, could there be a nice, domestic ending for Villanelle and Eve? Well, if you've been watching these characters and mesmerized by their story, the answer should be a resounding "no," or at least a "probably not." And the two lead actors agree. 
"I'm not sure I see a true happy ending for Villanelle, because I think her own worst enemy is herself and we all know that's impossible to get away from," Comer told The Toronto Sun on May 29. 
Even with Villanelle's growth, and her desire to distance herself from her assassin side, she's still Villanelle. And as Comer stated, she might not be able to overcome "her own worst enemy." 
Oh said the same thing, citing the inherent drama that the show possesses. 
"No, and I think that's what makes great drama," Oh told Variety on April 17. "I think that's what makes great romance. It's the yearning that brings people in. It's that dramatic storytelling. It's based on desire and yearning."
The gay yearning of these two women is very intense and very intriguing for the audience; it's the whole reason the tagline around the show has to do with obsession. "Obsession never dies," the Season 3 trailer said. So without that tension, there is no show. 
As Eve told Villanelle, they'd just consume each other if they tried to live to old age together. Their passion for one another is too much to settle down and it's what keeps them going. They might just run each other off a cliff in the end; metaphorically, but also maybe physically, too.