The surprising remark singer Michael Bublé made about his fans, plus here's his net worth
Singer Michael Bublé is hugely popular, with sell-out concerts wherever he performs. In 2012, tickets for his summer 2013 shows at London's O2 arena sold out in less than five minutes. He is a global sensation, a kind of fame the Canadian crooner never saw coming, so his recent comments about his fan base were quite extraordinary.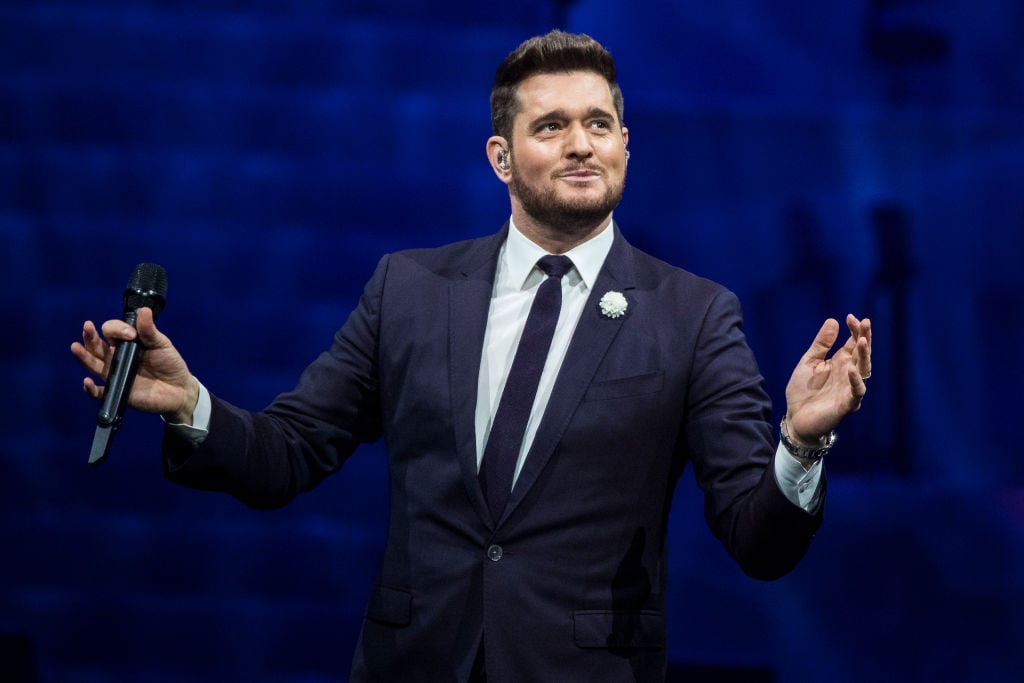 Find out more about the handsome star, what he really thinks of his fans, how his young son is doing, and his net worth.
How Bublé's young son is doing
Michael Bublé's son, Noah, was diagnosed with liver cancer in 2016 when the little boy was almost 3 years old. Understandably, it changed everything for the singer, 44, and his wife, Luisana Lopilato, 32.
Noah is doing well and is now a healthy 6-year-old. Although his illness is in remission, it has impacted every aspect of the family's life, and Bublé's, from how the singer tours to his plans for the future of his career. There has even been speculation that the singer had decided to retire early, a rumor that turned out to be false. In the end, what was true was how much the Everything singer's perspective on…everything, changed.
"I don't even think about my career," he told USA Today this year, and that now, spending time with his family comes first, with everything else ranking "zero on the scale of (expletive) to care about."
"It's going to sound sloppy, but I remember sitting there and thinking, 'Why the (expletive) am I worried about all this (expletive)? That's what I was worried about? What people thought of me, or the numbers of something? That's (expletive)."
"That doesn't matter," he said. "It allows you to enjoy the little things in life and not be so (expletive) busy worrying how many likes you got, or how much money you made, stuff that makes you go, 'Oh God, what was I thinking about?'"
Buble's recent comments about his fans
The Haven't Met You Yet singer opened up about how he really feels about his fan base, especially after everything he and his family have gone through so publicly in recent years.
As Bublé has described it, the experience of his son's illness was both devastating and crushing. And for a person who makes their living as a public figure, it perhaps feels even more difficult to carry the heavy pain in front of millions.
Bublé's heart for his fans is filled with gratitude and affection.
"The truth is, I think the word 'fan' is a horrible word and I would never call them fans. Fans mean fanatical and these are not fans," Bublé told People last year. "These people are my family and they're my equals. They've gotten me through a lot in my life. I don't take them for granted."
"Hopefully, my music can get them through the things that are tough in their lives. I feel connected to those beautiful souls," Bublé says. "I think they'll realize that I'm speaking to them when I'm looking through the camera and looking at them."
Bublé's net worth
Michael Bublé's net worth is $60 million, according to Celebrity Net Worth.
The singer grew up listening to his beloved grandfather's jazz records and envisioned himself singing professionally.
Discovered while singing at a wedding for former Canadian Prime Minister Brian Mulroney's daughter in 2000, Bublé was signed shortly after to a recording deal by Grammy Award-winning music producer David Foster.
His star has not stopped rising. As noted earlier, his shows sell out within minutes. And this year, he appeared in one of the most successful Super Bowl commercials, for Bubly Sparkling Water.
"My manager called and told me that Bubly Sparkling Water had an idea to do this ad," he told Forbes in January of this year. "…So they sent me this concept and right away I loved it. I thought it was very sweet and very funny, really smart. . .Honestly, I couldn't think of a more perfect connection than Michael Bublé and Bubly Sparkling Water. I got it very quickly, obviously, and I felt really grateful."
Read more: Foreign Actors You Probably Thought Were American