'The Thing About Pam': Critics Say 'Fatphobic' Hollywood Can Do Better Than Putting Renée Zellweger in a Fat Suit
When the trailer dropped for 'The Thing About Pam' and viewers saw Renée Zellweger in a fat suit, critics were quick to point out several reasons why NBC could've done better.
It's fair to say many actors go through intense transformations for certain roles. Just think about Jim Carrey sitting in the makeup chair for hours to transform into the Grinch. Fans are used to not recognizing their favorite Hollywood stars, especially when the transformations are spot-on. But Renée Zellweger's latest role is sparking controversy over her fat suit.
NBC drama The Thing About Pam follows Pam Hupp, a nefarious, nosey-neighbor type who became a murderous mom in real life. Zellweger seems to hit a home run as the lead actor. But critics are not happy about the producers' choice to put Zellweger in a fat suit as part of the transformation. The critics say it's not so much about her performance as it is Hollywood's "fatphobic" tendencies. Are they be right?
'The Thing About Pam' is based on the true story of convicted murderer Pam Hupp
The Thing About Pam is an adaptation of a Dateline story by the same name, telling the true story of the murder of a Missouri woman, Betsy Faria, in 2011. Bustle explains that authorities first looked to the victim's husband, Russ Faria, as the potential culprit. Years later, however, new evidence surfaced that led law enforcement to Hupp's door. Now, the 63-year-old is serving life in prison without parole.
The NBC rendition of this story stars Glenn Fleshler as Russ and Josh Duhamel as defense attorney Joel Schwartz. Judy Greer plays Leah Askey, the prosecuting attorney who actually tried Russ twice for the crime. While all three of these actors transformed their looks for the roles using wigs and makeup, Renée Zellweger's fat suit sparked controversy. 
Writers, influencers, and true-crime fans are disappointed in Renée Zellweger's fat suit
The Metro highlights the negative responses and sentiments surrounding Zellweger's unrecognizable transformation into Hupp. Citing how potentially "damaging, fatphobic, and triggering" thin actors sporting fat suits can be, critics are furious. 
Sarah Alexander, a plus-size writer, says fat suits have "always been a way of mocking fat people." She goes on to say it doesn't matter who's wearing it or the method behind the actor's decision to do so. It's not the first time actors have been under fire for wearing a fat suit as part of character transformation. Sarah Paulson and Gwyneth Paltrow have both publicly regretted their choices in wearing them for on-screen roles.
Critics also suggest that there are plenty of "incredibly talented, plus-size actresses" in Hollywood. They go on to ask Hollywood and The Thing About Pam producers why these women are overlooked. Body-positive media influencers, like Katie Sturino, also criticize Zellweger for being unaware of how her actions contribute to the stigma of fuller-figured women.
The producer's response to the body-shaming backlash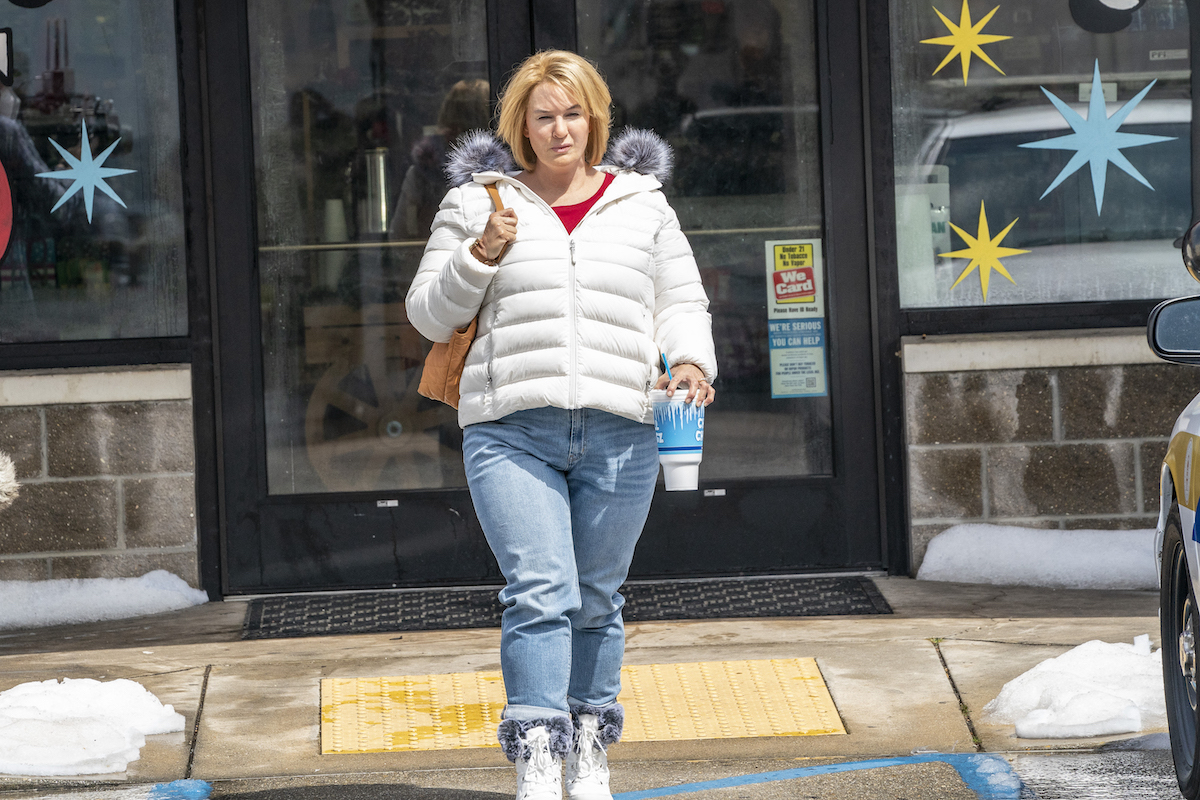 The producers responded to the fat-shaming backlash surrounding Zellweger's fat suit transformation. The Wrap shared some of the comments made by executive producer Chris McCumber, who said, "It's our job" when talking about providing actors with the tools they need for their roles. With regard to the use of prosthetics, McCumber stated, "It was part of [Zellweger's] toolkit." 
Transformation is part of acting. The "further away you are from yourself," the easier it is to explore a character's story, McCumber said. It's also been confirmed that Zellweger, Duhamel, and Fleshler enjoyed the whole process of transforming physically into their roles.
Zellweger responded to the controversy, too. The Oscar winner defended herself to Entertainment Tonight: "In the case of telling this story, it was really important to as closely resemble Pam Hupp." She went on to say it's about accuracy in portraying a character who should seem so familiar.
Regardless, when you see Zellweger in The Thing About Pam, you won't recognize her.