'The Tragedy of Macbeth' A24 Trailer Is What Spooky Dreams Are Made Of
Something wicked this way comes. The first trailer for Joel Coen's The Tragedy of Macbeth debuted Sept. 21. And it says welcome to Fall! The Shakespearean tragedy stars Denzel Washington and Frances McDormand as Lord and Lady Macbeth, a thing we never knew we needed until we got it. And while the first trailer for the A24 and Apple TV+ collaboration is a short glimpse into the upcoming film, its spooky nature will have you itching for more.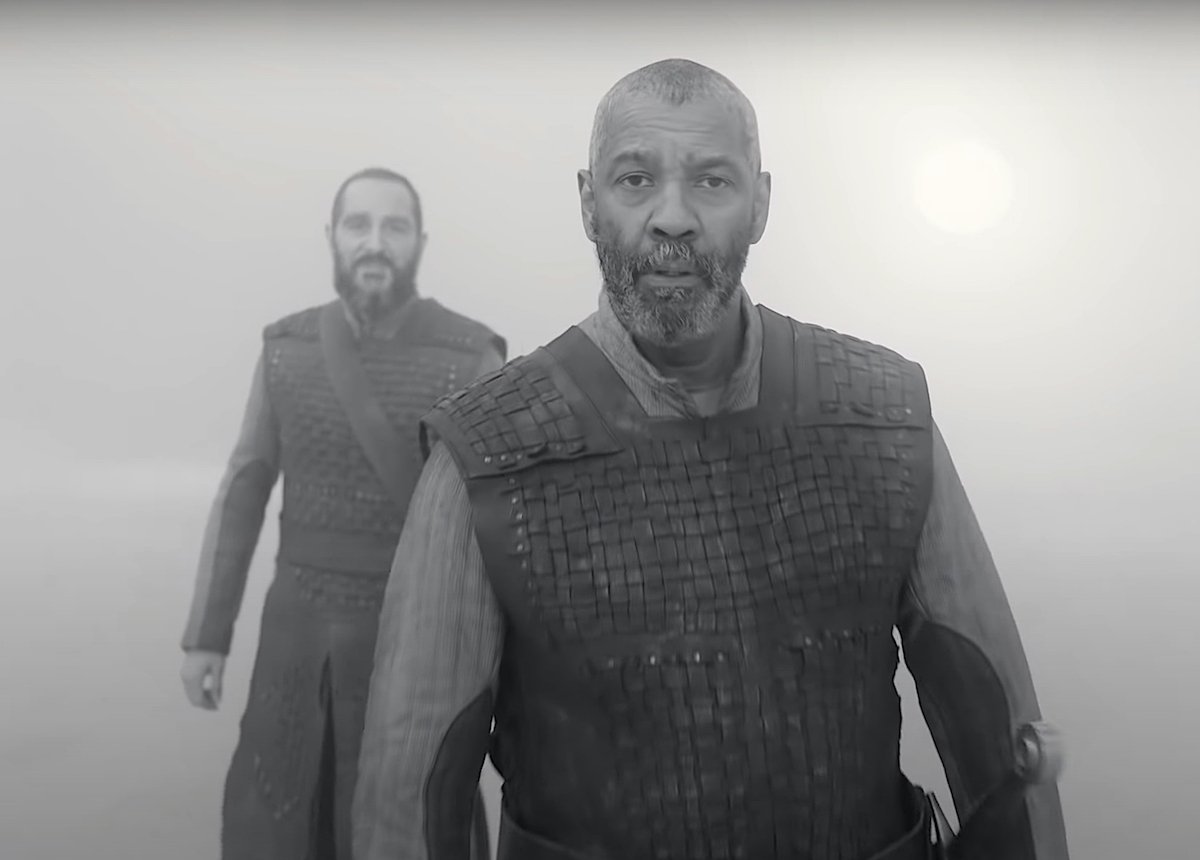 Joel Coen's 'The Tragedy of Macbeth' stars Denzel Washington and Frances McDormand
The trailer opens with a shot of a grey sky and circling crows. Washington and Ralph Ineson (The Captain) then approach walking through an eery mist, the sun beaming behind them. The next shot shows the infamous witches, played by Kathryn Hunter. The next actors seen are two Harry Potter alums: Brendan Gleeson as King Duncan and Harry Melling as Malcolm.
"By the pricking of my thumbs," a voice is heard saying. "Something wicked this way comes."
McDormand appears walking through a large room lined with billowing white curtains. She holds a burning letter in her hand as she walks toward a floor-to-ceiling window. Other ominous shots include an aerial shot of Washington standing in a spotlight, someone picking up a crown up from the dusty ground, and McDormand shooting an intensely skeptic look. The trailer is less than one minute long, but it's enough to build up excitement.
The film is the latest addition to A24's Apple TV+ deal. It previously released On the Rocks and Boys State.
'The Tragedy of Macbeth' cast
Coen wrote and directed The Tragedy of Macbeth, adapted from the William Shakespeare play. The other half of the Coen brothers duo, Ethan Coen, did not work on this film. But it does mark another collaboration between McDormand and Coen, who have been married since 1984. Prior to this, McDormand appeared in a bevy of Coen brother movies, including Blood Simple, Raising Arizona, Mississippi Burning, Barton Fink, Fargo, The Man Who Wasn't There, Burn After Reading, and Hail, Caesar!
The Tragedy of Macbeth brings McDormand and Washington together for the first time, in what will undoubtedly be Oscar-contender performances. Joining them in the cast are Gleeson, Melling, Ineson, Hunter Corey Hawkins, Brian Thompson, Alex Hassell, Sean Patrick Thomas, Miles Anderson, Max Baker, James Udom, Ethan Hutchison, Jacob McCarthy, Matt Helm, Scott Subiono, Lucas Barker, and Nancy Daly.
'The Tragedy of Macbeth' release date and streaming schedule
Apple TV+ is changing up its release schedule for the Shakespearean film. It will open the 59th New York Film Festival on Friday, Sept. 24. And then, The Tragedy of Macbeth will debut in theaters nationwide on Dec. 25. Viewers will have to wait for its arrival on Apple TV+, as it won't be available for streaming until Jan. 14.
During the coronavirus (COVID-19) pandemic, film studios have been giving films dual releases. HBO Max has gotten in the habit of debuting films in theaters and on the streaming service the same day, and then removing the movie from HBO Max after a few weeks to refocus on movie ticket sales.
HBO Max did this with Judas and the Black Messiah, The Suicide Squad, and Clint Eastwood's Cry Macho. Apple TV+ opted to debut some movies bound for theatrical release solely on the streaming platform, like Tom Hanks' Greyhound. The Tragedy of Macbeth debuting first in theaters is a notable change for a movie produced by a streaming platform.
Now, if you don't mind us, we'll be replaying this trailer on a loop.