'The Umbrella Academy': Aidan Gallagher's Secret to Playing a 58-Year-Old Man in a 13-Year-Old Boy's Body
Aidan Gallagher returns as Number Five in season 3 of The Umbrella Academy, which drops June 22 on Netflix. Gallagher, who will be 19-years-old in September 2022, plays the role of a 58-year-old man stuck in a 13-year-old's body. The actor shares his secret to playing The Umbrella Academy character.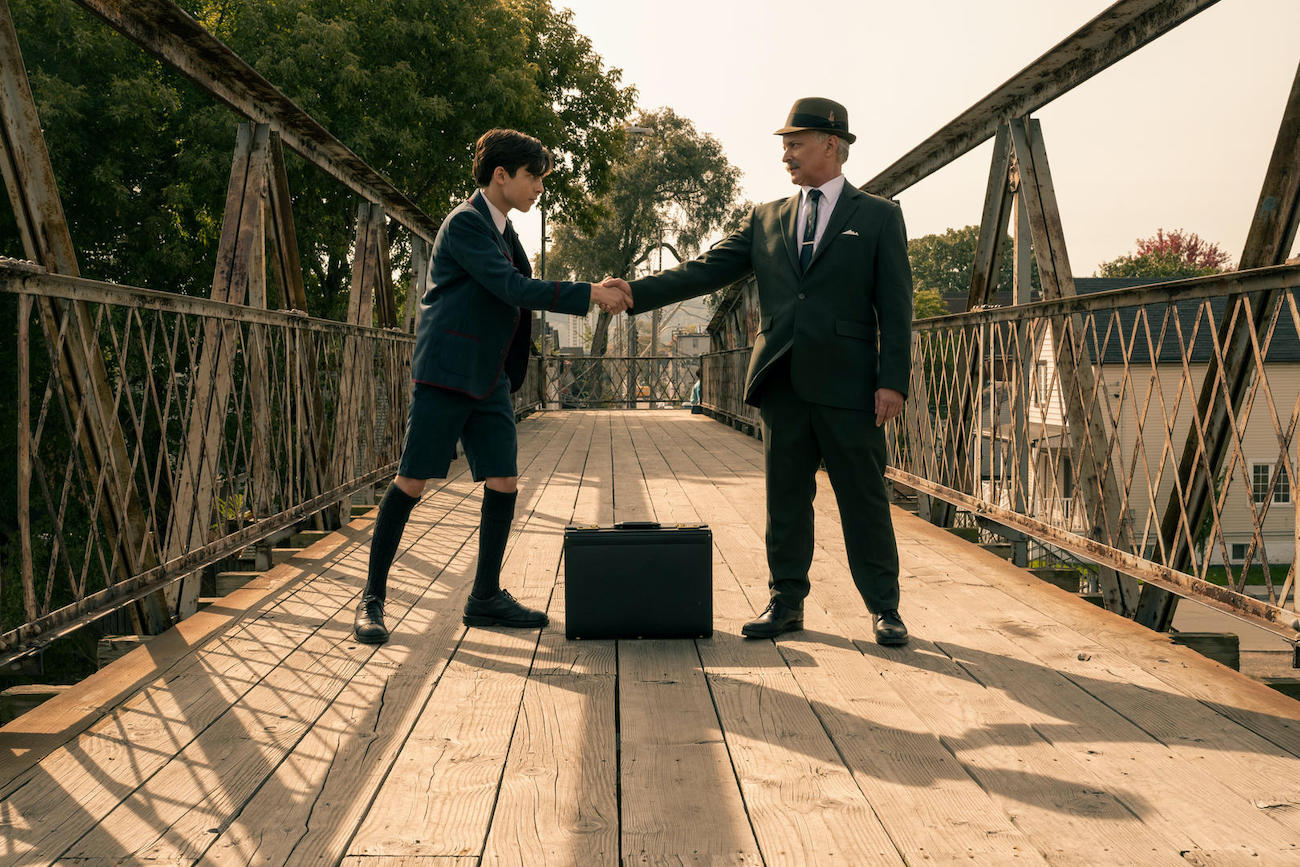 'The Umbrella Academy' comics are a favorite of Aidan Gallagher's
Gallagher has always been a fan of The Umbrella Academy comics by Gerard Way and Gabriel Bá. Knowing so much about the lore of TUA is part of the reason the actor got cast.
"I grew up a fan of comics and hanging out in local comic book stores," Gallagher told Collider. "I got [into] these two graphic novels, and it was unlike anything that I had read before, so I was instantly hooked. You can imagine how excited I was when I realized I would get to audition."
Number Five's vocabulary and trauma help Aidan Gallagher become the character
Playing a 58-year-old man stuck in a 13-year-old's body takes skill. Gallagher faces even more of a challenge because his role is based on comics with a diehard fandom — fans who will immediately call out an inauthentic portrayal.
"I wanted to do justice to the graphic novels, so one of the first things that I looked at was [Number Five's] posture," Gallagher explained to Collider. "Gabriel's drawings are very immersive, as far as the characters and the world goes, so I wanted to make sure that I got his posture right [and] the way he interacted with different elements."
The actor says Number Five's mentality developed along with the writing for the Netflix series. "As an actor, it's very important to have good writing so that I can help build the series," he added. "Lucky for us, this show has incredible writing." Good writing also helped him nail Number Five's vocabulary, who is smarter and wiser than his external appearance.
Aidan Gallagher is mindful of the 'human aspect of Five'
Playing Five isn't just about nailing the vocabulary or walking around like an older man stuck in a teenager's body. Number Five also has a lot of trauma that weighs on him from having a father like Reginald, working with The Commission as a time-traveling assassin, and going through paradox psychosis in The Umbrella Academy Season 2.
"One of the things that [strikes] me about Five [is] the trauma that was contributed via the apocalypse," Gallagher said. "I wanted to make sure that I got his PTSD correct. "… He's still a person, so although you have the experience that comes with a few more decades of life, the writing took care of a lot of that. I took care of more of the human aspect of Five."
Number Five faces a paradox in 'The Umbrella Academy' Season 3
Number Five is once again at the forefront of fixing the damage caused by his siblings in the new season of the Netflix series. Back from the '60s, the group created a time paradox, or a "kugelblitz," as Five calls it. Many fans can't wait to see Gallagher return as Five in new episodes. 
There are only a few more weeks before fans can binge the new season. The Umbrella Academy Season 3 premieres exclusively on Netflix on June 22, 2022.
RELATED: 'The Umbrella Academy' Season 3's New Images Gives Us Our First Look at Javon Walton