'The Umbrella Academy': How Klaus Hargreeves Used Song Lyrics to Influence His Cult
Season 2 of The Umbrella Academy takes place in 1963. Klaus Hargreeves (Robert Sheehan), who has already traveled to the 1960s before, found himself in a unique position as a cult leader. 
Throughout the season, Klaus made several references to popular songs that ultimately influenced his cult members' behavior. Given the period of the season, Klaus' followers didn't know any better. 
Here are all of the song references Klaus made in season 2 of The Umbrella Academy and how they inspired Klaus' cult.
[Spoiler Alert: If you haven't finished season 2 of The Umbrella Academy, spoilers ahead.]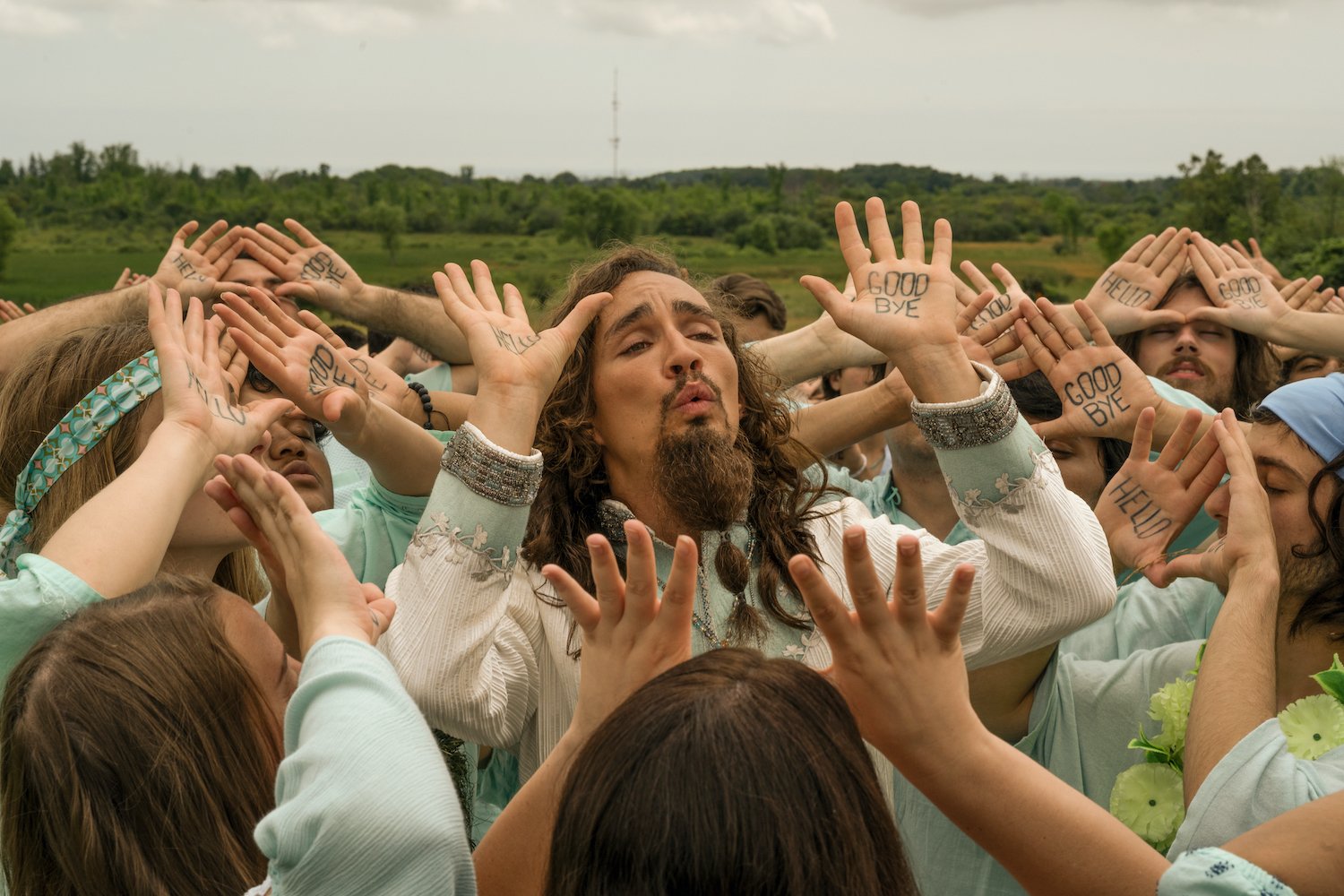 Klaus finally felt valuable in season 2
Throughout season 1 of The Umbrella Academy, Klaus spent much of his time trying to prove his value to his siblings.
Before the end of the world was looming over the Hargreeves siblings, Klaus spent many years using drugs and alcohol to limit his abilities. As such, his siblings lost a lot of respect for him. It wasn't until he saved Diego's life that Klaus started to earn back the trust of his siblings. 
At the end of season 1, Klaus further demonstrated his value to his brothers and sisters by conjuring Ben and harnessing his abilities as "The Horror," ultimately saving his family from the Commissions' gunmen. 
In season 2, Klaus sort of fell into the respect he had been longing for in season 1. By becoming the leader of "Destiny's Children", Klaus got a taste of what it was like to be desired and respected. 
Robert Sheehan was worried about evolving Klaus enough
As an actor, Sheehan was concerned with his ability to continue to evolve his role.
"I was worried, because Klaus spends a lot of time in the past," Sheehan told Digital Spy. "Arguably, the most stuff happens to him [in season 1]. He's [in the 1960s] the longest before the show picks up in '63. [In season 2,] I wanted the audience to be like, 'Wait, is this the same person?' But to obviously have the kind of Klaus elements." 
For most fans, introducing Klaus as a cult leader made perfect sense. Regardless of what Sheehan thought, becoming a cult leader demonstrated the evolution of Klaus — especially coming out of season 1, when Klaus had just gotten started with proving his value. 
Eventually, Sheehan realized his performance in season 2 was more than acceptable. "I went, 'Oh, no' [and] I was quite pleased," he added. "I felt quite happy."
Klaus used popular song lyrics to inspire his followers
In season 2 of The Umbrella Academy, Klaus fell under the care of a wealthy older woman. After demonstrating his abilities to communicate with the dead, he was perceived as this sort of magical being. 
Eventually, Klaus gained a following large enough to be considered a cult — or "alternative spiritual community," as he puts it.
Of course, Klaus is nothing more than a fraud — something he tried to reveal to his followers. But to his cult members, Klaus is an all-knowing prophet.
Coming from the year 2019, Klaus had a library of song lyrics to choose from that ultimately served as the inspiration for his cult.
Klaus used lyrics from 'Waterfalls' to discourage his followers
In "The Frankel Footage" episode of season 2, Klaus ended up in jail with one of his followers — Keechie (Dov Tiefenbach). 
When asked for some words of wisdom, Klaus tapped into his repertoire of hits from the 1990s. "Don't go chasing waterfalls," the faux prophet said. "Stick to the rivers and the lakes that you're used to."
Klaus used the TLC hit to appease Keechie and ultimately, get him off of his back.
Gloria Gaynor — 'I Will Survive'
In episode 6, "A Light Supper," Klaus struggled to serve as a false prophet. After deciding to inspire his cult to disband, he revealed he was a fraud.
Of course, this doesn't work. His followers resort to quoting Klaus' previous teachings, which happen to be lyrics from Gloria Gaynor's "I Will Survive."
"As long as I know how to love, I know I'll stay alive," Keechie recited.
"You guys don't wanna follow me, I can't lead you anywhere!" Klaus exclaimed. "I'm not a guru, I'm not a messiah — I'm a fraud!"
Distraught, Klaus' cult members refuse to believe what he's saying. Instead, they repeated how they too were frauds.
Backstreet Boys — 'Everybody (Backstreet's Back)'
After Diego filled him in on the plan to travel back to 2019, Klaus needed to make an abrupt exit. In a hilarious moment from season 2, Klaus — er, Ben (Justin H. Min), possessing Klaus' body — announced he was leaving the cult for good.
RELATED: 'The Umbrella Academy': The Most Likely Reason Klaus Is a Cult Leader in Season 2
Once again, Keechie stepped in. In an attempt to prevent Klaus from leaving, he asks for any final words of wisdom.
Klaus — well, Ben — shared a message from the Backstreet Boys 1997 hit: "Oh my god, we're back again! Brothers, sisters, everybody sing. We're gonna bring you the flavor, we're gonna show you how."
Klaus' cult leadership might have come to him through the most absurd use of song lyrics, but it was a hilarious part of season 2 that fans of The Umbrella Academy enjoyed immensely.