'The Umbrella Academy': Tom Hopper Says Luther's Finale Change Felt 'Odd'
The Hargreeves had to save the world once again in The Umbrella Academy Season 3. But that ended with many changes, including Luther Hargreeves (Tom Hopper). This is Hopper's reaction to the last episode.
​​[SPOILER ALERT: Major spoilers ahead for The Umbrella Academy Season 3.]
What happened to Luther in 'The Umbrella Academy' Season 3 finale?
RELATED: Luther Hargreeves' Moon Mission Finally Means Something in 'The Umbrella Academy's New Season
Once again, the world was ending in the season 3 finale. However, Sir Reginald Hargreeves (Colm Feore) already killed Luther to make the rest of his children come together to save the world. He also left Klaus to die (Robert Sheehan).
That meant Luther and Klaus were together in the afterlife. Klaus used his powers to help his siblings in their last fight. He also used his power to bring back Luther temporarily, and he saved his wife, Sloane (Genesis Rodriguez).
Luckily, The Umbrella Academy was mostly successful. They all survived, and the universe was brought back, but they're without their powers. This means Luther has a normal body instead of his bigger one from being grafted onto an ape's body. Sadly, Sloane didn't make it back with them.
Tom Hopper says Luther's slender body felt 'odd'
RELATED: 'The Umbrella Academy' Cast Net Worth and Who Makes the Most From the Show
The cast gave their opinions on the finale to Entertainment Tonight. The actor admitted Luther's human body didn't feel quite right but opens new opportunities for him.
"I think Luther will be working Abercrombie and Fitch as a greeter," Hopper joked. He admitted it felt "odd, very light" to be without his suit that is used to play Luther.
"It did [feel like something's wrong]," he said. "What's weird as well is that suit has become a part of Luther in terms of his personality. And when I put that suit on, I feel more Luther. So playing Luther without that felt like, 'Huh, this is weird.' So season 4, if we're in this same place and I don't have my body next season, that'll be different for me to play for sure." This could mean Hopper's job of getting prepared for his scenes next season will be easier.
How does Tom Hopper turn into Luther Hargreeves?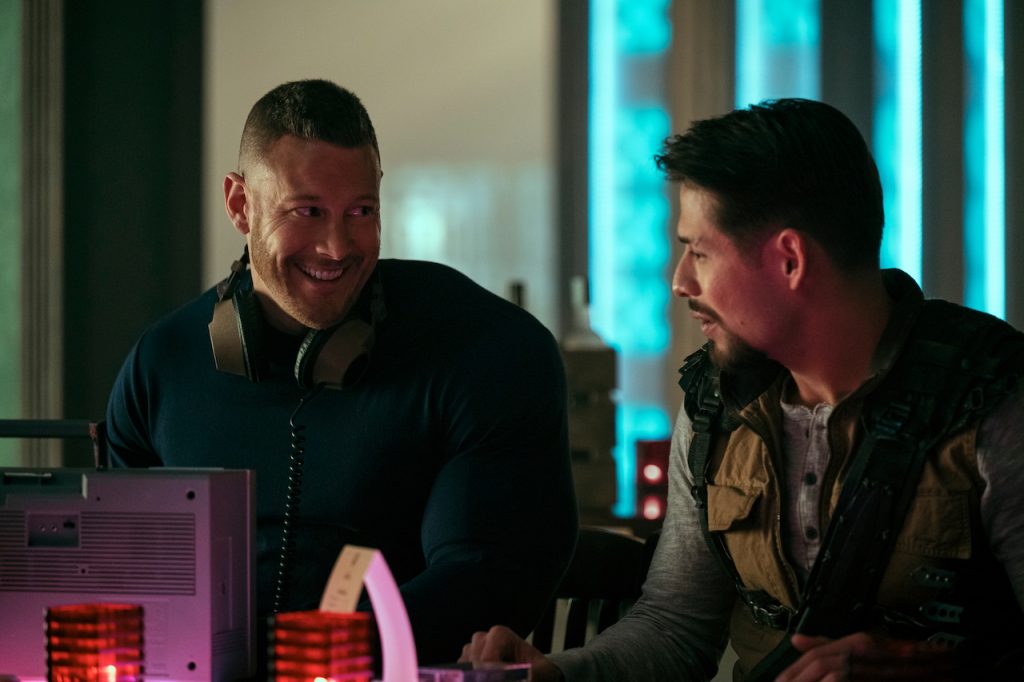 Luther usually hides his ape body under clothes. So the actor just has to wear a suit to get ready most of the time. "That was a two-minute job; you zip into it," Hopper told SYFY WIRE.
But the scenes where Luther's bigger and hairy body is in full view involve more than a suit. "That was a bit more elaborate, and laborious as well," Hopper explained. "They stick it all on me and paint it." That process took three hours.
The actor admitted the suit isn't easy to work with since it can tear when he sits down. So Hopper won't have that problem for at least some of his scenes in season 4.
RELATED: The Sparrow Academy's Powers Are No Match for the Hargreeves Siblings in 'The Umbrella Academy' Season 3