'The Vampire Diaries': Ian Somerhalder Envisioned a Different Finale for Damon and Stefan Salvatore
Ian Somerhalder had his own idea for the ending of 'The Vampire Diaries' involving the Salvatore brothers and rum.
When The Vampire Diaries aired its first season back in 2009, fans fell in love with the characters and actors who played them.
Ian Somerhalder brought charming bad boy Damon Salvatore to life, while Paul Wesley stepped into the shoes of Damon's baby vampire brother, Stefan. Nina Dobrev played their love interest Elena Gilbert.
Eight seasons wrapped up in 2017, leaving many fans in tears over the series finale. But Somerhalder had his own idea for how he preferred things to end, and it involved Speedos.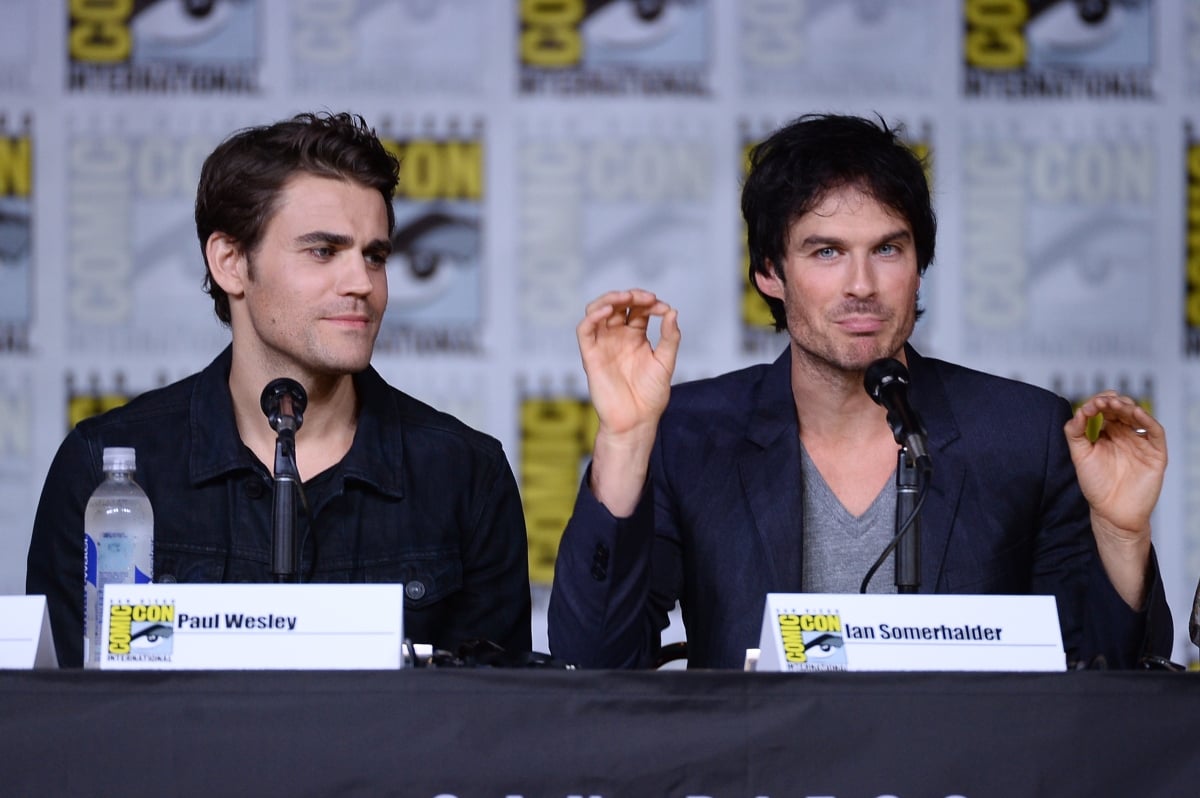 Paul Wesley and Ian Somerhalder thought the Salvatores were kind of bad
Showrunner Julie Plec always maintained the real love story in TVD was between the brothers, Damon and Stefan. Damon came in wearing his selfishness and depravity on his sleeve and racked up a huge body count along the way.
He damaged relationships, violated Elena's friends and family, and acted recklessly. But he also had redeeming qualities and loved hard.
Stefan was viewed as the straight-laced, bunny-eating brother, but he had his ripper side and also had a lengthy track record of deaths under his belt.
Both Salvatores demonstrated the abilities to protect, nurture, and be kind or vulnerable, and they each had redemptive arcs in TVD. Fans loved them.
After the series finale, Wesley admitted he was satisfied with Stefan's ending. "It was important poetic justice for all the bad things he'd done," Wesley told TV Line in 2017. "He was a murderer ultimately. He'd found so much redemption, yet was still tormented. For me, him making that ultimate sacrifice was a great way to say goodbye."
While Somerhalder loved playing Damon, he also thought his character needed to atone for all his bad deeds.
Ian Somerhalder thought Damon and Stefan should have died together
Somerhalder was adamant that Damon and Stefan should have gone out in a way similar to their vampire brethren, Klaus and Elijah Mikaelson. He discussed how he would have changed the Salvatores' ending during an appearance at Warsaw Comic-Con in 2019.
"I never would have let Damon live either," said Somerhalder. "These two brothers showed up in this little town, and they completely devastated the town."
He added that the pair were 160 years old "hooking up with a 17-year-old" which he found to be dark and backward. He noted how fans loved Damon but he's the dude who killed Elena's brother and countless others.
"They should have gone to the Caribbean and these two men should have just sat there as brothers. They should've drunk a 60-year-old bottle of rum, and as the sun came up, they should've taken off their rings and thrown them into the ocean," the actor mused. "And then poof," gestured Somerhalder.
Both he and Wesley agreed that in that final scene, the Salvatores should've worn Speedos that dropped into the water once their vampiric bodies dissolved into dust. Somerhalder reiterated they both should have died.
Paul Wesley gave his two cents on an alternate ending too
Wesley once told Watch What Happens Live host Andy Cohen that he felt both Salvatore brothers should have died, leaving Elena behind to live happily as a human. Some fans disagreed with his opinion on Elena, but some didn't like the original ending either.
Fans can stream all seasons of The Vampire Diaries and its spinoff, The Originals on Netflix. Legacies, the other show in the TVD universe, currently airs on The CW.