'The Vampire Diaries': Nina Dobrev Said 'It Was a Challenge' to Kiss Ian Somerhalder in This Scene
Nina Dobrev and Ian Somerhalder had multiple kissing scenes in 'The Vampire Diaries'. Find out why she called one "a challenge."
Nina Dobrev had multiple kissing scenes, and some of them weren't easy. That's because The Vampire Diaries had some complicated relationships. She explained why one of her characters' first kiss with Damon Salvatore (Ian Somerhalder) was challenging. 
Damon Salvatore and Katherine Pierce's first kiss in 'The Vampire Diaries'
Fans were able to see Damon as a human before Katherine Pierce turned him into a vampire in "Children of the Damned." The episode started with Katherine killing someone, then leaning in to kiss Damon. He's hesitant to kiss her while she's bloody, but he eventually does it out of love for her.
The current day scenes showed Damon on the mission to bringing Katherine back. Stefan (Paul Wesley) and Elana Gilbert (Dobrev) pretend to help him. Katherine is also Elana's doppelgänger, so they look exactly alike. 
In the flashbacks, people in the town figured out vampires were among them, so they got vervain, which hurts them. Katherine was warned to leave, but she wanted to stay. Damon and Stefan's father made a plan to capture the vampires, and he was successful. 
Nina Dobrev said 'it was a challenge' to kiss Ian Somerhalnder in this scene
Dobrev did talk about the tricky aspects of playing two characters in the vampire show. She referred to the kiss in the flashback scenes as challenging.
"'Children of the Damned' I had to kiss Ian for the first time as Katherine in the 1864 flashbacks," she told MTV. "But we had to do it again recently, and what was cool about it was that I had to kind of play both. 
"I didn't wanna play it too obvious," she continued. "I didn't want to give it away for the audience because you have to surprise them and keep them thinking that it isn't Katherine that's actually kissing him."
She added, "So it was a challenge but it was fun. I think it turned out really, really well." That second kiss was in "Founder's Day."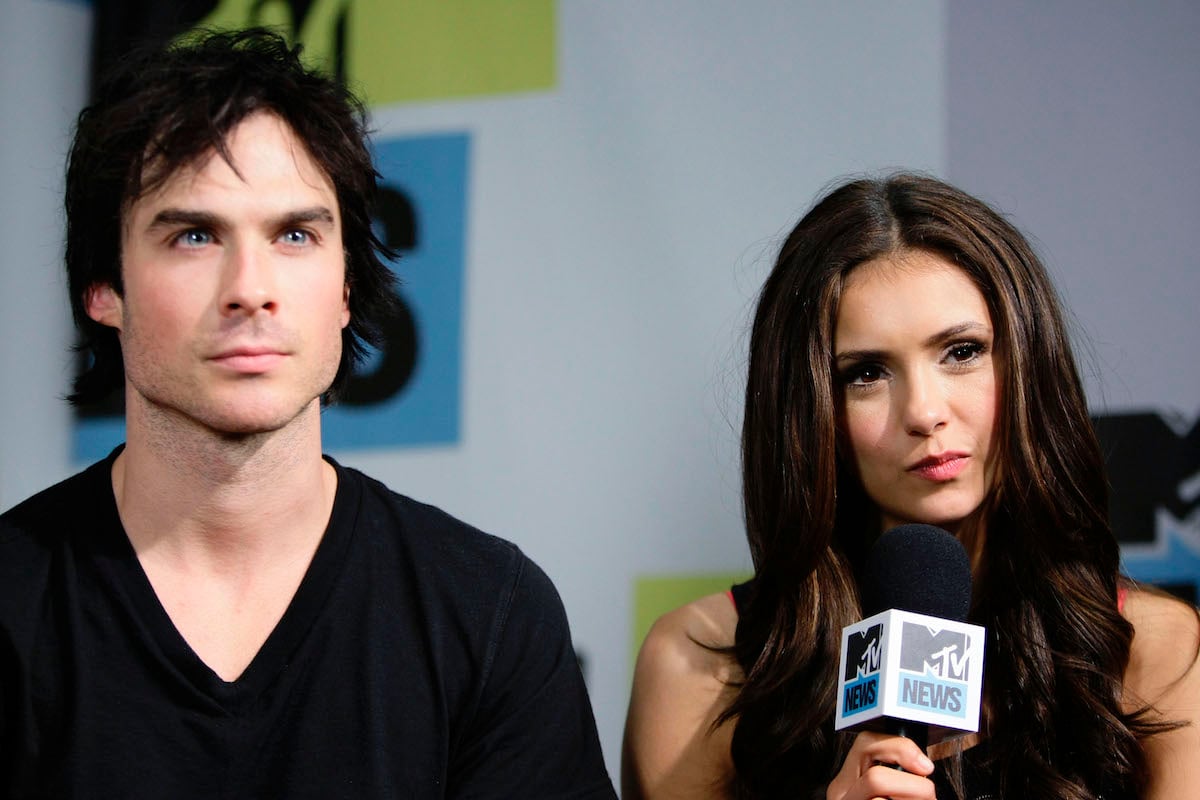 By this time, Elana and Stefan have become friends. Damon surprises Elana back at her home at the end of the episode. He reveals that he now wants to protect the town instead of destroying it. He thanks Elana for helping save him. He then kisses Elana on the cheek, and she kisses his lips. The big reveal at the end shows this was really Katherine, and she takes revenge on Elana's father.
It was easy to be tricked, given Katherine does look shocked by Damon's kiss. But the scene after that showed a hardened character that is more like Katherine. The show continued to play with the fact the characters are doppelgängers after this.