'The Vampire Diaries' Stars Advocate for Change in the Wake of George Floyd's Death
In the wake of a tragedy, many entertainers have become activists, as they demand justice for George Floyd and system reform. Here's how the stars of The Vampire Diaries have advocated for change.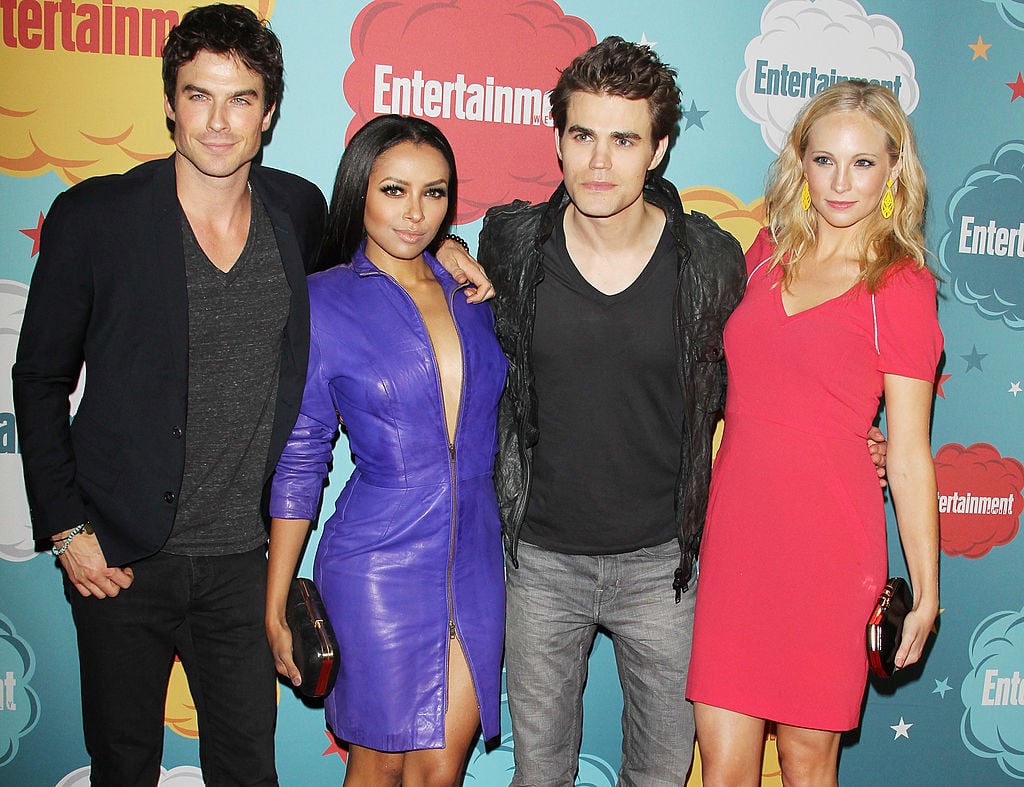 George Floyd died in police custody
Floyd died on May 25 after being handcuffed and held face down for several minutes by Minneapolis police officers. One officer, Derek Chauvin, kneeled on his neck, as he begged for air.
Floyd was another in a long line of Black men to die in police custody, and this time the viral video that caught much of the encounter set off an explosive series of protests across the nation.
Much of the country has been placed under a curfew in the interest of public safety, but citizens remain active on social media, pushing for change. Some celebrities, like the stars of The Vampire Diaries, have encouraged their fans to take action.
Paul Wesley
RELATED: 'The Vampire Diaries': Paul Wesley's Face is Being Used Illegally
Paul Wesley retweeted a post from Color of Change, which read, "George Floyd screamed I can't breathe before dying at the hands of Minneapolis PD. Being Black in America shouldn't be a death sentence. The cops involved were fired, but that isn't enough! Text 'Floyd' to 55156 to demand Hennepin County Attorney's office charge them with murder. #JusticeFor Floyd."
In different post, Wesley noted that he signed the Change.org petition to help get justice for Floyd. In yet another tweet, the actor shared resources, petitions, Black-owned businesses, non-profit organizations, and other links for fans who want to make a positive difference.
Ian Somerhalder
RELATED: 'The Vampire Diaries': Ian Somerhalder and Paul Wesley have teamed up again
Although Ian Somerhalder had been aggressively promoting the new bourbon brand he launched with Wesley, he paused to honor Floyd on social media. On Instagram, the star posted a graphic image, reading, "Rest in power George Floyd. My heart weeps for your family, your friends, and your community. This must stop."
In the caption, Somerhalder wrote, "This is beyond sad. Nothing but love and peace to those close to him and the countless others that this has happened to. I'm so sorry that this happens… How does this happen? It. Must. Stop. Love, Ian."
Kat Graham
RELATED: 'The Flash' Stars Demand 'Justice for George Floyd' — Grant Gustin and Co-Stars Speak Out on Social Media
Kat Graham tweeted a call to action from Amnesty International. "Demand justice for George Floyd," she wrote. Graham doubled down by posting a Black Lives Matter PSA on Instagram. Her caption read:
I produced this PSA 2 years ago for Black Lives Matter with Darren Genet, who directed it, and it's heartbreaking to know that it's more relevant now than ever. Sending love and power to the families and loved ones of George Floyd, Breonna Taylor, Ahmaud Arbery, and all those that we might not know but still fight for. Justice needs to be served.

"Injustice anywhere is a threat to justice everywhere. We are caught in an inescapable network of mutuality, tied in a single garment of destiny. Whatever affects one directly, affects all indirectly." – Martin Luther King, Jr.

Kat Graham via Instagram
Nina Dobrev
RELATED: Killer Mike Wants 'Racism Burned to the Ground,' Not the City of Atlanta, as Protesters Rage Over George Floyd's Death
Nina Dobrev posted a series of videos and images from protests sparked by the death of Floyd. The actress wrote this impassioned description for the Instagram post:
I'm shook. Yesterday was unlike anything I've ever experienced. I witnessed things yesterday afternoon that I've only ever seen in movies. I live in the epicenter of West Hollywood where the peaceful protest quickly took a turn.

I'm sad it became violent, but the violence didn't begin yesterday. It's been present for generations. What happened to George Floyd wasn't an isolated incident. It's a systemic problem that is now being filmed.

Even if any of you feel as though all you are seeing are posts about the horrendous injustice, it pales in comparison to what the energy felt like being on the streets, and there can never be too large of a light shone upon the truth. In my stories, I've posted ways you can also join the movement.

Please speak up, show solidarity, own the injustice. White people (and yes, I'm referring to myself as well) learn something and do something. It's not enough to just post. Listen. Speak up. Amplify. And don't stop there. Join the fight against injustice.

Nina Dobrev via Instagram
Candice King
RELATED: Killer Mike Called George Floyd's Death 'Murder Porn' in a Powerful Speech to Atlanta Citizens
Candice King chose to post a clear message of solidarity with a Black Lives Matter graphic shared to Instagram. She declared, "I stand with Black Lives Matter."