'The Vampire Diaries': Which 'Salvatore Brother' Has the Higher Net Worth?
The Vampire Diaries revolved around Damon and Stefan Salvatore, two immortal brothers in fierce competition for the affections of one human girl. In the end, only one brother was able to win over Elena Gilbert. The actors who portrayed the brothers for eight seasons have pursued other ventures, increasing both their popularity and their wealth. Here's how Ian Somerhalder and Paul Wesley stack up against each other when it comes to net worth.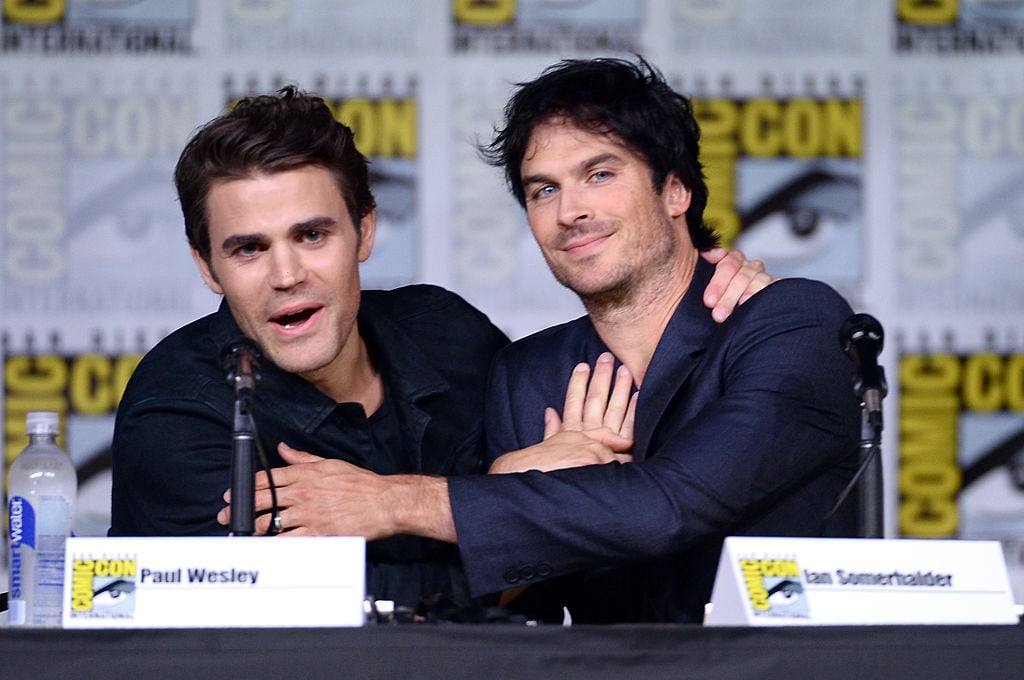 Ian Somerhalder and Paul Wesley hit the ground running after 'The Vampire Diaries'
Somerhalder and Wesley came into The Vampire Diaries with already impressive resumes, and when the show ended, both actors quickly scored high-profile gigs. Somerhalder went on to star in Netflix's V-Wars, while Wesley showed up in the CBS All-Access thriller series, Tell Me a Story.
On top of acting, both Somerhalder and Wesley have stepped behind the camera to produce and direct projects. Most notably, Wesley has directed several episodes of hit shows on The CW, the home of The Vampire Diaries. Beyond entertainment, Somerhalder and Wesley have partnered on a new project with the potential to bring even greater success.
Somerhalder and Wesley have partnered on a new moneymaking operation
The Vampire Diaries ended in 2017, but Somerhalder and Wesley have remained connected. In an appearance on The Kelly Clarkson Show, Somerhalder teased that he and Wesley were cooking up a new project. But to the dismay of fans, it was an off-camera venture.
The actor told Clarkson that he and his partner would be launching a bourbon brand. Of their camaraderie, he said, "We love each other. We have wanted to kill each other about 800 times. But that means brothers." What may have seemed like an offhanded comment was actually a big clue about the name of the new bourbon. In a recent tweet, Somerhalder announced the product launch, writing this:
"Twitterverse Meet Brother's Bond Bourbon. Please go to BrothersBondBourbon.com to sign up! We can't wait to share this with you! Please share this with friends and family! If you were legal drinking age in the United States or in your home country!"
RELATED: 'Roswell, New Mexico' and 'The Vampire Diaries': Here's How They Are Connected
If the initial fan reaction was any indication, the ex-scene partners could make a mint from their new business. The site traffic crashed the site multiple times, leaving many bourbon aficionados out in the cold. Somerhalder addressed the glitch in this tweet:
"Thank you from me and Paul Wesley. Our website crashed. There were hundreds of thousands of you and [we] will fix this! We can handle you. All of you! BrothersBondBourbon.com is the name. Bonding is our game. Sign up please so we can share with you. See you soon!"
Before long, Somerhalder announced that the site had been restored, tweeting, "We are back up and running at lightning speed!"
Who boasts the bigger bank account, Ian Somerhalder or Paul Wesley?
RELATED: 'The Vampire Diaries': Paul Wesley's Face is Being Used Illegally
Somerhalder and Wesley have amassed sizable fortunes by working consistently, both on camera and behind the scenes. According to Celebrity Net Worth, Wesley is worth an estimated $6 million. But Somerhalder edges him out with an estimated $8 million fortune, as reported by the site. Looking ahead, their newest off-camera collaboration, Brother's Bond Bourbon, could boost their already sizable bank accounts considerably.