'The Vampire Diaries' x 'Supernatural' Crossover: Jensen Ackles' Idea Never Materialized
When Supernatural signed off in November 2020, it really marked the end of an era, but not only for Sam and Dean Winchester. For a time, The CW had everything on lock with three sets of brothers who ate, slept, and breathed the paranormal. The Vampire Diaries, The Originals, and Supernatural rocked the rotation with Paul Wesley, Ian Somerhalder, Joseph Morgan, Daniel Gillies, Jared Padalecki, and Jensen Ackles.
There was a window between 2009-2017 when all three shows had some fans dreaming up crossover scenarios between franchises. Though it never happened, Ackles once gave his "what if" opinion on what would potentially happen if the Winchesters ever crossed paths with TVD's Salvatore brothers and others in Mystic Falls.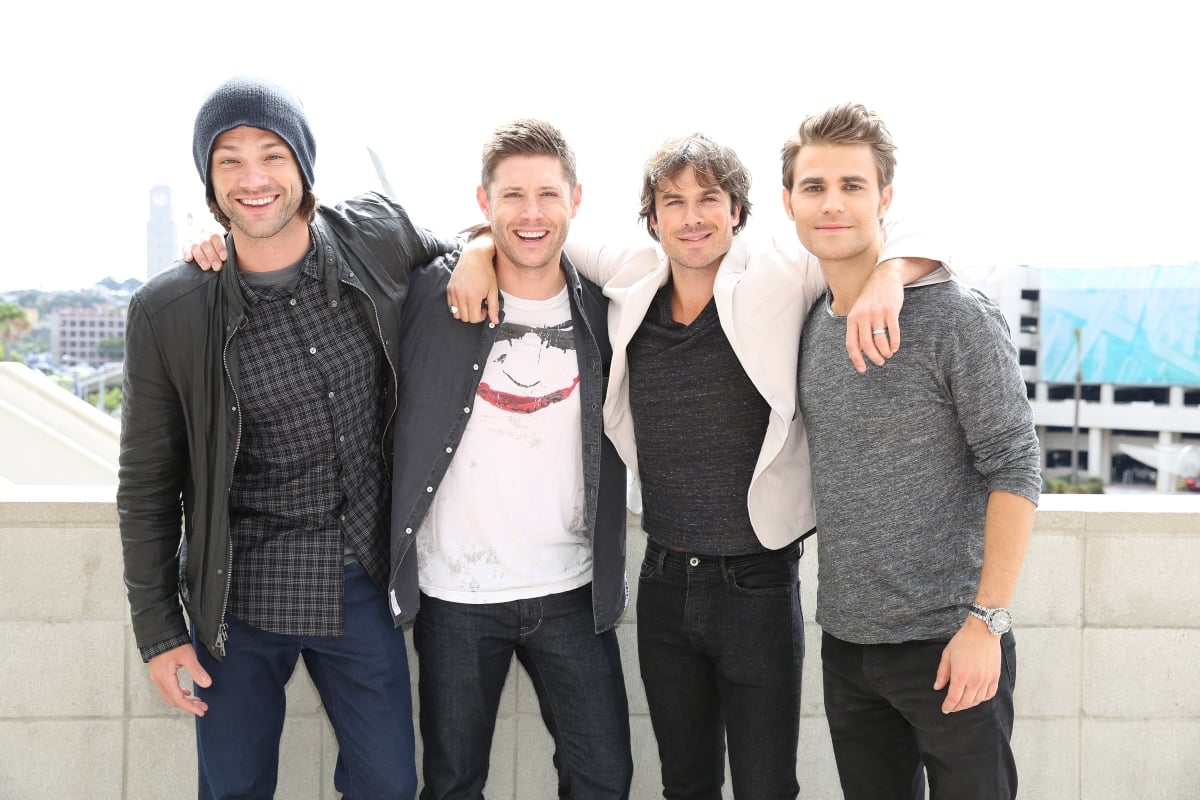 Jensen Ackles wanted to 'wipe out' the nest in 'The Vampire Diaries'
Back in 2014, Mark Sheppard, Misha Collins, Jared Padalecki, and Jensen Ackles appeared on a Nerd HQ panel. They fielded questions from fans, and someone asked if they'd like their characters to cross over to another TV show.
While Collins found Hawaii Five-O to be ideal because of the weather, Padalecki picked Smallville. But Ackles had a different idea.
"I don't know. Maybe given the trade that the Winchester brothers are in, maybe we go pay a visit to The Vampire Diaries and just wipe them out," he said to cheers and laughter. Host Aisha Tyler jokingly offered to fund the operation and shoot a special episode at her house.
Padalecki and Collins were down to do it too. "That's actually a really good idea. That should be done," said Collins, and Padalecki echoed his sentiment.
When the cast appeared at the 2016 Nerd HQ event, the question came up again as TVD announced its final season. With that in mind, Ackles put a new spin on the same idea.
"It might be a little conflict in scheduling seeing as how we film thousands of miles away from each other. I just say at the end, we'll loan them an Impala and just have the Impala drive into town as the last thing you see. That's all you need," he proposed, while also mentioning a rocket launcher.
Collins chimed in and said, "And then the screen cuts to black and you just hear screams." Whew! Imagine that ending to The Vampire Diaries.
RELATED: 'Supernatural': Celebrities You Forgot Were Guest Stars on the Series
'The Vampire Diaries' cast responded to the 'Supernatural' threat
With fans from both series attending convention events, word got back to The Vampire Diaries crew about the Winchesters' "threat." One Fan Expo attendee asked Somerhalder and Wesley what they thought about the 1967 Impala rolling up in their show's finale, and they gave a hilarious response.
"Is that what they drive?" they both asked. Wesley wanted to know who would be in the Impala and clarified whether the Supernatural brothers hunted vampires. "So, what they're saying is they want to come and kill us?" Wesley asked. "Jared likes me, OK?"
And Somerhalder added, "I don't know their characters other than they're handsome." Because this conversation happened in 2017, there's no telling if these two finally binge-watched Supernatural and changed their tunes. Either way, the Dean and Sam versus Damon and Stefan meet-up will have to live on in people's imaginations.
Stream all seasons of Supernatural and The Vampire Diaries on Netflix.