'The Voice': Kelly Clarkson Says 'We've Never Had a Coach Like' Ariana Grande
Kelly Clarkson said Ariana Grande is a unique judge on 'The Voice' because of her emphasis on vocal health.
The Voice is one of television's most popular competition shows. It has been on TV since 2011, and is responsible for introducing such popular talents as Cam Anthony, Cassadee Pope, and Carter Rubin. Over the years, the panel of coaches has changed a great deal, and these days, Blake Shelton is the only original coach who remains on the show. The 21st season of The Voice, which recently started airing on television, features a truly star-studded panel, including Shelton, John Legend, Kelly Clarkson — and Ariana Grande, who is a brand-new presence on the show. 
Ariana Grande recently joined 'The Voice' as a coach
In early 2021, award-winning singer Ariana Grande took to social media to reveal that she would be joining The Voice as a coach, replacing the previous chair-holder, Nick Jonas. Fans took to social media to express how thrilled they were with the selection, with many noting that Grande would bring some powerful energy to the set of the long-running singing competition series.
Grande, who has been in the entertainment industry since she was a young child, has done a lot of varied projects over the course of her career, but The Voice marks a bold new direction for the artist. Being a coach on the show will offer Grande the opportunity to guide and mentor other artists, all while allowing fans and viewers to see her interact with other high-profile artists. 
What did Kelly Clarkson say about how unique Ariana Grande is as a coach on 'The Voice'?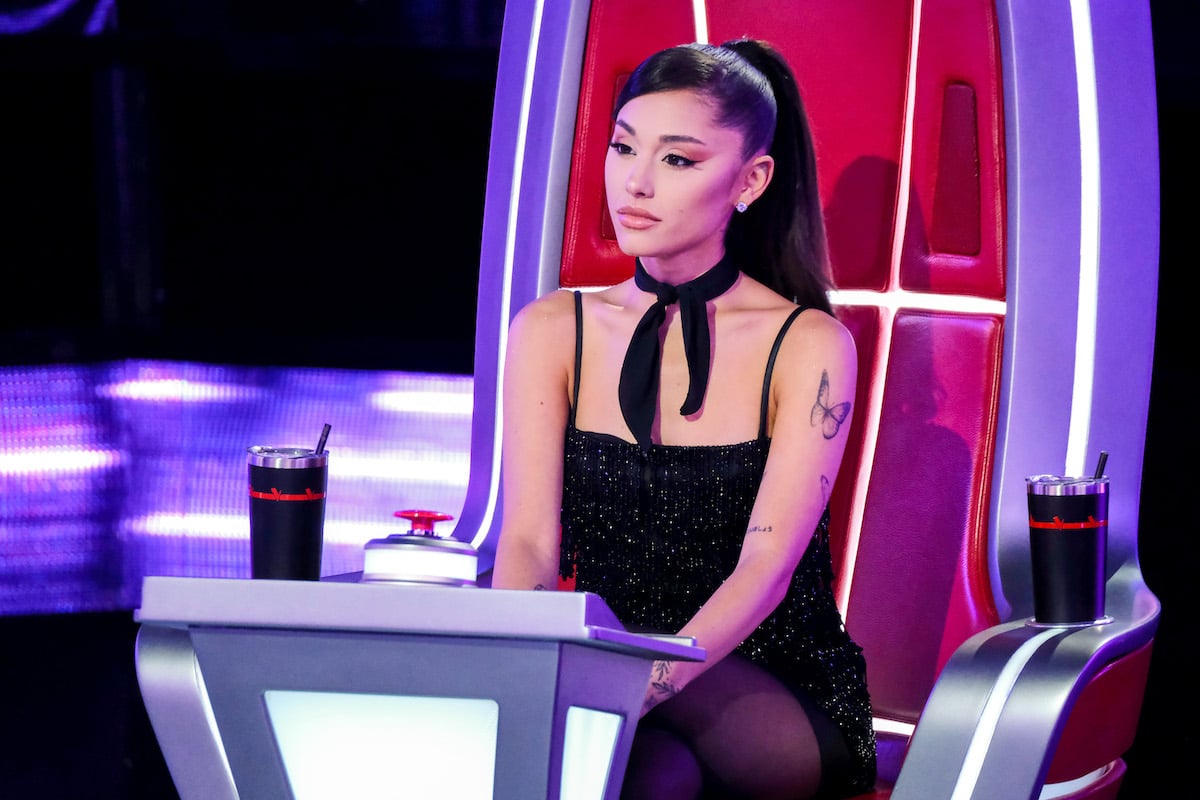 Kelly Clarkson is one coach who has been involved with The Voice since season 13, first as a mentor and guest artist and then officially joining the show as a coach the following season. Since then, Clarkson has been a fast favorite, with many viewers praising her sense of humor and lighthearted approach to coaching. In August, before the season premiere of The Voice, Clarkson chatted with Jimmy Fallon about the latest season and what she believes Ariana Grande brings to the table as a coach.
"We've never had a coach like her," Clarkson said to Fallon. "In all my seasons, I've never heard a coach talk about vocal health as much. And I'm like, 'I guess we should have mentioned that' … we are all vocalists. Like, no one's ever really mentioned it, and she's really into it, so it's cool. And everybody vibes so well."
Clarkson said that Grande is 'very witty'
Kelly Clarkson didn't just praise Ariana Grande's skills as a coach in her interview with Jimmy Fallon. The singer opened up about Grande's sharp wit and ability to make her fellow coaches laugh.
"I love her," Clarkson said. "She's so funny. Like very witty. In the beginning, behind the scenes, she wasn't really using a lot of her material she could have used out there, and then slowly towards the knockouts, like, we've already taped everything up to the lives … She's hysterical. Very witty."
Clarkson also couldn't resist the chance to rib Blake Shelton, joking that Grande gets a bigger round of applause from the live audience than Shelton does. 
With the live eliminations on The Voice, fans are more invested than ever in the coach's dynamics with each other, as well as the ultimate fate of the contestants. If a member of Grande's team is able to take home gold, it would certainly cement Grande's place as not just a superstar vocalist and artist, but a top-notch coach and nurturer of young talent as well.