'The Walking Dead': Why Norman Reedus Is 'Excited for Daryl and Negan to Start Working Together More'
It looks like Daryl and Negan will be spending even more time together on 'The Walking Dead'. Here's what Norman Reedus had to say about the team-up.
There's no love lost between Daryl and Negan on The Walking Dead. But as the narrative plays out, it looks like they will be spending even more time together. Here's what Daryl portrayer Norman Reedus had to say about the unlikely team-up.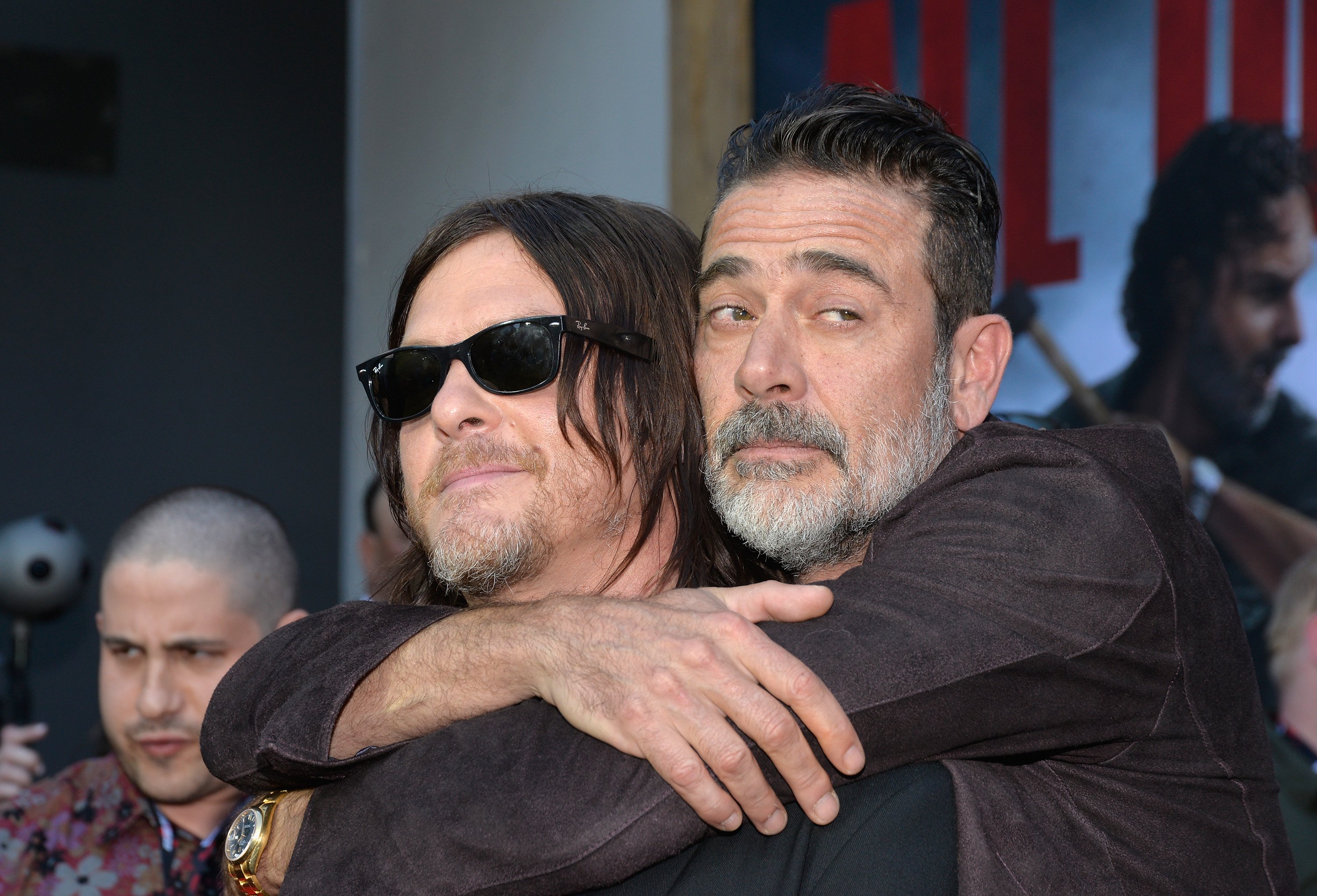 Cast and crew members from 'The Walking Dead' dished details about what to expect next
New York Comic-Con treated fans to a Walking Dead virtual panel with a slew of stars from the show.
Cast members Norman Reedus, Melissa McBride, Jeffrey Dean Morgan, Khary Payton, and Paola Lázaro participated in the nearly 30-minute discussion. Showrunner Angela Kang and Walking Dead Universe Chief Content Officer Scott M. Gimple also joined the conversation with Talking Dead host Chris Hardwick as the moderator.
The cast and crew fielded questions about the season 10 finale and dropped several hints about where the journey will take their characters next.
Daryl and Negan have a complicated history
Daryl and Negan share a contentious relationship in which they simply tolerate each other for the greater good. Their history makes things complicated, to say the least.
It is impossible to forget that Negan and the Saviors intimidated, abused, and murdered fan-favorite characters from the core group. After bludgeoning two of Alexandria's beloved residents Glenn and Abraham to death, Negan took another twisted course of action and callously abducted, imprisoned, and tortured Daryl.
In a coordinated uprising, the survivors from Alexandria, The Kingdom, Hilltop, and Oceanside came together for All Out War against Negan and the Saviors. After the dust settled Negan ended up in a prison cell, and Daryl became a reluctant leader among the survivors.
Negan spent several years paying his debt to the fragile society. And eventually, a more dangerous threat arose with Alpha as the leader of the Whisperers.
Alpha, her followers, and their weaponized horde of walkers seemed like unbeatable enemies. Ultimately, Carol made a unilateral decision, released Negan, and promised him his freedom in exchange for Alpha's head.
After single-handedly assassinating Alpha, Negan has earned his place in the group alongside Daryl, Carol, and others. Still, he's not winning any popularity contests.
Norman Reedus talked about Daryl and Negan's uneasy alliance
The current dynamics make for riveting scenes between the characters. And Negan's current position within the group sparks interesting debates about loyalty, forgiveness, and redemption. And it appears that Reedus digs where the storyline is headed when it comes to his character Daryl sharing more screen time with Negan.
 "I'm excited for Daryl and Negan to start working together more," said Reedus on the Comic-Con panel. "I mean, you know they both like motorcycles. I don't know. I think there's a big redemption arc in Negan's character [and] I think he's taking care of Lydia. He's like, proving he's not the old Negan. He's a new guy, and I think he's kind of finding family with our group now, so I'm hoping to have more scenes with Jeff for sure."
Follow Erika Delgado on Twitter.