'The Walking Dead': Will Rick and Michonne Reunite on the Big Screen?
The Walking Dead universe seems to be rapidly expanding with new stories, additional series, and forthcoming feature films. With Michonne's dramatic exit from the show that started it all, and the Rick-centered movie trilogy in the works, fans can't help but wonder if the apocalyptic lovebirds will reunite on the big screen.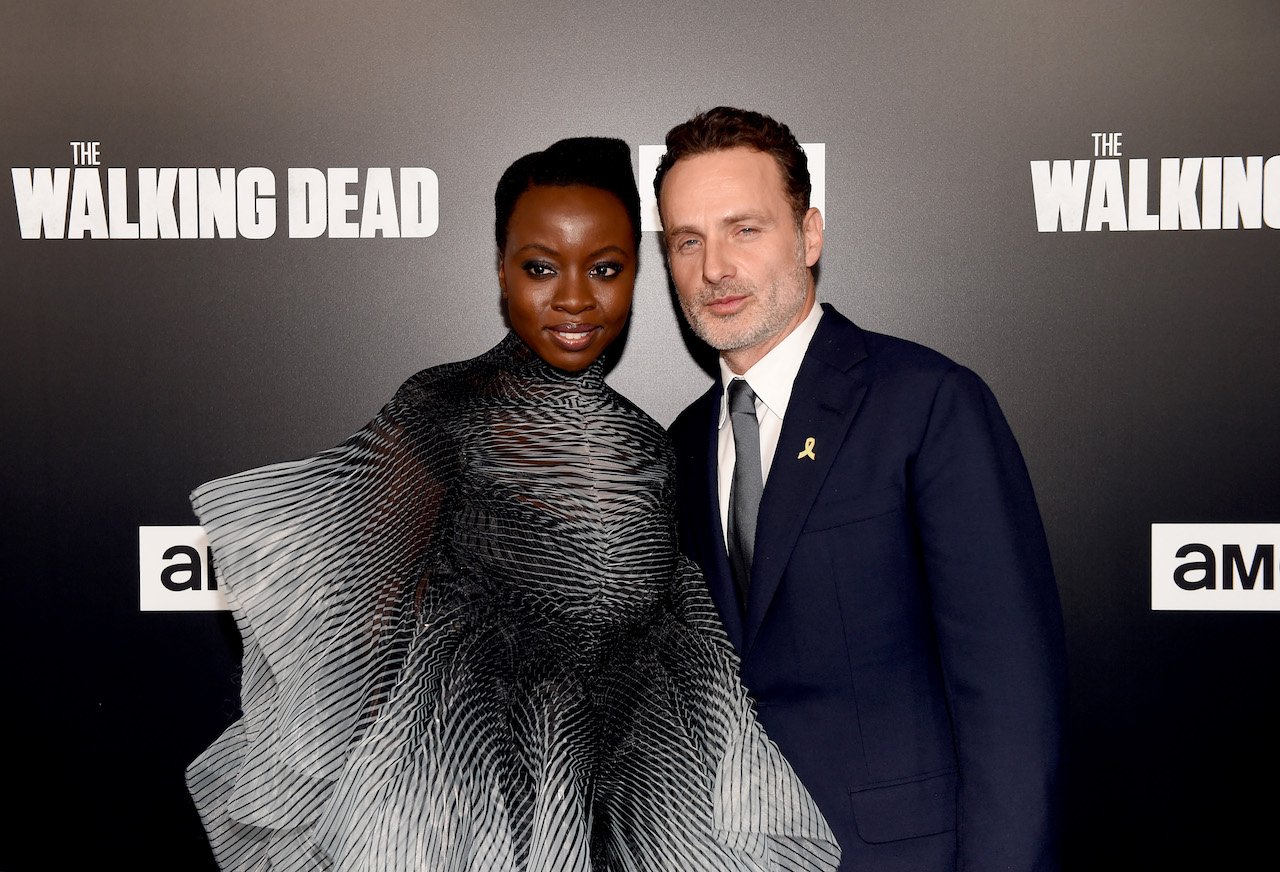 Rick and Michonne's romance was a slow burn on 'The Walking Dead'
From the beginning, Rick was the guiding force for the core group on The Walking Dead. He was a lawman, a father, and a man striving to retain his humanity.
The show teased Michonne in the season 2 finale and fleshed out the katana-wielding warrior during season 3. Initially, Rick and Michonne were distrustful of each other, but after the dreadlocked fighter struck up a sincere friendship with Rick's son, Carl, their feelings for one other began to thaw.
Rick and Michonne slowly became allies, then friends, and eventually came to depend on one another for both emotional and physical support. It was no surprise when their bond blossomed into true love.
Carl accepted Michonne as family, and the woman became the only mother that Judith, Rick's daughter, has ever known. Alas, the fragile family dynamic would not last.
The twosome experienced heartbreaking trauma and an explosive separation
RELATED: What is the Net Worth of 'The Walking Dead' Daryl and Carol Spinoff Stars, Norman Reedus and Melissa McBride?
Tragedy struck when the central survivor group battled Negan and the Saviors, and Carl died after being bitten by a walker. The dangers continued to mount, and in an act of sacrifice, Rick set off an explosion to destroy a bridge to prevent a horde of walkers from reaching his community.
Michonne, pregnant with Rick's third child Rick Jr., watched — horrified and grief-stricken. Badly injured, missing, and presumed dead, Rick was spirited away in a helicopter by a mysterious group a third of the way into season 9.
After a 6-year time-jump, during The Walking Dead Season 10, Michonne found clues that led her to believe Rick could actually be alive. Letting hope guide her, she bid farewell to Judith and RJ and set off on a search and rescue operation.
Fans wonder if the couple will reconnect on-screen
RELATED: 'The Walking Dead' Universe is Like Juggling Chainsaws, According to Show Boss Scott M. Gimple
New York Comic-Con welcomed several cast and crew members from The Walking Dead to discuss upcoming storylines. Norman Reedus, Melissa McBride, Jeffrey Dean Morgan, Khary Payton, and Paola Lázaro appeared on the panel. Walking Dead Universe Chief Content Officer Scott M. Gimple and showrunner Angela Kang joined the conversation. And Talking Dead host Chris Hardwick moderated.
During the video chat, Hardwick noted a question from a Twitter follower about whether the Rick and Michonne narrative would pick back up in The Walking Dead Season 11. Kang responded with a deflection.
"In some ways, we're still working on the fallout for Judith," pivoted Kang. "Because obviously, as far as she knows, Mom is still out there, and hopefully, Dad's out there. And, you know, she's a very hopeful child, but it's hard to not know where your family is. And so, that's definitely something that we'll even see touched on a little bit in the episodes to come that's the season 10 extension."
RELATED: 3 Questions 'The Walking Dead' Bonus Episodes Need to Answer
It will be no surprise if the creative minds behind The Walking Dead skip a small-screen reunion and opt to pick up the Michonne and Rick arc within the feature film franchise. Gimple, who is overseeing the direction of the movie trilogy, spoke with Looper about the process.
It's an incredible juggling act, but I will say, in my position, it's extremely helpful to be dancing between all these things because you can see the connective tissue, and you can see those stories. Whether they go in and out of every show or some of the shows, whether it has to do with the movies or things we're doing in the future, it is cool to be in the middle of it all.

I think it's probable not to see much crossover in these first movies — but, again, everything's changing. And this is taking a lot longer now than we expected. I'm just talking from a COVID-19 point of view, this big chunk of time we didn't anticipate.

I think Robert Kirkman said it best: We're using this time to really go over it and really road test it and really consider all the different directions we're going in. So, we're still in the lab in some ways. We've done a lot of work on it, but we're trying to perfect it at the moment.

Scott M. Gimple to Looper
Follow Erika Delgado on Twitter.