'The Way Home' Review: New Hallmark Series Delivers Engaging Family Drama, With a Twist
Hallmark Channel devotees looking for a new show to fill the hole left by Chesapeake Shores and Good Witch will find it in The Way Home, the network's new primetime series. This multi-generational saga about three women who must come to terms with their family's painful past delivers heartfelt storytelling with a time-travel twist. It premieres Jan. 15. 
A recently separated mom returns to her hometown in the new Hallmark series
The Way Home combines familiar Hallmark tropes with a dash of the supernatural. Kat (Chyler Leigh) is recently separated from her husband and has just lost her job as a journalist. Her teen daughter Alice (Sadie Laflamme-Snow) is acting out and has been expelled from her private high school in Minneapolis. When a letter from her estranged mother Del (Andie MacDowell) unexpectedly arrives, Kat grabs the olive branch she might have otherwise rejected. She and Alice pack up the car and head back to Kat's hometown of Port Haven, Canada. 
Kat is looking for a sanctuary, but it's not clear she'll find it in the quaint fishing village where she grew up. (Like all Hallmark towns, Port Haven is brimming with postcard-perfect charm.) Her return forces both Kat and a prickly, standoffish Del to confront a decades-old family tragedy that led to the estrangement between mother and daughter. Meanwhile, Alice is trying to navigate her parents' divorce and adjust to her new life in Port Haven. Things get even more complicated when she discovers that a pond near her grandmother's farm allows her to time-travel back to 1999, shortly before a painful loss changed the Landry family forever.  
Andie MacDowell shines in 'The Way Home'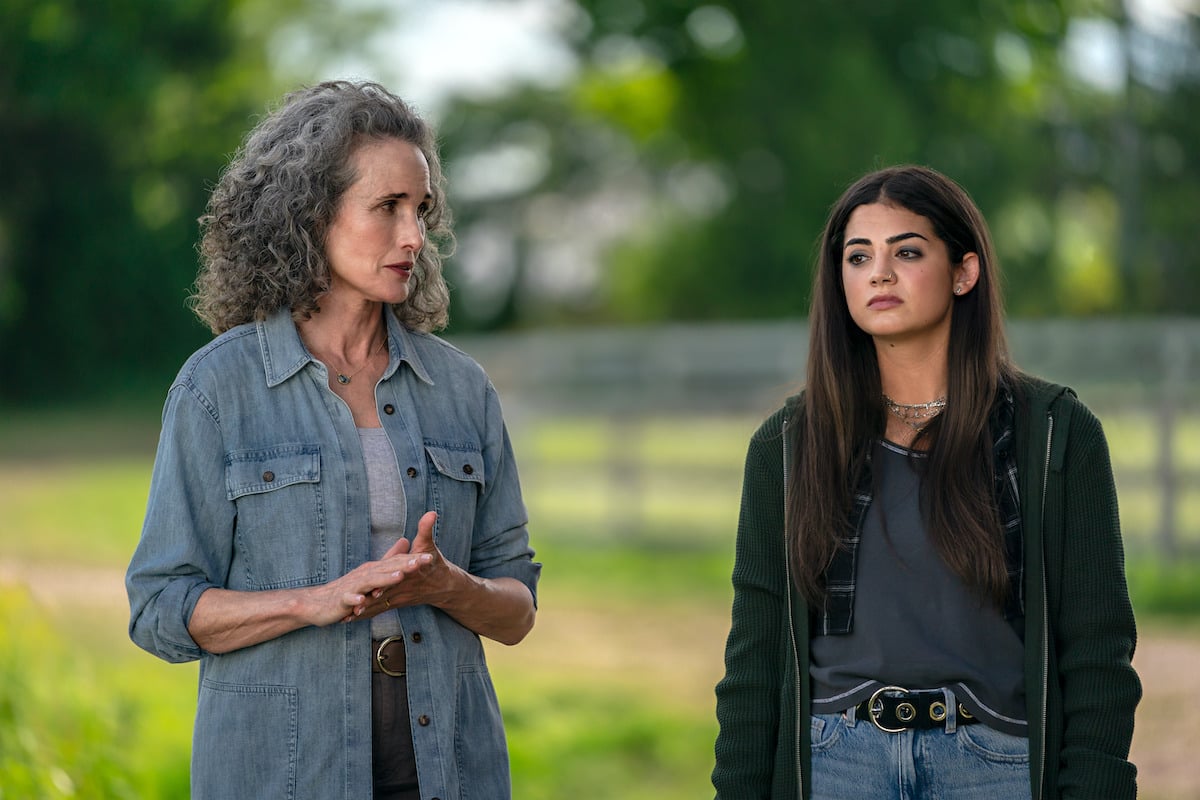 MacDowell – who also starred in Hallmark's Cedar Cove – brings just the right mix of down-home warmth and no-nonsense attitude to Del. She's spent years learning to come to terms with an unbearable loss, but her grief is still raw and palpable. Leigh is believable as an overwhelmed woman stuck between trying to reconcile with her mother and parenting her rebellious daughter. And Laflamme-Snow delivers a healthy dose of snotty teen attitude that her character deploys as a mask to hide her more sensitive core. 
The three Landry women are at the core of The Way Home, but the show makes room for some intriguing supporting characters. They include Al Mukadam as Kat's ex Brady (who is refreshingly not painted as a villain) and Elliott (Evan Williams), a science teacher at Alice's new high school with a connection to Kat's past. This is a darker show than some Hallmark fans may be expecting, though flashes of humor balance the more serious moments. Unfortunately, some of the attempts at comedy land awkwardly, particularly a cringy joke involving Alice and Elliott. (We can't say more without giving away spoilers.) 
Time-travel twist makes 'The Way Home' feel fresh 
Hallmark could have easily made a version of The Way Home without the time-travel twist, using flashbacks and other devices to unpack the Landy women's past trauma. But the era-hopping episodes give the show some freedom to experiment (and indulge in some late '90s nostalgia). Anyone who has seen Back to the Future knows the potential in a story that involves a teenager encountering a younger version of their parents, and The Way Home uses that premise to good effect.
Those looking for iron-clad time-travel logic won't find it in The Way Home. Exactly how the pond portal works isn't clear to either Alice or the audience, though the show's opening sequence indicates that the Landry women have been using it for centuries. Based on the first four episodes that were made available for review, it seems the rules governing it will come into clearer focus as the show progresses. What's key is that Alice's trips back in time begin to allow her to better understand her mother and grandmother's fraught history, and perhaps help all three women take the first steps toward healing. That story of a family coping with the messy reality of life after a devastating loss is the kind of drama that will keep viewers tuning in. 
The Way Home premieres Sunday, Jan. 15 at 9 p.m. ET on Hallmark Channel. 
For more on the entertainment world and exclusive interviews, subscribe to Showbiz Cheat Sheet's YouTube channel.