The Weird Message O.J. Simpson Sent To Kim Kardashian and Her Sisters
O.J. Simpson reportedly relayed a message to the Kardashian sisters and it's both random and weird.
It has been a very busy few weeks for the Kardashian family. Between the news surrounding the release of Kanye West's new album and the ever-growing rumors about Kylie Jenner and Drake's possible romantic relationship, fans are hearing about the famous reality TV family left and right.
However, possibly the biggest news story of the past several months concerns the Kardashians and their former family friend, O.J. Simpson. Keep reading to learn about the history that the Kardashians and Simpson have and what strange message Simpson recently sent to the Kardashian sisters.
Robert Kardashian defended O.J. Simpson in court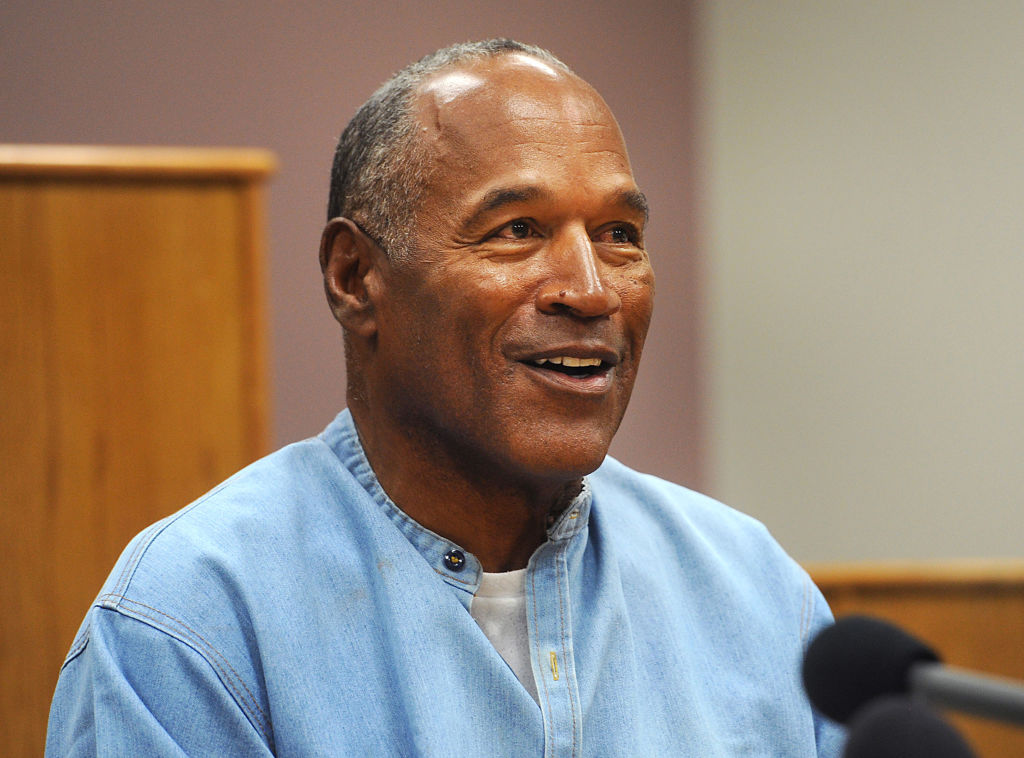 The friendship between the Kardashian family and former football star O.J. Simpson began in the 1970s when Simpson and Robert Kardashian became close friends. The two men remained close as their careers took off. And when Kardashian met and married Kris Houghton and the pair welcomed four children, Simpson became a sort of surrogate uncle to the children. The Kardashians and Simpson, along with his wife, Nicole Brown Simpson, would spend a great deal of time together, and it often seemed as though it was a friendship that couldn't be broken.
However, in 1994, Simpson was charged with the murder of his then-ex-wife Nicole Brown Simpson, and it split the families apart. While Robert Kardashian reactivated his law license and defended Simpson in court, his ex-wife, now known as Kris Jenner, sat with the murdered woman's family, grieving over the loss of her friend. Although Simpson was famously acquitted, his friendship with the Kardashian family was effectively over. And they were never spotted in public with him again.
Rumors persist about Kris Jenner being romantically involved with O.J. Simpson
One rumor that has persisted over the decades is the idea that O.J. Simpson is actually Khloe Kardashian's biological father. According to the theory, Kris Jenner reportedly had an affair with Simpson nine months prior to Khloe Kardashian's birth.
Adding fuel to the fire is the fact that Khloe Kardashian has a slightly different look than her sisters do, and the very real detail that Kris Jenner admitted to cheating on her first husband, Robert Kardashian, before. Though, not with O.J. Simpson.
Some fans have even pushed Khloe Kardashian into getting a DNA test in order to prove the theory. Still, both Jenner and Simpson have denied this possibility.
Simpson even posted a video to his Instagram page claiming that he's never had "any interest" in Jenner and that Khloe Kardashian isn't his. In spite of the fact that the Kardashians don't seem to want anything to do with Simpson, his name continues to be tied to theirs in strange and unusual ways.
What message did O.J. Simpson recently send to the Kardashian sisters?
Although the rumors of Jenner and Simpson's alleged affair have been done to death, it still won't go away. In a recent episode of Keeping Up with the Kardashians, Jenner spoke about them directly.
Simpson's former manager recently spoke out, claiming firsthand knowledge of the affair. In the episode, Kim Kardashian read his statement out loud to Jenner.
Jenner called the accusations "tasteless and disgusting" while reiterating that she's never been involved with Simpson.
Oddly enough, Kardashian's best friend, Jonathan Cheban, ran into Simpson around the same time. Simpson supposedly told Cheban that he wanted him to pass along a message to the Kardashian daughters: that he said hello, and that he's "so proud of them."
Although it certainly seems as though the Kardashian's have no desire to be linked to Simpson anymore, he doesn't seem to have gotten that memo.