'The White Lotus' Episode 1 Recap, 'Arrivals' — Who Died?
'The White Lotus' Episode 1 is intriguing, hilarious, and uncomfortable. The star-studded ensemble cast shocks and delights fans with the brand new HBO limited series.
HBO's new limited series, The White Lotus, premiered on July 11, 2021, with episode 1, "Arrivals." The ensemble cast came together for a memorable first installment full of hilarious scenes and many uncomfortable moments. Plus, there's already an intriguing mystery to solve — who died while on vacation?
[Spoiler alert: This article contains spoilers from The White Lotus Episode 1, "Arrivals"]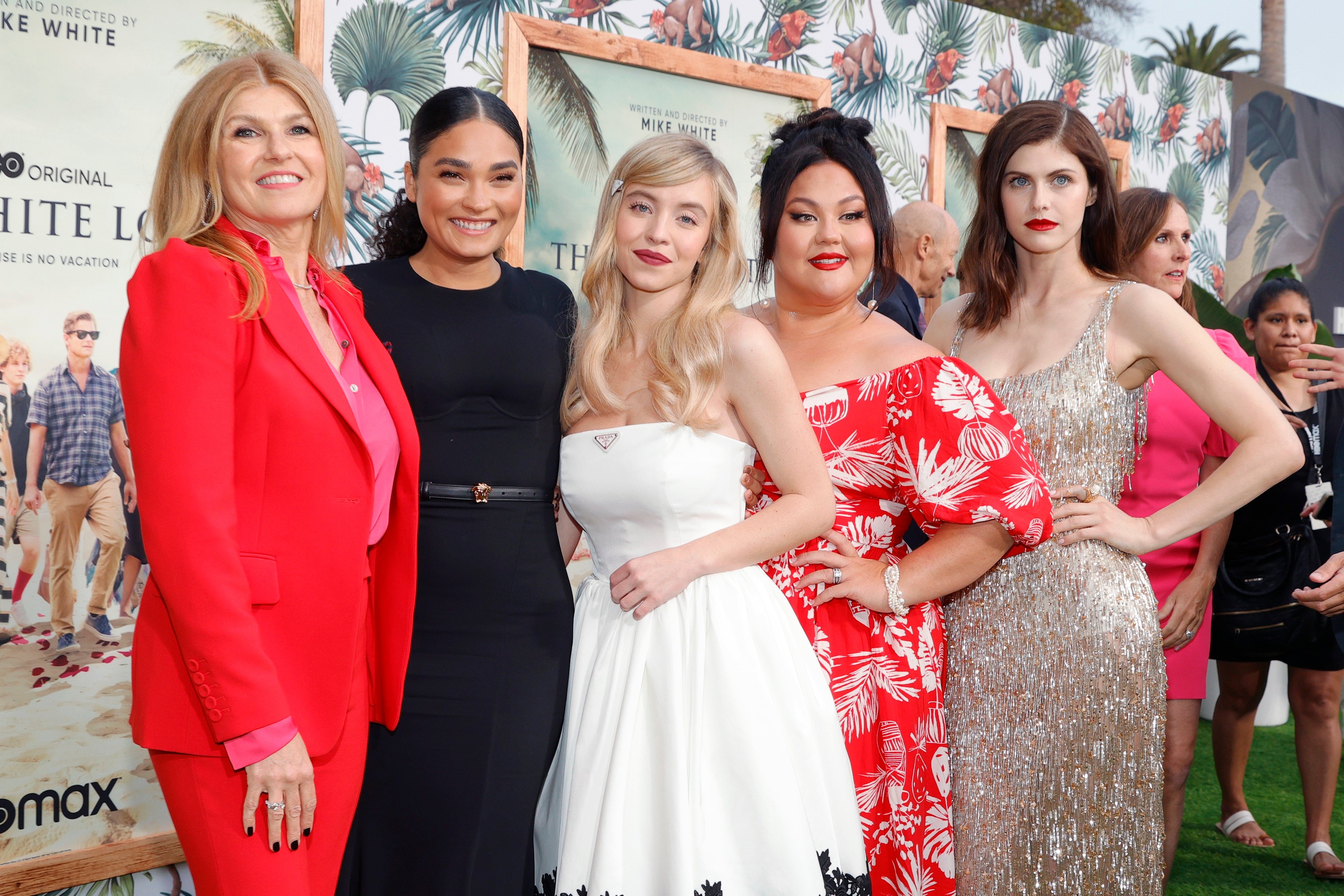 'The White Lotus' begins at the end
When The White Lotus opens, Shane Patton (Jake Lacy) looks rather unhappy in an airport. Fellow travelers ask him what resort he stayed at, and when he responds that it was White Lotus, they become concerned. 
"Someone was killed there," the wife says.
Shane confirms that the body remains are heading home from Hawaii on the plane they are about to board. However, viewers do not find out who died. When asked where Shane's wife is, he becomes irate.
Then the episode flashes back to one week prior. 
'The White Lotus' Episode 1: The arrival boat
Next, The White Lotus travelers head to their tropical island resort on a fancy boat. Two of the guests, Oliva Mossbacher (Sydney Sweeney) and Paula (Brittany O'Grady), create background stories about the other VIP passengers aboard the boat. They guess that Rachel (Alexandra Daddario) and Shane Patton (Jake Lacy) met on Raya, a celebrity dating app. 
When the VIP guests arrive at the resort, hotel manager Armond (Murray Bartlett), trainee Lani (Jolene Purdy), and spa director Belinda (Natasha Rothwell) help the new guests settle into the resort. 
Tanya McQuoid and Belinda
Belinda finds herself wrapped up in Tanya McQuoid's (Jennifer Coolidge) life rather quickly. Tanya wanted a massage very severely, but there were no openings. Instead, Belinda offers her a Reiki massage. Tanya opens up to the director that her mother died in June and that she has attachment issues. Then Belinda holds Tanya's head in her palms while chanting motivational, encouraging words that she instructs Tanya to repeat. Later, the single vacationer begs Armond to switch her next massage to Belinda.
'The White Lotus' Episode 1: The honeymooners
Honeymooners Shane and Rachel immediately begin their vacation with a conflict because Shane believes they do not have the correct suite. So, he heads to Armond to argue about the virtual tour he saw online. The hotel manager thinks he accidentally double-booked the "Pineapple room," but he doesn't tell the guests.  
Later, viewers find out that Rachel and Shane met recently and got married very quickly. Olivia and Paula grill Rachel by the pool with 20 questions. It turns out that she is a journalist and graduated from Suny Potsdam (State University of New York Potsdam). They find out that Shane's family is very wealthy. When Rachel begins to ask questions back, the girls get quiet. However, they do admit that Olivia's mother is the CEO of Poof.
Lani, the trainee, is having a baby
Meanwhile, the newbie, Lani, is pregnant and hasn't told anyone at the resort because it's her first day. She worries that she's going into labor, and then her water breaks on the lobby floor. Armond finds out that she is pregnant during the lobster bake and having the baby in his office.
'The White Lotus' Episode 1: 'The Mossbachers'
Nicole Mossbacher (Connie Britton) yells at her daughter, Olivia, and her friend, Paula, for forcing Olivia's brother to sleep in the small kitchen. However, Olivia retorts that he needs privacy to continue "fapping," which is a term for male masturbation.
Meanwhile, Nicole's husband, Mark Mossbacher (Steve Zahn), has a severe health crisis. He worries that he might have testicular cancer because of his enlarged testicles. Mark's father died of cancer at age 46, so he's convinced the same thing might happen to him. He decides to spend time with his son, Quinn (Fred Hechinger) and pulls the teenager out of the small kitchenette area.
When Mark and Quinn head to Armond to find something to do. After numerous ideas that the hotel manager shoots down, they settle on snorkeling. However, Mark is too preoccupied with his private area to snorkel with his son. Later, he tries to have a heart-to-heart with his son, but it's pretty awkward. By the end of The White Lotus Episode 1, Mark finally gets a call from his doctor, but the show ends without telling viewers whether he has cancer.
The Lobster Bake
Shane mentions the room issue during the lobster bake again, although he promised Rachel he wouldn't. Later, Rachel worries that they might become an old couple with too much "baggage." However, Shane reassures her that they will always be happy. The White Lotus Episode 1 ends with the newlyweds making out. However, it's a creepy angle that might indicate someone watching through the windows. 
Who died in 'The White Lotus'?
The first guess is that Rachel somehow died on vacation since she's not in the opening scene of The White Lotus Episode 1. However, another theory is that Mark's unknown testicular issue takes a turn, and he died while at the resort. With the evidence viewers have so far, it could be any of the guests. At least the staff of the White Lotus resort seems to be ruled out.
HBO returns with the next installment of The White Lotus on July 18, 2021.