'The White Lotus' Episode 2 Recap, 'New Day' — Missing Ketamine
When HBO's The White Lotus Episode 2, "New Day," opened, Olivia Mossbacher (Sydney Sweeney) and her friend, Paula (Brittany O'Grady), sifted through a pile of prescription drugs. As their vacation at the gorgeous Hawaiin resort continued, Shane Patton (Jake Lacy) continued to harass the manager, Armond (Murray Bartlett), about their suite. Later, Shane's wife, Rachel (Alexandra Daddario), asked Nicole Mossbacher (Connie Britton) for career advice. Plus, Mark Mossbacher (Steve Zahn) got a "new lease on life." Later, things got interesting between Belinda (Natasha Rothwell) and Tanya McQuoid (Jennifer Coolidge).
[Spoiler alert: This article contains spoilers from The White Lotus Episode 2, "New Day."]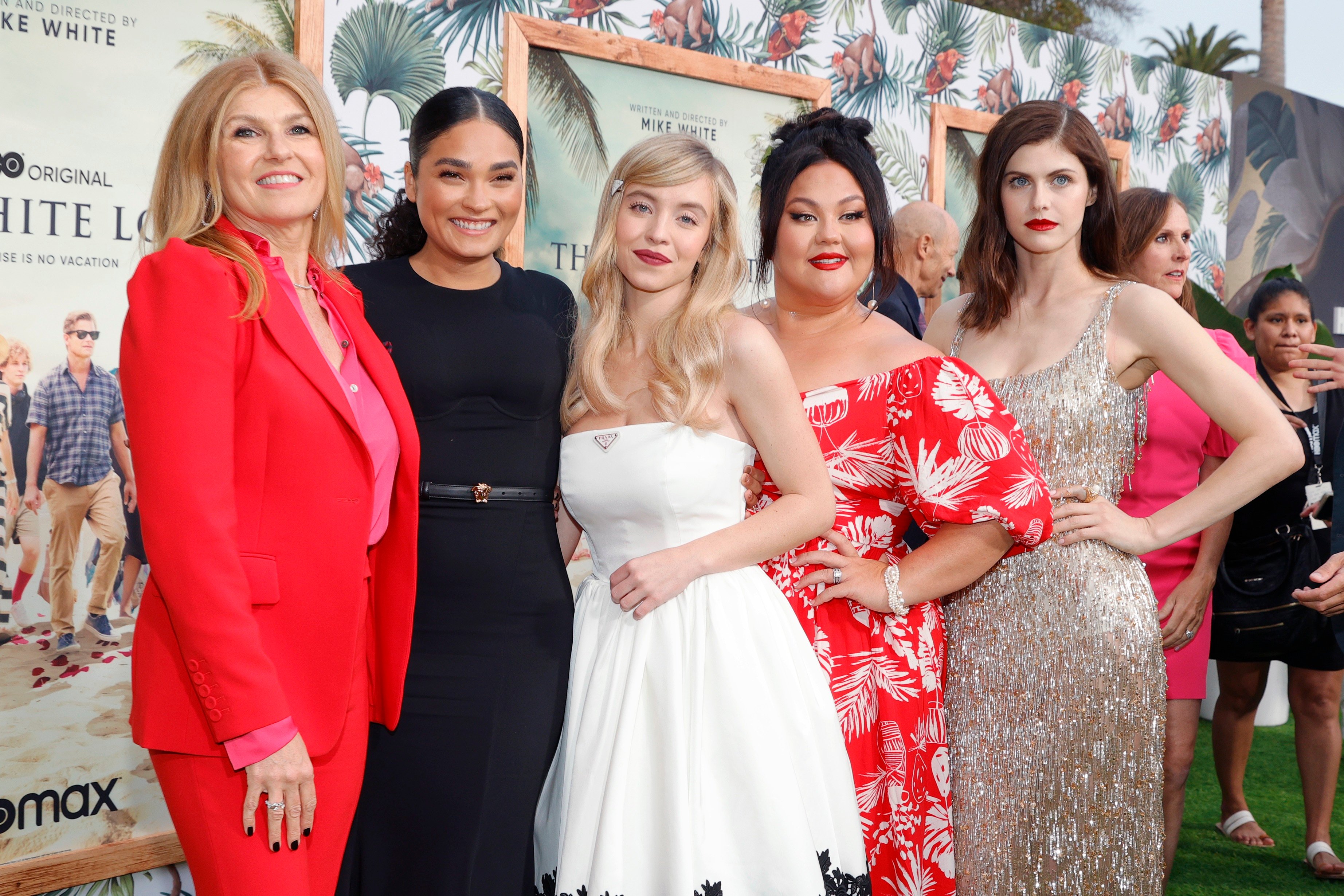 'The White Lotus' Episode 2 recap: Olivia, Paula, and their missing ketamine
During The White Lotus Episode 2, Olivia and Paula spend an evening getting high together. They start with a bong, which they refuse to share with Olivia's brother, Quinn (Fred Hechinger). Then they move on to prescription drugs, snorting ketamines. The next day, the girls bring their bag full of drugs to the beach, but their high is interrupted by Tanya.
After they attempt to listen to her for a few minutes, they quickly excuse themselves to head to the "restroom." However, they leave their bag full of drugs. Tanya turns the bag into the staff at the resort. Later, Armond realizes an abundance of prescription drugs are inside the bag and shoves it into his desk drawer.
When the girls realize the bag is missing, Olivia tracks Armond down to ask him where the lost and found is. She describes the bag to him, but he insists that he hasn't seen it. In an interaction with Belinda, viewers find out that the stress of Lani's (Jolene Purdy) unexpected delivery in The White Lotus Episode 1 threatened Armond's five years of sobriety. In the last few minutes of episode 2, he takes one of Paula's prescription pills.
Later in the episode, viewers notice that Olivia is jealous of a budding relationship between Paula and one of the resort's bartenders.
Rachel and Shane Patton's marriage isn't as picture-perfect as it seems
In The White Lotus Episode 2, Shane cannot understand why his wife wants to take a freelance job that only pays a few hundred dollars. Rachel doesn't want to give up her career, although Shane tells her her "situation has changed." He comes from a very wealthy family and cannot understand why she would want to work now that she married him. Rachel tries to insist upon taking the job, but in the end, turns it down.
RELATED: 'Mare of Easttown' Fans Moved on to 'The White Lotus' — Is It a Similar Murder Mystery Miniseries?
Shane continues to berate Armond about their room mix-up, this time by having his mother's travel agent call the resort manager. Additionally, Rachel has an awkward conversation with Nicole Mossbacher. At first, the conversation starts well since Rachel praises Nicole's work. However, it takes a turn when Nicole finds out that Rachel wrote a profile about her. It wasn't a piece that Nicole appreciated, and she shuts down the young woman. Rachel leaves the conversation feeling dejected, and that also might be a part of why she doesn't take the freelance job.
Belinda and Tanya's relationship
The single traveler, Tanya, feels so refreshed and healed from Belinda's spa treatments that she asks the spa manager to dinner. While at dinner, Belinda opens up to Tanya about how nice it is to receive encouragement because she has a hard time feeling that she is making a difference. Belinda admits that her clients are mostly "rich white people" who need help because they mess up the world. Tanya agrees with Belinda, although the irony is apparent — Tanya is one of the "rich white people."
Tanya insists that Belinda should start her own business, with Tanya as her financial backer. Does she want to throw her money at the spa manager to keep Belinda for herself? Or is Tanya offering her money because she doesn't know how else to make a real connection with her?
'The White Lotus' Episode 2 recap: Mark and Quinn Mossbacher
Mark Mossbacher finds out that he doesn't have cancer. He feels that it gives him a second chance to make the most out of his life. Mark schedules snorkeling certification classes for him and his son, Quinn. However, his son isn't the least bit excited. Every interaction between Quinn and Mark consists of the father trying very hard.
Meanwhile, Quinn says very little. In one of the last scenes of The White Lotus Episode 2, Paula and Olivia insist that Quinn cannot sleep in the living room with them. So, Quinn takes his blanket and heads to the beach.
Later, Mark finally gets in touch with his Uncle to discuss what cancer Mark's father had when he died. It turns out that his dad didn't have cancer at all, but AIDS. The Uncle informs Mark that his father led two lives — one with Mark's family and another where he dated men.
HBO returns with The White Lotus Episode 3 on July 25, 2021, at 9 p.m. EST.