'The White Lotus Episode 3': Recap, 'Mysterious Monkeys'
HBO's new limited series, The White Lotus, ramped things up with episode 3, "Mysterious Monkeys," on July 25, 2021. The ensemble cast came together with the most uncomfortable and hilarious moments to date.
[Spoiler alert: This article contains spoilers from The White Lotus Episode 3, "Mysterious Monkeys"]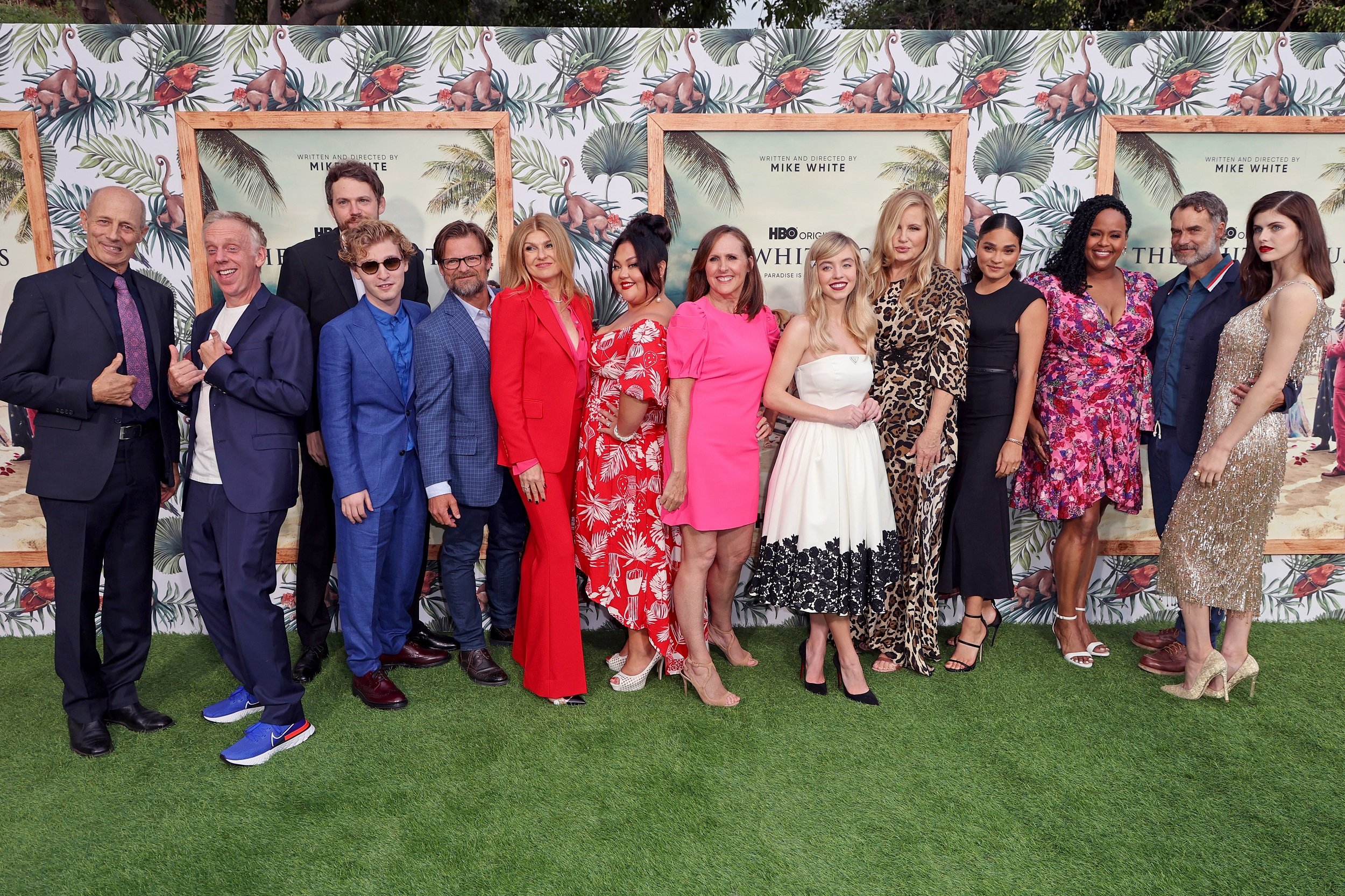 'The White Lotus' Episode 3: Paula and Olivia
The White Lotus Episode 3 opens with Olivia Mossbacher (Sydney Sweeney) searching for Paula while she's out kissing a guy from the resort. Paula (Brittany O'Grady) lies to her friend when she returns, claiming she walked around the island because she couldn't sleep. At the end of the episode, Olivia follows Paula and finds her having sex with the hotel staff member. 
The newlyweds: Shane and Rachel
Shane (Jake Lacy) and Rachel (Alexandra Daddario) have morning sex when The White Lotus Episode 3 begins, but Rachel doesn't look incredibly happy about it. Over breakfast, she points out sex isn't the most important thing to her. So Shane asks Armond (Murray Bartlett) to help him set up a romantic dinner.  
Later, while Rachel speaks to her mother on the phone, Shane swims down the pool to flirt with Olivia and Paula. When she gets off the phone, Rachel grabs her bags and leaves, appalled at her new husband. However, when Rachel confronts Shane about flirting with the girls, he almost seems happy that his wife noticed. He asks if she's jealous. It looks like Shane was hoping to make her jealous. Instead, it made her question their marriage even more.
'The White Lotus' Episode 3: Belinda and Armond
When the spa manager, Belinda (Natasha Rothwell), arrives at work, she speaks to her son on the phone about starting a wellness center. Her son tells her to jump on the offer from Tanya McQuoid (Jennifer Coolidge). He thinks he should do everything she can to secure the funds from the rich white woman. A few seconds later, Belinda finds Armond sleeping in his car. 
After one interaction with Tanya, Armond takes some prescription medication from Olivia and Paula's bag. The girls ask Armond about the bag again, and he again denies having it. The resort manager puts the newlyweds on the same boat as Tanya — who plans to spread her mother's ashes. Then he spends the remainder of the day drinking.
The Mossbacher family
Nicole (Connie Britton) tells the rest of the Mossbacher family the news about their grandfather — that he died of AIDS, not cancer. Paula and Olivia point out that Mark Mossbacher (Steve Zahn) seems homophobic after learning that his father was gay. However, Nicole insists Mark is in a safe space to have his feelings. The girls disagree. 
When Rachel left Shane flirting with Olivia and Paula, the newlywed stumbled upon Mark Mossbacher. In The White Lotus Episode 3, viewers finally see the clip of Mark and Rachel from the trailer. They make small talk, and Rachel is impressed by how long he remained married. She asks the secret to keep the spark alive. However, he tells her that the spark died a long time ago. 
Then he graphically tells Rachel how awful it is to have sex after being married for so long. Mark explains that sex turns into such a chore that he equates it to a reality TV show. Sex with his wife is similar to eating the most disgusting thing in a competition show. Rachel leaves the conversation feeling worse than she already did about her marriage.
The boat leaves at 5:00, 'Goodbye Mother'
Tanya asks Belinda to join her on the boat to spread her mother's ashes. Although Belinda works until seven that evening, she gets someone to cover for her to be with Tanya. The lone traveler, Tanya, drinks champagne all day before boarding the boat. 
When they board the boat for their romantic evening, Rachel and Shane find out that Tanya is there to spread her mother's ashes. Shane asks the server, "what's going on with this lady?" He's uncomfortable with Tanya, but of course, Tanya keeps talking to the honeymooners. Rachel tells Shane that she's worried about his sexual attraction to her fading. He pushes her feelings aside, and then the couple is forced into the memorial for Tanya's mother. 
Tanya tries to talk fondly about her mother, but it's not exactly what one would expect. She describes how terrible her mother was in graphic detail. After she spreads some ashes, Tanya begins to cry and realizes she's not ready yet. The entire situation is uncomfortable, leaving the honeymooners distraught and Shane fuming at Armond. Later, Belinda tucks Tanya into bed, likely wondering if the funds for her wellness center are worth it.
'The White Lotus' Episode 3: Mark and Armond
In The White Lotus Episode 3, the Mossbacher family has dinner without Mark. Olivia tells her brother, Quinn, that he's addicted to porn. However, Nicole tells the girls not to "sex-shame" him. Olivia throws it back in her face that her mom sex shames her father.
Meanwhile, Mark and Armond have a conversation at the bar. By this point in the day, both men are relatively drunk. Mark asks Armond what it's like to have gay sex. Armond looks him dead in the eye and says, "Do you want to find out?" However, Mark says he'll take a raincheck and leaves the bar.
Later, Armond hits on the young male server, Dillon (Lukas Gage), who was on the boat for the funeral. When Dillon explains that the excursion was awful, Armond is thrilled. The resort manager continues to make inappropriate comments to Dillon until the young man walks out.
Back in the Mossbacher bedroom, Mark acts like a monkey and tries to have sex with his wife. However, Nicole pushes him away. The White Lotus Episode 3 ends with several declined sexual offers and a few green lights. Shane tries to play with his wife's feelings, pretending he's not interested in sex when he is. 
HBO Max returns with The White Lotus Episode 4 on Aug. 1, 2021.