'The White Lotus' Episode 4 Recap, 'Recentering' — 2 Guest Stars Finally Appear
HBO's newest limited series, The White Lotus, continues with episode 4, "Recentering." Shane (Jake Lacy) confronts Armond (Murray Bartlett) about the disastrous boat ride with his new bride, Rachel (Alexandra Daddario). Meanwhile, Shane's mother, Kitty (Molly Shannon), blindsides the honeymooners by arriving at the Hawaiian resort unexpectedly. Armond continues to spiral in a drug and alcohol-induced daze, culminating in a shocking ending to the episode. However, viewers aren't any closer to finding out who dies during the trip.
[Spoiler alert: This article contains spoilers from The White Lotus Episode 4, "Recentering"]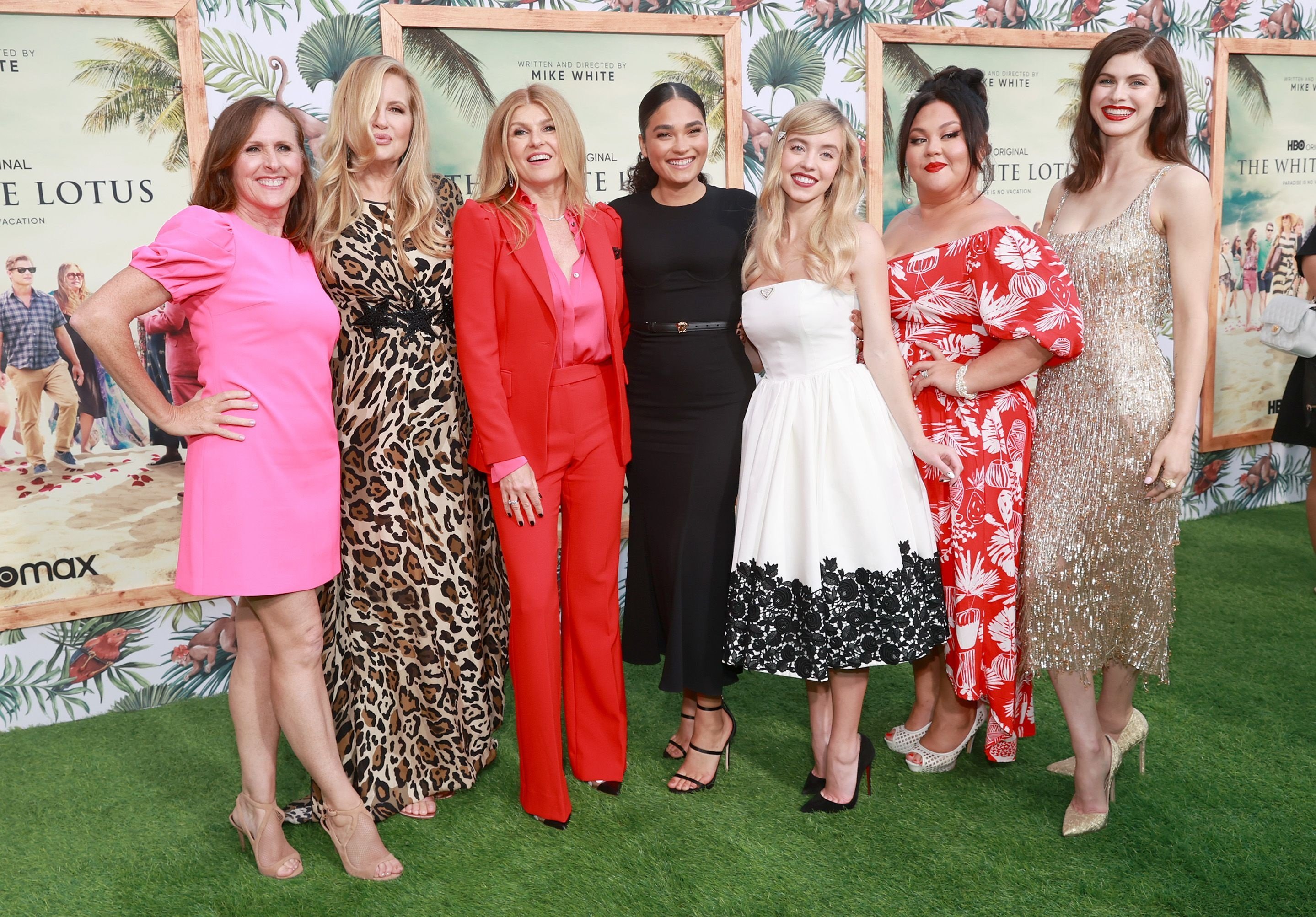 'The White Lotus' Episode 4 recap: Paula, Olivia, and Kai
When The White Lotus Episode 4 opens Paula (Brittany O'Grady) and a resort staffer, Kai (Kekoa Scott Kekumano), are having a very personal conversation. He reveals that the government terminated their lease on the island, and that's how the resort took over. Kai admits that his family hates that he works for the place that took their land. When Paula says she better go before Olivia (Sydney Sweeney) wakes up, Kai asks the question everyone was wondering.
"Why don't you want her to know we are hanging out?" he asks.
Paula admits that the Mossbacher family is "crazy." She tells Kai that Olivia is jealous of everything. Later at the breakfast buffet, Olivia asks if Paula is upset about a guy named Trevor. She tells Paula that it was a "momentary lapse in judgment," and she won't steal another guy from her. However, later that evening, after Paula leaves dinner, Olivia purposely ends up flirting with Kai.
The Mossbacher family
Mark Mossbacher (Steve Zahn) wakes up from his drunken day and tells his wife he plans to participate in the day with their family. However, his interactions with his son, Quinn (Fred Hechinger), continue to be odd in The White Lotus Episode 4.
Quinn confronts his dad about the things he said about his mom, Nicole Mossbacher (Connie Britton), the day before. So, Mark follows it up by telling his son that he cheated on his wife with another woman. Mark recalls how difficult the situation was and again calls himself a monkey. Then Mark tells his son about the $75,000 bracelets he bought Nicole to make up for his unfaithfulness.
As the only one without electronic devices, Quinn seems to be the only one noticing their surroundings. He wakes up to see a group of indigenous people in a Hawaiian outrigger canoe. Later in the day, he approaches the people in another boat to talk to them. 
Meanwhile, Nicole asks Olivia and Paula to include Quinn more because he's a "straight white man." The entirety of The White Lotus episode 4 delves into racial conversations. Later at dinner, Nicole and Mark try to defend themselves about their whiteness. Paula tries to engage Mark about his inappropriate comments. However, she ends up leaving dinner because of their ignorant remarks about race and class.
"Watching all the Hawaiians have to dance for all these white people that stole their island. It's depressing," Paula tells Olivia later.
'The White Lotus' Episode 4 recap: Rachel and Shane
At breakfast, Rachel wonders whether she should get involved in a nonprofit organization and put her journalism career aside. When she asks Shane's opinion, he's distracted by Armond walking by. The husband can't let go of his preoccupation with the resort manager trying to sabotage his honeymoon.
Shane tells Armond that the boat was a "dumpster fire" and demands to speak to Armond's boss. The resort manager insists he will bring his supervisor's number to his room. Instead, he delivers Shane's mother, Kitty (Molly Shannon), to surprise him and his new bride with a visit on their honeymoon. The mother-in-law immediately comments on the fact that Shane and Rachel have the wrong room.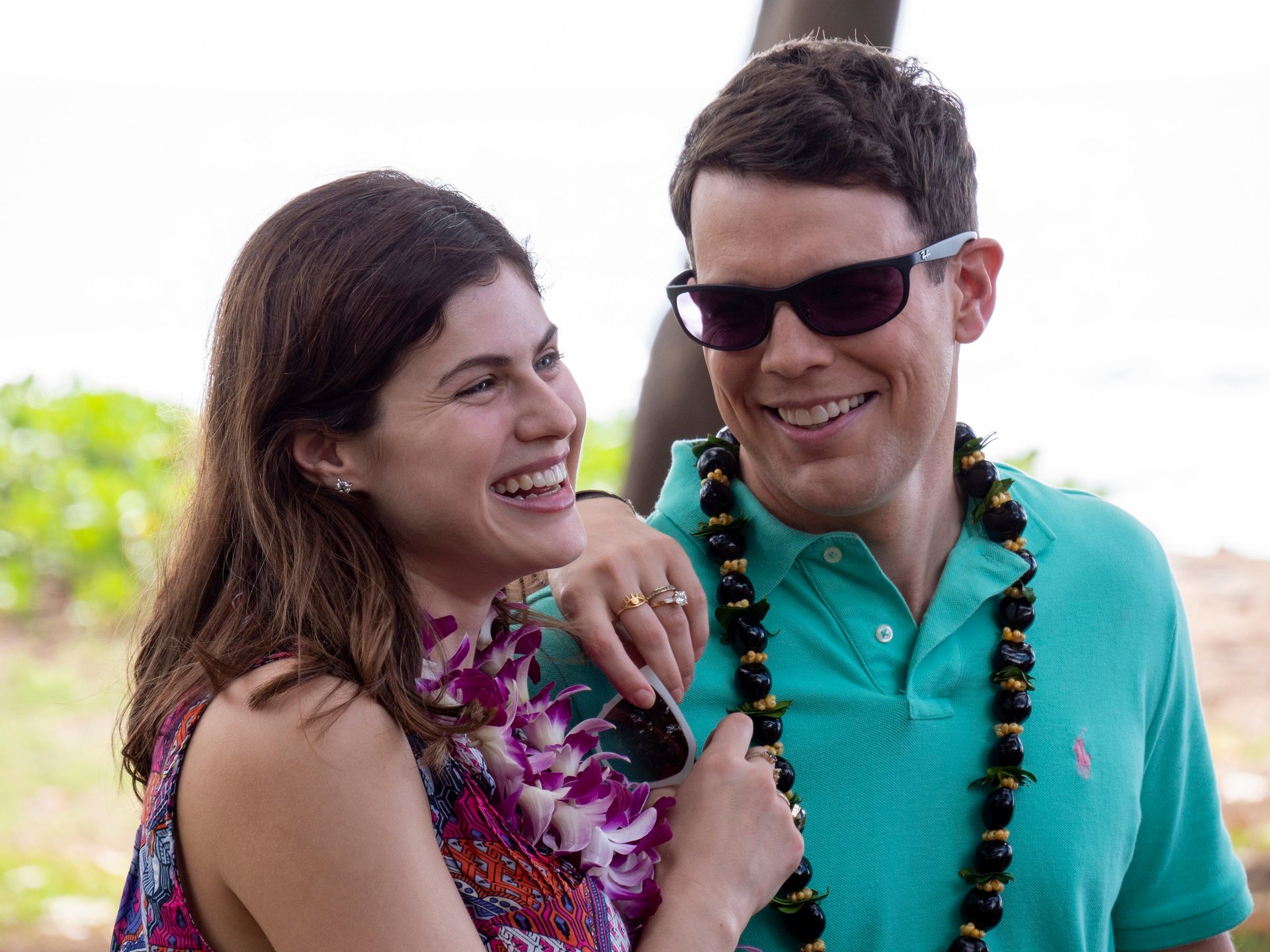 As if Rachel wasn't having a terrible enough time with the surprise visit, her face at dinner describes it all. Shane tells his mother about his wife's desire to get involved in nonprofits, against Rachel's wishes. When Rachel tells her mother-in-law that she wants to do something meaningful by getting a job, Kitty is appalled. She tries to explain that "It's all about the money." She wants her daughter-in-law to throw parties, and that is all. 
Later that evening, Rachel tries to complain to Shane about his mother crashing their honeymoon, but he doesn't understand what's wrong with it. Shane leaves to find Armond after several phone calls to the "bogus" number amid the fight.
Armond's bender continues for another day
After the altercation with Shane, Armond removes all of the drugs from the bag except the marijuana. Olivia and Paula are excited to have the bag back until they realize so many drugs are missing. When they confront Armond about the missing "medications," he asks them to write a list of what is missing. However, they decline (since most are illegal).
After another day full of drug and alcohol use, Armond hits on Dillon (Lukas Gage) again. This time, the resort manager is more direct and forceful. Armond tells Dillon that he is "uninhibited" and asks the young resort worker to get naked with him. Armond uses his authority and position of power over Dillon, promising any shifts he wants and an extra day off if they can get high and naked together.
The episode ends as Belinda shows Shane to Armond's office. They walk in on a shocking scene. Both Armond and Dillon are naked as promised, and the resort manager licks the young staffer's butt.
'The White Lotus' Episode 4 recap: Tanya and Belinda
Tanya McQuoid (Jennifer Coolidge) thanks Belinda for taking care of her and reiterates that she should have her own wellness center. However, when Belinda sits down to talk about the business offer, Tanya leaves to get her spa treatment. Although the pair planned to talk over dinner, Tanya cancels their plans to dine with Greg (Jon Gries). 
Greg appears to be trying to enter Tanya's room after her spa treatment. He admits to Tanya that he was on a deep-sea fishing trip with a bunch of guys. Greg is divorced, single, and asks Tanya to dinner. 
When Tanya apologizes to Belinda for canceling their dinner date, she adds that Greg is from a "Black Lives Matter" group. However, it wasn't the BLM that Tanya thought it was. Greg is with the bureau of land management, not Black Lives Matter. The misunderstanding doesn't matter to Tanya, and she ends the night inviting Greg inside for a "nightcap."
The White Lotus Episode 5 airs on HBO and HBO Max on Aug. 8, 2021.