'The White Lotus' Episode 5 'The Lotus-Eaters,' and a Botched Robbery
In 'The White Lotus' Episode 5, viewers watch a robbery gone wrong in every way. One couple falls apart while another finds each other again after a traumatic experience.
In HBO's The White Lotus Episode 5, many resort guests show how similar they are to "Lotus-Eaters." Paula (Brittany O'Grady) thinks she's helping Kai (Kekoa Scott Kekumano); however, things don't go as planned. While Rachel (Alexandra Daddario) grows further away from Shane Patton (Jake Lacy), he only worries about the evidence he now has over Armond (Murray Bartlett). Shane won't ever forget The White Lotus rim scene.
[Spoiler alert: This article contains spoilers from The White Lotus Episode 5, "The Lotus-Eaters."]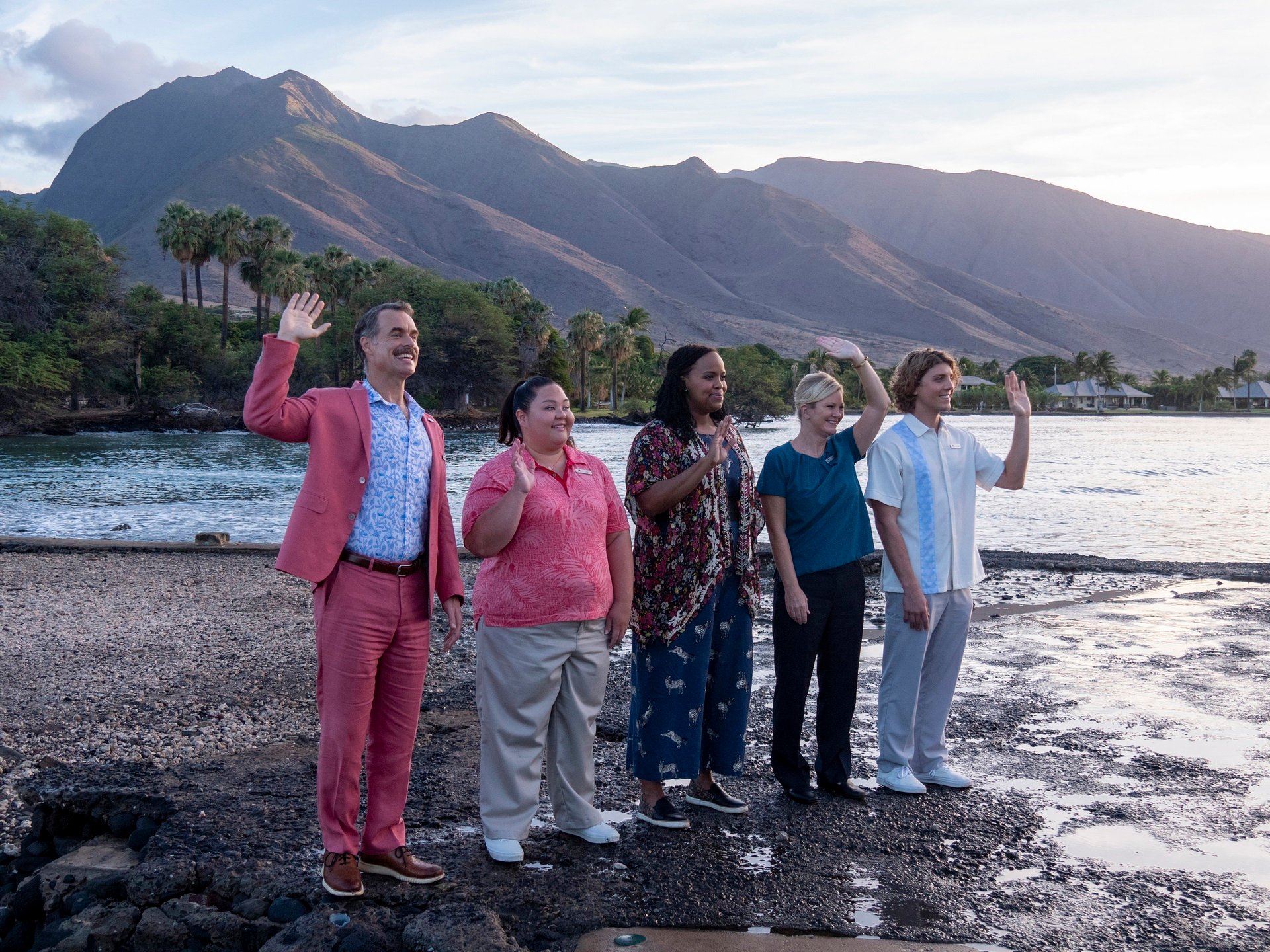 'The White Lotus Episode 5': Paula, Kai, and the $75,000 bracelets
The episode opens with Kai and Paula — he found an empty room for them to use for the evening. Kai tells Paula he wants her to stay. He also reveals how Olivia (Sydney Sweeney) came up to him, "batting her eyes" and flirting. Paula's pissed off because it's Olivia's "twisted" thing. Kai made her a necklace and asked her to stay at his place rather than go home.
However, Paula is honest and tells him she has college to get back to, and they probably will never see each other again. She tells Kai she can help him "take" something. In one of the following scenes, viewers see Nicole putting her $75,000 bracelets into her safe — clueing viewers in on the "something" she can help him take to help him and his family.
Dillon, Armond, and the honeymooners
The White Lotus Episode 5 picks up where Dillon (Lukas Gage) and Armond left off. Shane and Belinda (Natasha Rothwell) saw their rimming scene, so Dillon worries that he will get in trouble. Then the young resort staffer argues with Armond about choosing his shifts. Armond conveniently forgets what he promised.
The resort manager heads to breakfast to greet Shane, Rachel, and Shane's mother-in-law, Kitty (Molly Shannon). Naturally, Shane asks Armond about the number on the card that doesn't work and alludes to how "busy" he was when Shane tried to ask him about it last night. 
Later, Armond finally gets Shane and Rachel into the Pineapple room and offers it to him free of charge. However, Shane doesn't give the impression that he will keep The White Lotus rim scene a secret. Later, Shane leaves to swim in the ocean, so Kitty and Rachel have an awkward conversation.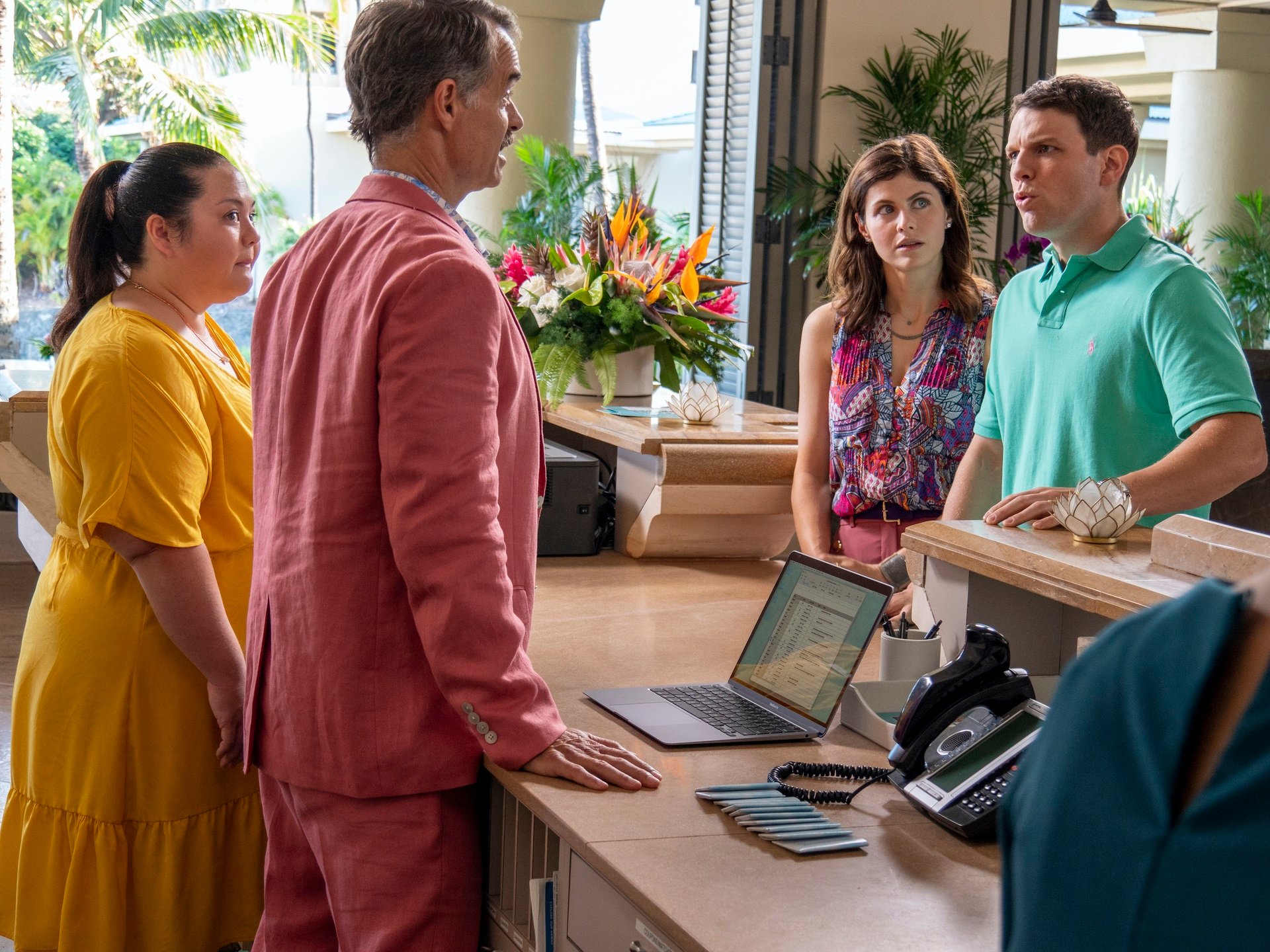 Kitty tells Rachel that her son let slip that Rachel has an "identity crisis." Kitty tells her there's nothing wrong with being a trophy wife, and she should keep making Shane happy because that's her "secret power."
At dinner, Shane and Kitty talk about another couple's divorce while Rachel listens uncomfortably. Later she tells Shane she thinks she made a "terrible mistake." However, he barely hears her. It looks like Rachel wants a divorce, but Shane spent so much time worrying about Armond on his honeymoon that he has no idea.
'The White Lotus' Episode 5: Tanya ditches Belinda for Greg
When The White Lotus Episode 5 switches to the single lovers, Greg (Jon Gries) falls into a coughing fit after making love. He runs out of Tanya's (Jennifer Coolidge) room to get some "water." However, viewers suspect that something more is going on with Greg.
Later in the day, Belinda and Tanya chat about her date with Greg, and the spa resort manager comforts her like a therapist or best friend would. Tanya worries about revealing her layers to Greg. She calls herself a "straight-up alcoholic lunatic." Belinda tries to segway into her business proposal, but Tanya doesn't seem interested. Viewers who thought that Tanya would never follow through with her offer to help Belinda start her Wellness center feel more and more how correct they are.
Belinda asks Tanya if she read the proposal at dinner, but the wealthy woman claims she's "distracted." Greg never texted or called her, although she stalked him throughout the day. Midway through dinner, Greg texts Tanya, and she runs off to meet him. Again, Belinda is disappointed. 
While kissing, Tanya stops Greg to tell him that she is very "needy" and "insecure." She begins crying and tells Greg to take her mother's ashes. He calls her "f—ing crazy" but refuses to leave, intending to have sex with her anyway.
The Mossbacher family continues to show their privilege
Aside from Quinn (Fred Hechinger), Nicole (Connie Britton) and Mark (Steve Zahn) continue to show how ignorant they are. Quinn wakes up on the beach again as the native islanders head out in their canoe. They invite him to join them, he resists at first, and then he goes along.
In another scene, Mark admits to Nicole that he told Quinn the context of the bracelet purchase. (That he bought them for her because he cheated on her). Nicole freaks out because she now feels she has to talk to their children about the affair.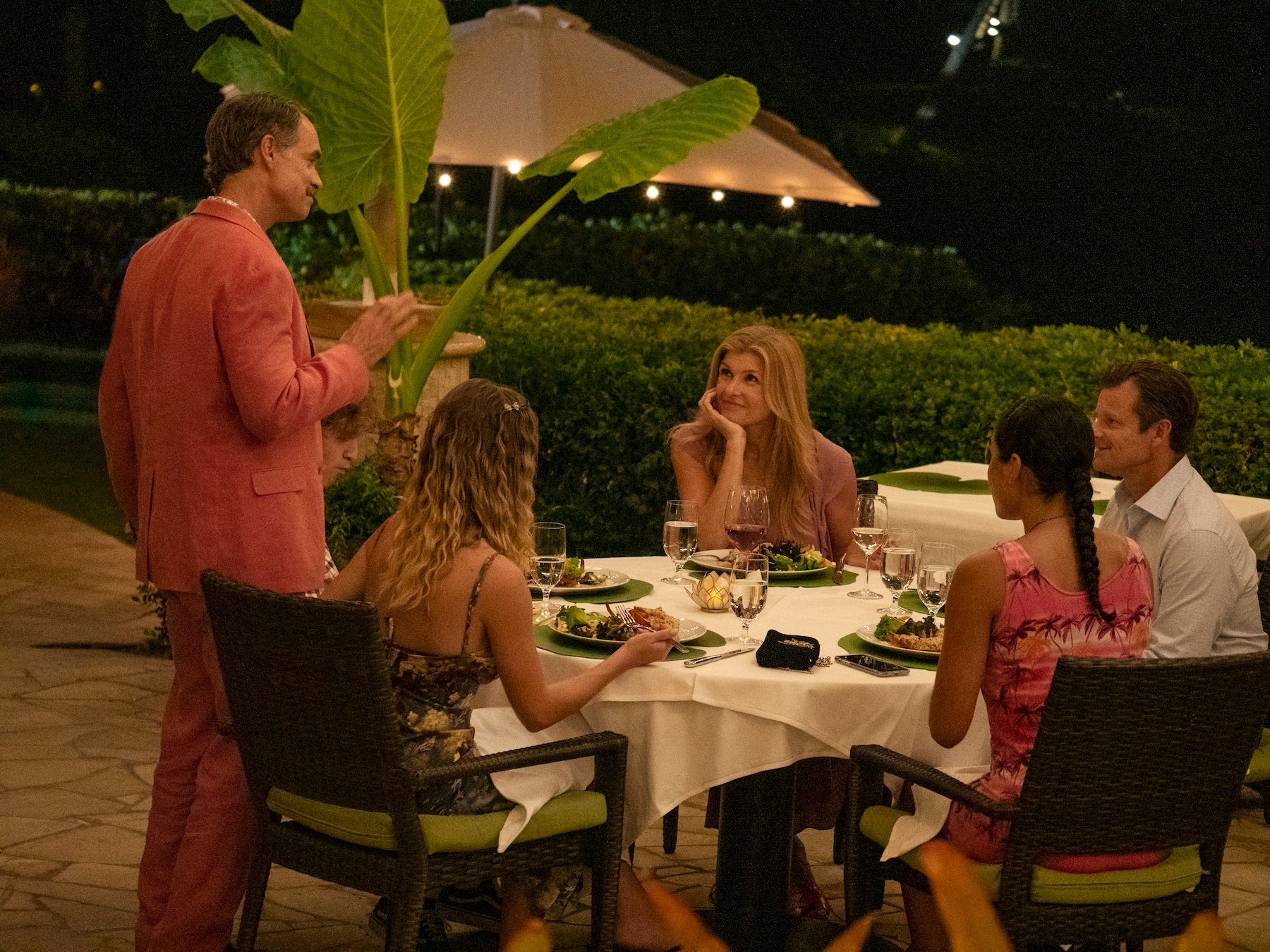 The Mossbacher family breakfast is awkward and uncomfortable. Paula is quiet while Mark and Nicole talk about how they shouldn't have to make up for what their ancestors did to indigenous people.
"How are we going to make it right? Should we give away all of our money?" Mark ignorantly asks.
The robbery doesn't go as planned in 'The White Lotus' Episode 5
After breakfast, Paula asks Olivia to put Paula's necklace in their resort safe and easily overhears the code — Olivia's birthdate. Kai doesn't want to steal the bracelets, but Paula tries to persuade him. Mark and Nicole get into a fight about respect as they are about to get on the boat. So, Nicole storms out and heads back to her room.
Kai is in the room stealing the bracelets when Nicole arrives back at the room. She begins folding laundry, and Kai puts a mask and hat on. He scares Nicole and tells her to count to 1000. However, as he's leaving, Mark comes into the suite and tackles Kai. Luckily, Kai punches Mark and runs off. When Paula, Olivia, and Quinn return to the suite, the police comb it for evidence. 
Armond informs the Mossbachers that the hotel comped their entire stay as he seats them at dinner. Quinn tells his dad that they can go out scuba diving tomorrow. Mark and Nicole seem to have bonded over the experience. Plus, their children are so proud of their dad for "saving" their mother.
Later, Belinda and Armond commiserate, and he calls the resort guests "lotus-eaters." 
The episode ends while Paula cries herself to sleep over what happened with Kai. Olivia points out that it was "bad luck" that her grandmother's locket was stolen only one hour after she put it in the safe. Does Olivia suspect something?
The White Lotus Episode 6 series finale airs on HBO and HBO Max on Aug. 15, 2021, at 9 p.m. EST.