'The White Lotus': Fans Think This Star Deserves an Emmy for the Finale
'The White Lotus' finale features numerous compelling performances, but fans are calling for Alexandra Daddario to get an Emmy.
The White Lotus finale aired on HBO this weekend, answering many of the questions fans had about Mike White's dramedy. Episode 6, "Departures," also saw the characters coming to terms with the drama they found themselves wrapped up in throughout their Hawaiian vacation. Naturally, there were several compelling performances. In fact, there's one star fans think could even get an Emmy for the finale: Alexandra Daddario.
[Spoiler warning: This article contains spoilers for The White Lotus finale.]
Who does Alexandra Daddario play on 'The White Lotus'?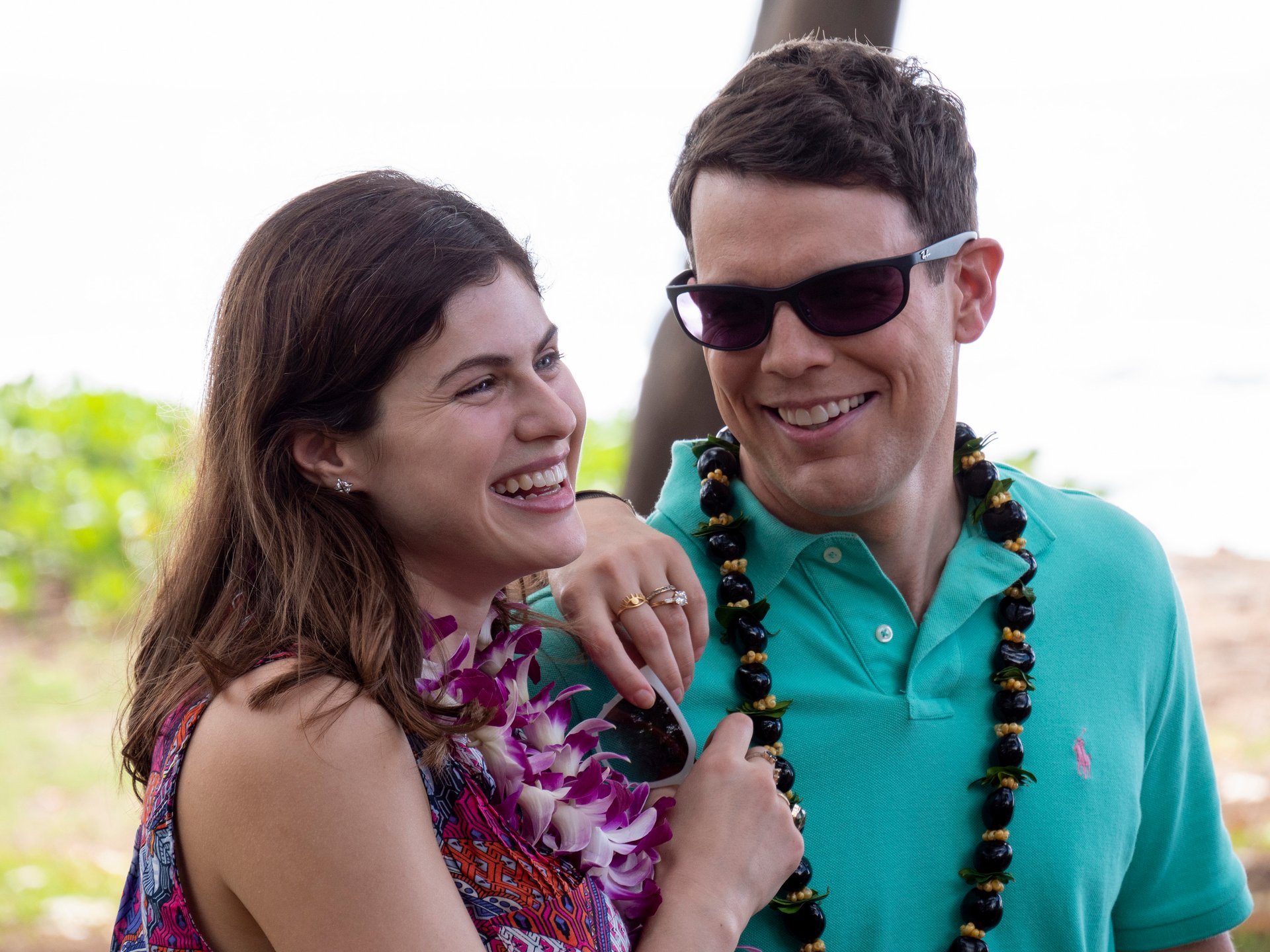 Alexandra Daddario plays Rachel Patton on The White Lotus, though she considers ditching that last name several times over the course of season 1. Rachel kicks off the series on her honeymoon, expecting a romantic trip with her new hubby, Shane (Jake Lacy). However, things quickly shift away from romance. In fact, Rachel spends most of their stay lamenting over Shane acting like an entitled baby.
In addition to throwing an all-out tantrum over getting the wrong room, Shane welcomes his mother showing up in the midst of their honeymoon — something that would prove a dealbreaker for most women in that situation. The whole trip builds to Rachel's realization that she's made "a terrible mistake." The show's final episode sees her addressing that.
Was Alexandra Daddario's finale performance Emmy worthy?
Following her revelation about who Shane really is, Rachel decides to confront him during The White Lotus finale. Shane meets her admission of regret with dismissal, turning the situation around on her.
Daddario has mastered Rachel's distant looks, shock, and sorrow over the course of The White Lotus. She's also conveyed her character's back and forth between staying where she's comfortable and spreading her wings incredibly well. All of that culminated during the finale, giving the actor her chance to truly shine — and prompting many viewers to suggest giving her an Emmy.
"God, give Alexandra the Emmy!!" one Redditor exclaimed. "She's AMAZING in this!"
Another viewer specifically called out the scene where Rachel confronts Shane, writing on Reddit:
"Yes, she's amazing!!! Wouldn't be upset at all for an Emmy nom for her for this scene, I really feel for and identity with Rachel to not being happy and wanting to make a change, as I think we all can do a degree."
Even those who weren't calling for an Emmy found themselves starstruck by Daddario's performance.
"I feel like this may be Alexandra Daddario's best role. Up until now I wasn't too sold on her as an actress," one Redditor said.
Could this prove Daddario's breakout role? It's possible. The actor evokes sympathy for her character, even as she makes the worst decisions possible. And she does that frequently throughout The White Lotus, including in the finale.
What happens to Rachel at the end of 'The White Lotus'?
Despite Daddario's touching performance as Rachel attempts to end things with Shane, her character's resolve doesn't last long. By the end of The White Lotus finale, she finds herself settling for her marriage rather than chasing her career. Ultimately, she chooses an easy life over one more aligned with her values.
It's a disappointing ending for her character, but it also speaks to her more passive nature. To Daddario's credit, she plays the part well, holding back tears even as Rachel insists she'll "be happy."
Rachel's decision is also in line with the themes of the HBO series, which highlights how infrequently the wealthy and privileged suffer the consequences of their actions. Not only does Shane get away with murder in the final episode, but he gets to keep his wife — the one he spent most of his honeymoon making miserable.