'The White Lotus': Jennifer Coolidge's Height May Surprise You; How Tall Is She?
Jennifer Coolidge joined the cast of 'The White Lotus' on HBO and fans love her character, Tanya McQuoid. However, viewers want to know how much taller she is than her co-star, Natasha Rothwell.
In HBO's new limited series, The White Lotus, Jennifer Coolidge portrays the single wealthy traveler looking for love — Tanya McQuoid. Yes, Sophie on Two Broke Girls is back in a new TV series. While she's mostly lying down on a massage table or sitting at dinner with Belinda (Natasha Rothwell), she's much taller than the spa director when she stands up. So, how tall is Jennifer Coolidge in real life, and is her height very different from her co-star?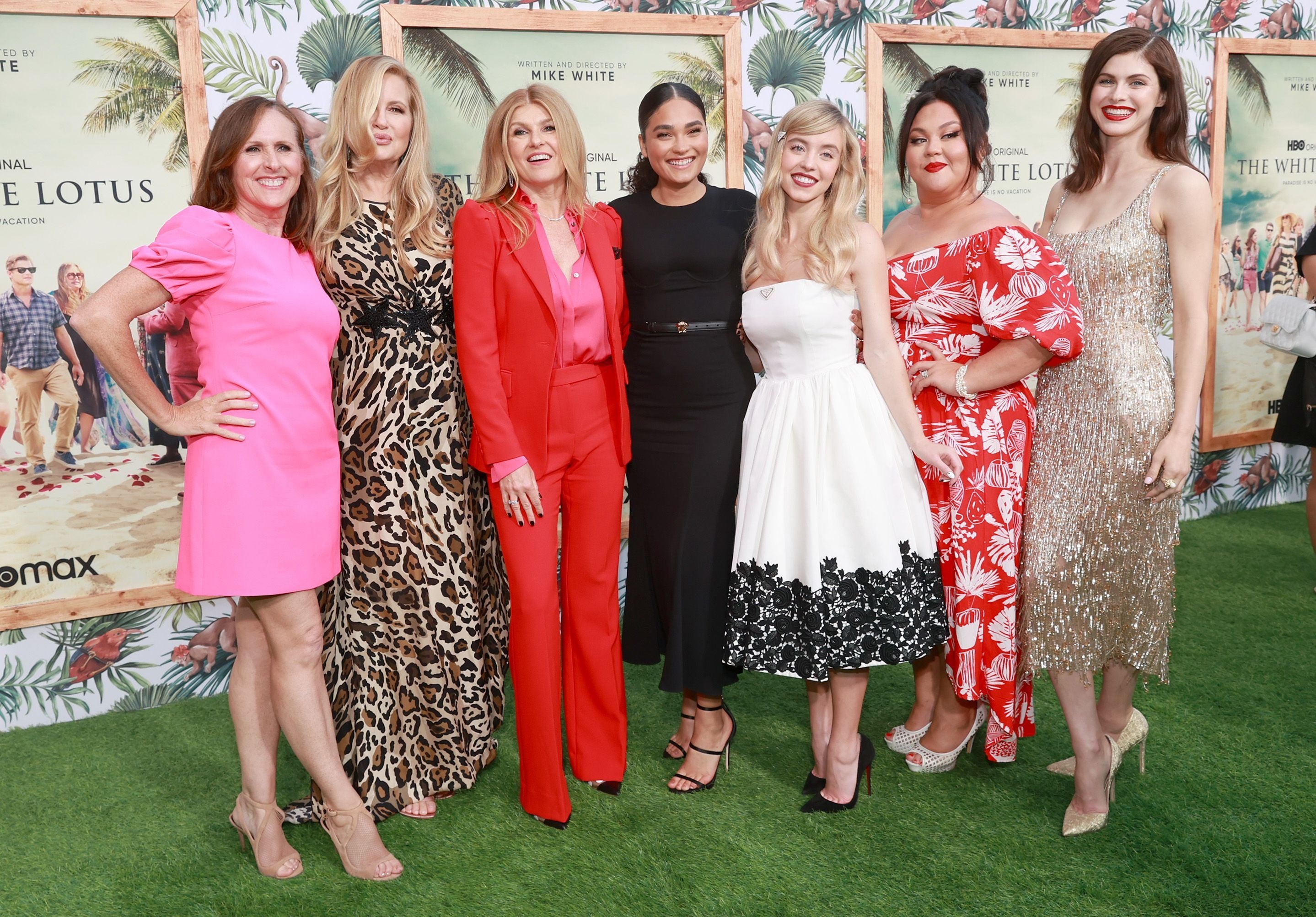 Jennifer Coolidge before 'The White Lotus'
As Stifler's mom in the American Pie series, and Paulette in the Legally Blonde film series, Jennifer Coolidge made a name for herself in the late 90s and early 2000s. She also appeared as a guest star in Seinfeld, Frasier, Sex and the City, and Friends. 
Her later TV credits include the role of Betty in The Secret Life of the American Teenager and Sophie in 2 Broke Girls. Many viewers remember her fondly as the Polish businesswoman who lived above Max Black (Kat Dennings) and Caroline Channing (Beth Behrs) for six seasons. A commonly Googled question about Sophie on Two Broke Girls is whether she is pregnant. Jennifer Coolidge was not pregnant, but her character was. In season six, Sophie and Oleg (Jonathan Kite) welcomed their baby girl. 
Coolidge's film roles include many comedies such as Night at the Roxbury, Austin Powers, and Zoolander. According to Celebrity Net Worth, The White Lotus cast member Jennifer Coolidge is worth an estimated $8 million, but what is her height?
'The White Lotus': Who Dies During the Vacation? Every Theory so Far
What is Jennifer Coolidge's height compared to the rest of 'The White Lotus' cast?
Jennifer Coolidge's height is 5 foot 10 inches tall, while Rothwell is 5 foot 4 inches tall. The former actor is significantly taller than the latter in real life. So, the women have a six-inch difference in height between them, but it's not immediately apparent in The White Lotus. Even in cast photos, it isn't evident that Coolidge is in the height range for modeling. Connie Britton is close to the same height as her co-star, at 5 foot 8 inches. However, Britton's on-screen husband, Steve Zahn is an inch shorter than her and three inches shorter than Coolidge. She's one of the taller female actors in the majority of her films and TV roles, but it's not always evident.
Does Coolidge have kids?
Similar to her character in The White Lotus, Coolidge doesn't have children. In a Buzzfeed YouTube video, the actor spoke about why her fans often call her a "MILF." After the height of her fame, Jennifer Coolidge read "Thirst Tweets" from her fans. During the video, a journalist asked if people frequently called her a "MILF". 
"Oh, yeah, just because of that movie, not because of real life," she responded to the reporter. "I don't really have any children. I was barren."
The movie Coolidge referred to was American Pie. During an early scene in the film, John Cho proclaimed that Stifler's mom is a MILF, "Mom I'd like to f—." Although fans continue to call Jennifer Coolidge a MILF 20 years later, she does not have any children of her own.