'The White Lotus': Will Rachel's Disastrous Honeymoon Turn Into Her Big Break?
The White Lotus introduces a large cast of messy characters, all of whom spend their time at the Hawaiian resort in varying degrees of disarray. While Rachel (Alexandra Daddario) doesn't start the HBO series with as much baggage as the other visitors, she quickly accumulates it — mostly because the man she married turns out to be a nightmare.
And Rachel's drama with Shane (Jake Lacy) takes up most of her screen time, but not all of it. She also spends a good portion of her scenes worrying about her journalism career and whether it will take off. Negative criticism, doubts, and a lack of support from her husband fuel most of her anxieties. However, some fans think Rachel will come out of The White Lotus with her big break.
[Spoiler warning: This article contains spoilers for the first five episodes of The White Lotus.]
Alexandra Daddario's character spends 'The White Lotus' talking about her writing career
From the very beginning of The White Lotus, Rachel fills the other visitors in on her journalism career — though she suggests it didn't take off quite as she'd hoped. She tells Olivia (Sydney Sweeney) and Paula (Brittany O'Grady) she set out to make an impact on the world. However, she ended up taking freelance jobs here and there, then getting distracted by her marriage to Shane.
Rachel also vents to Nicole (Connie Britton) and Shane's mother Kitty (Molly Shannon) about her concerns, though neither of them offers words of support. While Nicole initially pushes Rachel to hang onto her independence, she dubs her a worthless journalist after discovering the younger woman once wrote a puff piece about her. Kitty, on the other hand, believes Rachel should take advantage of her marriage and give up on a career altogether.
Shane himself says he supports Rachel's dreams, but his actions suggest he doesn't value his wife's ambitions all that much. Not only does he discourage her from taking a piece on their honeymoon, but his comments about her writing often fall in line with his mother's.
'The White Lotus' premiere shows Rachel isn't with Shane by the end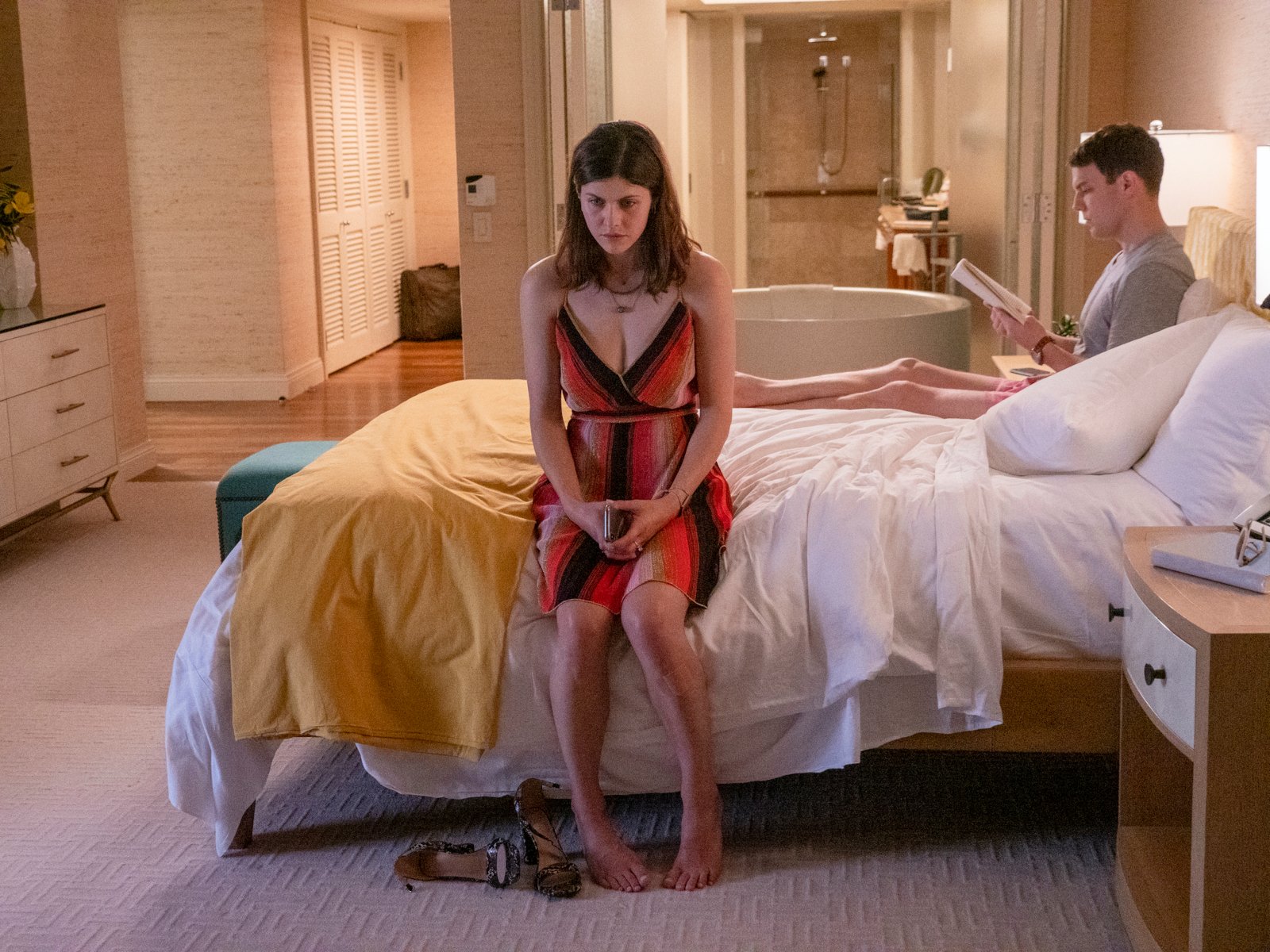 Although Rachel's marriage presents itself as an obstacle to her career throughout The White Lotus, it's possible that will change in the season 1 finale. The series premiere shows Shane flying home without his bride — meaning either Rachel is the one in that coffin or she left him behind.
Given her revelation that their marriage was a "terrible mistake" in episode 5, most fans believe it's the latter. Rachel's death would prove too obvious an ending for a series like The White Lotus. On top of that, Shane seems more angry than devastated during his opening scene.
The question that follows, then, is where did Rachel go? Some fans think she left Shane behind to pursue her writing dreams. In fact, the events unfolding at the White Lotus may help her in that endeavor.
Will the HBO series conclude with Rachel's big break?
RELATED: 'The White Lotus': Could the Flowers in the Opening Credits Point to Who Dies?
Fan theories about The White Lotus suggest that Rachel may come out of the show's events with some kind of big break. She's emphasized her ambitions many times, and the tragedy that strikes the White Lotus resort could give her something to write about. One Reddit user suggests she'll write a piece about the experience, something she'd have exclusive insights about:
"Maybe this has already been said but I think Rachel is going to end up writing a huge story about all the people she met at the white lotus as well as a giant exposé of the hotel itself and everything that went down and end up blowing everything up in the article, taking down quite a few of them (like Connie Britton) and it will end up making her one of the top journalists in her field."
Another fan expressed similar sentiments when theorizing about who dies on the show. They believe Quinn Mossbacher (Fred Hechinger) will be the one in the coffin — and that Rachel will use his death to ramp her career back up.
"I think his death coupled with the honeymoon from hell will make the perfect story to put Rachel on the map," they wrote on Reddit.
Of course, it's also possible Rachel simply left Shane behind to pursue her career in another setting. (She did get an offer to write about Burning Man, where one Redditor believes she'll head after her honeymoon ends short.)
Could The White Lotus end on a high note for Rachel? Fans will find out when the season 1 finale arrives on Sunday, Aug. 15 at 9 p.m. ET.