'The White Lotus' Show: Why Don't the Mossbachers Have a Multiple Bedroom Suite?
As viewers delve deeper into The White Lotus show on HBO, one odd question about the Mossbacher family keeps arising. Nicole Mossbacher (Connie Britton) is a wealthy CFO of a search engine. Mark Mossbacher admitted he used his money to purchase $75,000 bracelets for his wife, although we don't know what he does for a living. So, why does the family of four and a friend stay in a one-bedroom suite while on vacation? Was the situation on purpose, or is it a plot hole in The White Lotus?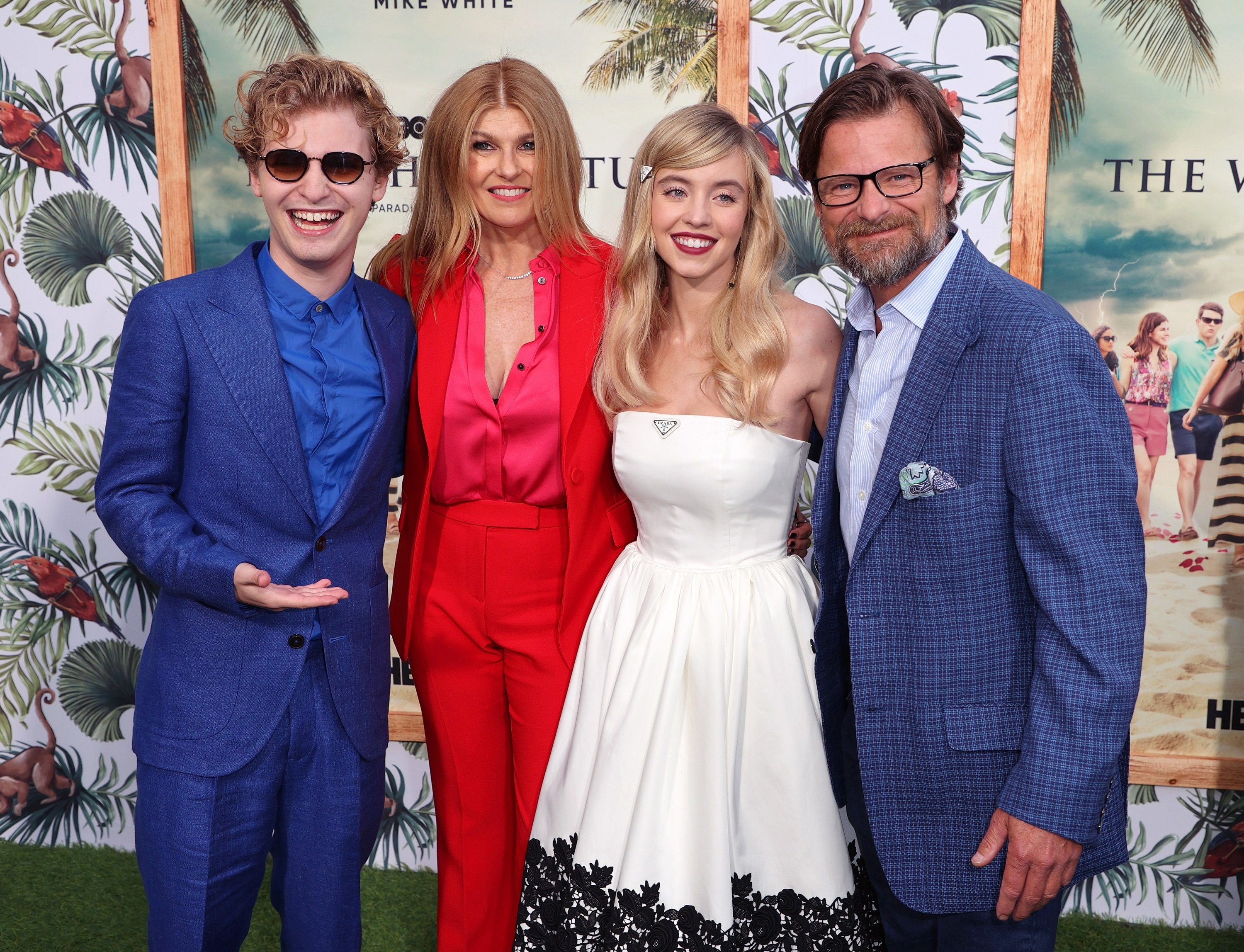 'The White Lotus' show recap: The Mossbacher family
A large part of the storyline with the Mossbacher family in The White Lotus show is created by their one-bedroom suite at the resort. Although their accommodations are gorgeous, Olivia Mossbacher (Sydney Sweeney) and her friend Paula (Brittany O'Grady) sleep on a pull-out couch in the living room area. 
That leaves her brother, Quinn Mossbacher (Fred Hechinger), to sleep on a cot in the small kitchenette area. However, it is so cramped and small inside the tiny room that Quinn tries to sleep on his cot in the common living area. The two college students continue to speak rudely to him and forbid him to sleep in the same room as them. So, he drags his blanket down to the beach. The first night he sleeps on the beach, his electronic devices get swept into the ocean and ruined.  
RELATED: 'The White Lotus' Episode 1 Recap, 'Arrivals' — Who Died?
Plus, Nicole continues to work while on vacation, so she's constantly rearranging the shared living space for her zoom calls. The whole situation with the living arrangement seems rather odd, knowing that the family is very wealthy. Why did they choose a one-bedroom suite? Why didn't they book another room for their children?
'The White Lotus' show fans' theories: The parents want control
Some fans speculate that the Mossbacher parents didn't want their children to have a room to themselves because of control.
"Maybe it has something to do with her cutting Quinn's lobster," one fan wrote on Reddit. "Trying to hold on to the fact that they 'need' to be in the same room with their parents still? Either that or she doesn't trust them on their own."
Other fans agreed it might be that Nicole likes to control every situation or that she wanted to save some money.
"Rich people stay rich by being smart with their money," another viewer added. "That's kind of a joke, but those rooms are expensive, so I don't blame them. The over-controlling part is probably the main reason."
The Mossbacher parents are selfish
RELATED: 'The White Lotus': This Theory About the Opening Credits Might Reveal Who Dies
Another fan theory speculates that the Mossbacher parents in The White Lotus show care more about themselves than their children. That could be why they don't realize that their teenage son and two college girls shouldn't share one room. 
"I think it's done on purpose to emphasize the carelessness of the parents," another Redditor wrote. "They could afford it; they just didn't bother thinking it through and consider the needs of the kids. It's so blatantly unfair to Quinn to be left in that scenario, and no one seems to be an ally for him."
Is Nicole Mossbacher truly rich? Is it new money?
Other fans believe that Nicole might be new to her job since she does not seem overly confident. However, Mark bought her the $75,000 bracelets when he cheated on her a long time again; it looks like they were always rich. 
"Considering how anxious she is about all her Zoom calls, she's certainly not wielding that boss-like confidence that comes with her title," another viewer wrote. "Maybe the finances aren't what they seem, or her job isn't secure."
Many fans believe that no matter the reason for the Mossbachers sharing a room, the writers intentionally planned it. It's not a plot hole.
The White Lotus show theories will continue until the limited HBO series ends on Aug. 15, 2021.