The World Ended in April 2020 in 'American Horror Story: Apocalypse' and Fans Now Find that Eerie
American Horror Story is a great show to escape to when things are getting tough because it's so wild and out-of-this-world sometimes that it distracts from real-life issues. Sure, it's gory and often has very troubling storylines, but it tends to be a good way to take your mind off things. However, when life is so tough and uncertain like they are now with the coronavirus (COVID-19) pandemic, real-life is also too crazy to be real. But what if AHS had an eerie coincidence with the current situation? Fans think they found one.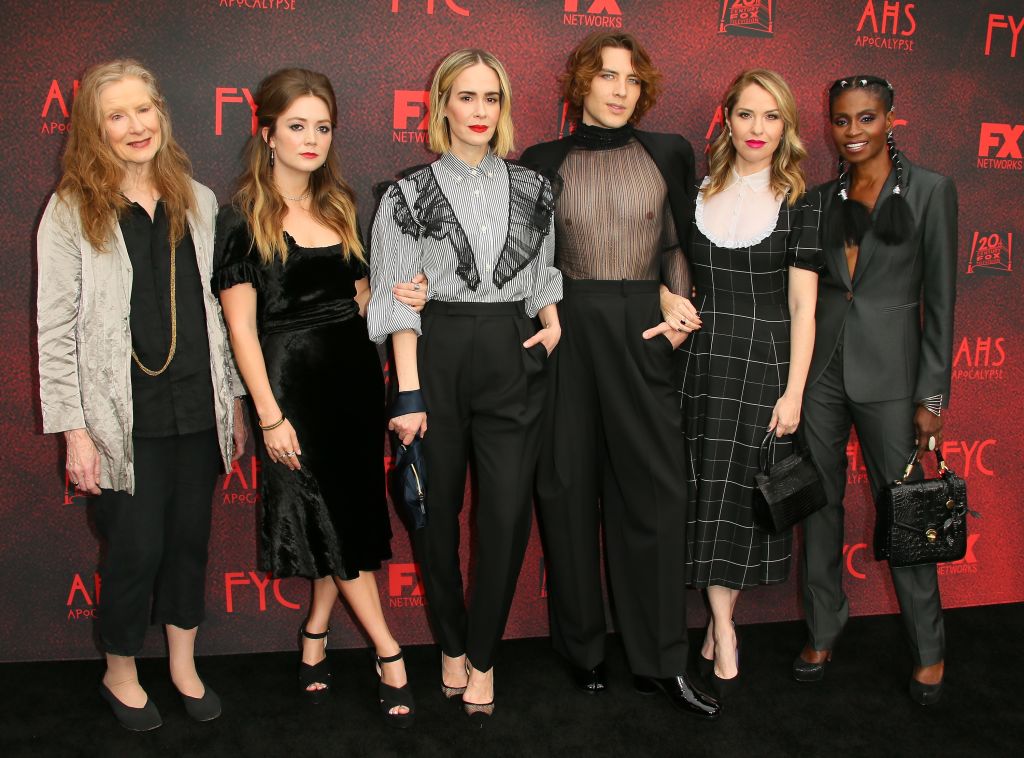 One Twitter user pointed out that 'American Horror Story: Apocalypse' takes place in April 2020
On March 13, internet personality Rachel Page posted on her Twiter account a photo from American Horror Story: Apocalypse and wrote, "just remembering that ahs apocalypse was set in april 2020…..ryan murphy what do you know??????"
This had everyone pause for a moment. While we're currently going through one of the most surreal moments right now, there's no way such a wild show would correlate that much, right? Wrong. It was, indeed, April 2020 when Coco, Mallory, Mr. Gallant, and Evie Gallant escaped LA on a private airplane as the world below them was bombed in what is the start of the apocalypse. 
And while circumstances are, of course, vastly different, it's hard not to feel a shrewd amount of coincidence with today's real-life predicament. The world is literally shut down due to the novel coronavirus. There's so much fear and uncertainty and no cure yet. Waking up might seem like an American (or worldwide) horror story in its own right, and this date from Season 8 is not helping matters. 
Is Ryan Murphy in the Illuminati? Or just that good?
It's, obviously, only a coincidence, but fans are running with it. One Reddit user, fierrosan, wrote, "If he's Illuminati, he'd certainly know." The "he" here is Ryan Murphy, the showrunner and creator of American Horror Story. While he's not in the Illuminati — if he was, he wouldn't share such vital information with mere mortals, duh — he had the best luck choosing such a relevant date. Season 8 came out at the end of 2018, so there was no way in hell for anyone to guess that a pandemic like this would break out, or happen near April 2020. But it makes you think. 
Fans poked fun at the creepy coincidence, with user Coffeenwineplease writing, "I'm not worried. Mallory and her SUV will save us all." This is a reference to how the world is ultimately saved at the end of the season. Mallory, the next Supreme and one of the most powerful witches, goes back in time to when Michael Langdon (aka The Antichrist) is a teen and runs him over with her car. This stops the apocalypse from happening in 2020, but it just postpones it until the next Antichrist is born. 
This isn't the only show that predicts the end of the world in 2020
What's even weirder, though, is this isn't the only show to predict the end of the world in 2020. Later on in the Reddit thread, a user wrote, "The show 'The Last Man on Earth' is set in 2020, after the world population is wiped out by a mysterious virus. Just saying…." That's even weirder considering it has the cause of the end of the world pinned on a virus… which is currently ravaging the population. 
The popular film, A Quiet Place, which stars, Emily Blunt and John Krasinksi, who also directed the film, takes place in 2020. It's not as easy to spot, but thanks to the synopsis and newspapers in the movie, 2020 is the year when their population started getting wiped out by the murderous aliens who killed anything that made a sound. 
Now, there's no reason to panic. We're not saying the world is going to end in 2020. We're just saying a few popular shows and movies took place in 2020 and really bad things happened. Do with that what you will.