The Worst-Rated 'American Horror Story' Episode From Each Season
American Horror Story has nine seasons thus far with a different theme each year. While some seasons are better than others, which episodes are the worst-rated in each? IMDb reviews from audience members give a bit of insight.  
Season 9, Episode 8: 'Rest in Pieces'
This is the penultimate episode in one of the highest-rated seasons of the show. The '80s slasher genre that American Horror Story: 1984 mimicked really worked for the show. And in this episode, after "Final Girl" Brooke lived her horrors at Camp Redwood, new members come to "unleash a new era" at the camp. And the campers that lived through it don't want "history to repeat itself." 
This was an odd-one-out episode with its low score — again, this season was generally well-liked — and that's due to the fact that a lot of viewers saw it as "bland" and a filler. Essentially there was less progress in this episode than the others. 
Season 8, Episode 8: 'Sojourn'
In American Horror Story: Apocalypse, the massive catalyst for everything is the titular apocalypse. How can Anti-Christ Michael Langdon start the end of the world without his trusty advisors and allies? Well he takes his plan over to two scientists, Jeff and Mutt, after finding more followers as well. This is where the audience meats the robot version of Miriam Mead, too.
One review said that this was just one really lackluster episode in a season that was pretty much good otherwise. Another critique is the fact that this was pretty comedic but in a very different way than American Horror Story typically is, throwing off the experience. 
Season 7, Episode 7: 'Valerie Solanas Died for Your Sins: Scumbag'
This is from American Horror Story: Cult and is actually the worst-rated of the series on IMDb. It goes back and forth from the 1960s and 2017, showing cult-leader Valerie Solanas and then Kai (Evan Peters)'s growing cult post-Trump's win. The show did this on and off in this season. 
Solanas' group is called SCUM,  which plots to murder men, including artist Andy Warhol, which they failed. The first review that comes up said this was also another filler episode, with an odd "man-hating" monologue from Solanas.
Season 6, Episode 10: 'Chapter 10'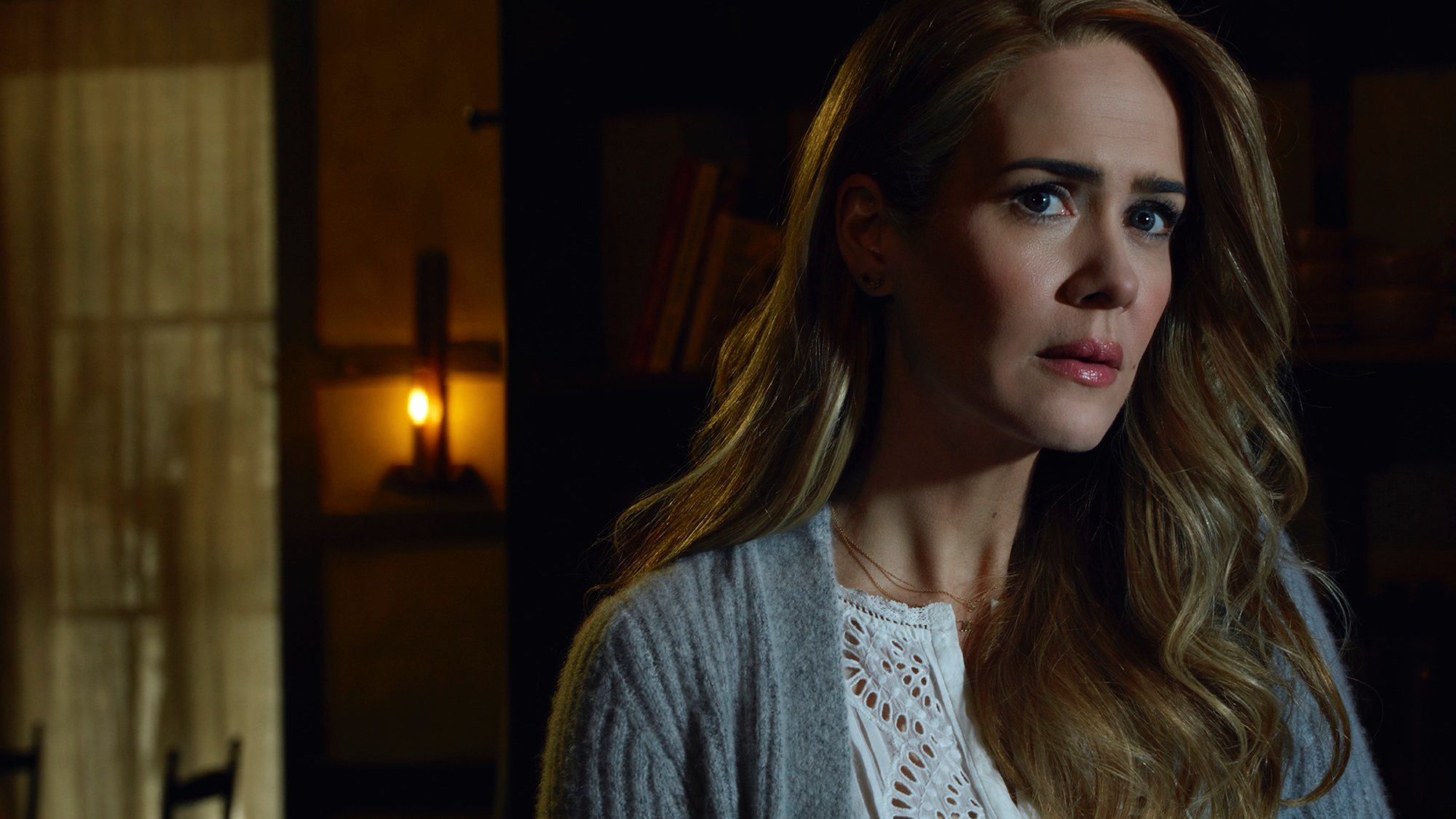 American Horror Story: Roanoke had a lot going on, with its story-within-a-story template. It was about an old house on the land where The Lost Colony disappeared and the ghosts of that group are still around. But then it focused on the multiple ghostly, paranormal reality TV shows and reenactments that happened on the spot as well. 
"Chapter 10" is its finale, and it just followed the unlucky pattern the whole season followed: it was doing way too much. It did bring back a fan favorite, Lana Winters (Sarah Paulson). One review noted that it was "Strange but enjoyable once you got past the gore."
Season 5, Episode 3: 'Mommy'
American Horror Story: Hotel was tricky, since two episodes have 7.6 ratings. But, since Episode 3 "Mommy" had more reviews, it takes the cake. This is one of the earliest episodes to receive the lowest score thus far. It deals with John and Alex's failing marriage and Donovan coming in contact with Ramona Royale (Angela Bassett), The Countess's rival (and ex). 
There aren't many reviews actually written out for this one, but it was just a slow episode at the start of the season and didn't mesh well with the progressing story. 
Season 4, Episode 6: 'Bullseye'
This episode from American Horror Story: Freak Show is right in the middle of the season. It's right after conjoined twins Dot and Bette are taken in by the Motts for Dandy's entertainment. But Elsa tells everyone they just disappeared. Elsa is losing morale at home, as well, due to her upcoming television show. Oh, and Stanley continues to push Maggie to kill Jimmy. 
There aren't any reviews written out for this episode, but the majority of reviewers gave it an 8 out of 10. 
Season 3, Episode 13: 'The Seven Wonders'
When it comes to American Horror Story: Coven's worst-rated episode, it's the finale. After everything this season, the test of the Seven Wonders has to be performed to figure out which of the witches is the next Supreme. In the end, it's Cordelia, and she decides to let the world know that witches are real. 
The reason this was lower for this season is that the rest of the season was so good. Someone commented that this episode was "lazy" in comparison to the writing the rest received. 
Season 2, Episode 12: 'Continuum'
IMDb rating: 7.9
For American Horror Story: Asylum, the second to last episode was the only one that didn't have a rating of 8.0 or higher. Kit, Grace, and Alma are now safe from Briarcliff and the aliens, with their two children. However, Grace is obsessed with the extraterrestrials and wants them to come back, whereas Alma is terrified of this happening. Their differences turn deadly. And Judy withers away at Briarcliff. 
While one reviewer saw this episode as an "amazing setup," others didn't see it as such. One said it was a "fizzle" and "meh" compared to the others. 
Season 1, Episode 1: 'Pilot'
Coming for the very first season of this series is the pilot episode of American Horror Story. This season was all about the Murder House, which the Harmons move into in this episode. This establishes nearly all of the characters and why they went from Boston to Los Angeles. 
While many love this episode, the reviews that had issues with this one blamed the hype around it. And they also didn't like how dense the characters were, in regards to the paranormal aspects in the house. But that's a classic horror story for ya.