'The Wrong Missy': Critics Might Hate the New David Spade Movie But It's Still No. 1 on Netflix
Everybody seems to be queuing up the latest from Adam Sandler's Happy Madison Production, 'The Wrong Missy,' which dropped on Netflix May 13.
Another Friday night in quarantine, another Netflix original movie to watch. This week, everybody seems to be queuing up The Wrong Missy, the latest from Adam Sandler's Happy Madison Production, which dropped on the streaming service May 13. 
The off-color rom-com stars David Spade as a man named Tim who thinks he's invited his dream woman on a trip to Hawaii, only to discover he accidentally asked nightmare blind date Missy (Lauren Lapkus) via text. The Wrong Missy is racking up the views, But is the movie — which also features Nick Swardson, Sarah Chalke, Rob Schneider, Molly Sims — any good? Well, that depends on who you ask. 
Critics slammed 'The Wrong Missy'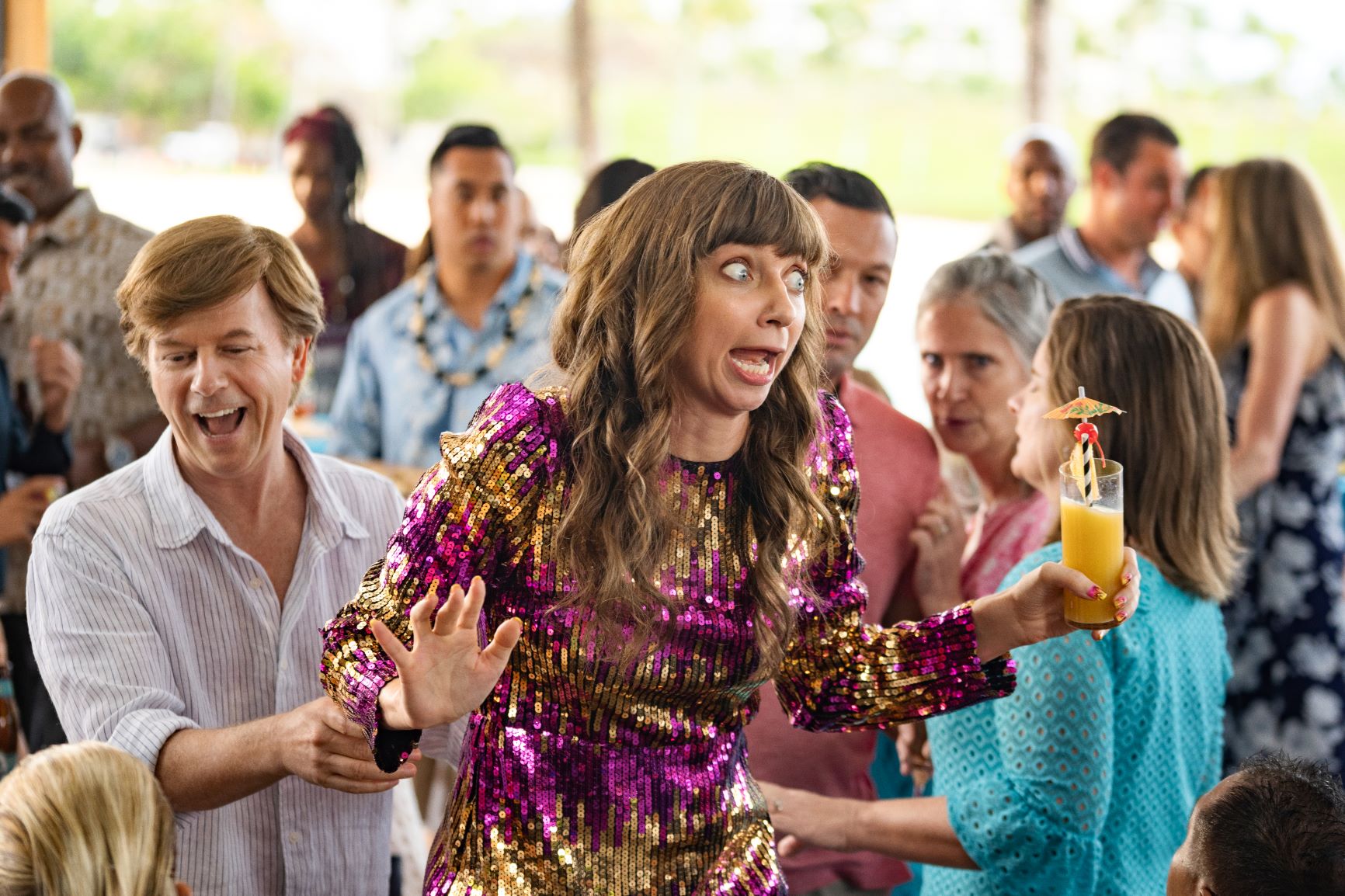 RELATED: The Wrong Missy: What Is Adam Sandler's New Netflix Movie About?
Critics didn't exactly fall in love with The Wrong Missy. To be fair, the Tyler Spindel-directed didn't earn the dreaded 0% rating on Rotten Tomatoes. (It currently has a critics' score of 25%.) But most reviewers had a lukewarm-to-negative reaction. 
A writer for the A.V. Club dismissed it as "a series of claustrophobically unfunny scenes." The Hollywood Reporter said it was "targeted at the limited demographic of middle-aged white guys who dig wish-fulfillment rom-coms."
Some found the film's premise outdated and implausible. The New York Times' critic, after noting that the movie seemed stuck in the '90s, found it hard to swallow the idea that Tim would be pursued aggressively by three attractive women, despite "having the personality of a cabbage." 
Other critics were more kind, describing the film as an enjoyable, easy-to-watch distraction. 
'The Wrong Missy' is the top movie on Netflix 
The reviews might have been lackluster, but that didn't prevent The Wrong Missy from dominating Netflix's top 10 most-watched shows and movies. On May 15, it was no. 1 on the streaming service, ahead of the new season of Dead to Me and season 4 of Riverdale. 
Plenty of people seemed to appreciate the film's lighthearted comedy. 
"Absolutely fantastic!" tweeted one. 
"David Spade hasn't lost his funniness at all but Lauren Lapkus made this movie what it is," tweeted another. "Hilarious." 
The divided reaction between regular Netflix users and critics isn't hugely surprising. Happy Madison films have long been polarizing. Some people hate what they see as lowbrow, crude comedies, but others clearly can't get enough. 
When will the next Happy Madison movie be on Netflix?
Happy Madison and Netflix have had a fruitful partnership for years. Adam Sandler's production company first teamed up with the streamer for 2015's The Ridiculous 6. That was followed by movies such as Murder Mystery, Sandy Wexler, and The Do-Over. 
Next up for Sandler and Happy Madison fans is Hubie Halloween, a comedic whodunit about a community volunteer (Sandler) who finds himself in the middle of a real-life murder mystery in Salem, Massachusetts. Expect the movie sometime later in 2020. 
In January 2020, Netflix announced it had signed a new deal with Sandler and Happy Madison Productions for an additional four movies. 
Check out Showbiz Cheat Sheet on Facebook!