There's a Connection Between 'folklore's 'seven' and 'evermore's 'happiness'
On Dec. 11, 2020, Taylor Swift surprised her fans with a continuation of the folklore album, evermore. The singer's ninth studio release reached fans in record time, giving them new content to dissect and connect. 
As the "sister record" to the July 2020 release, evermore shares a lot in common with folklore. One fan pointed out a direct correlation between the seventh tracks, "seven" and "happiness."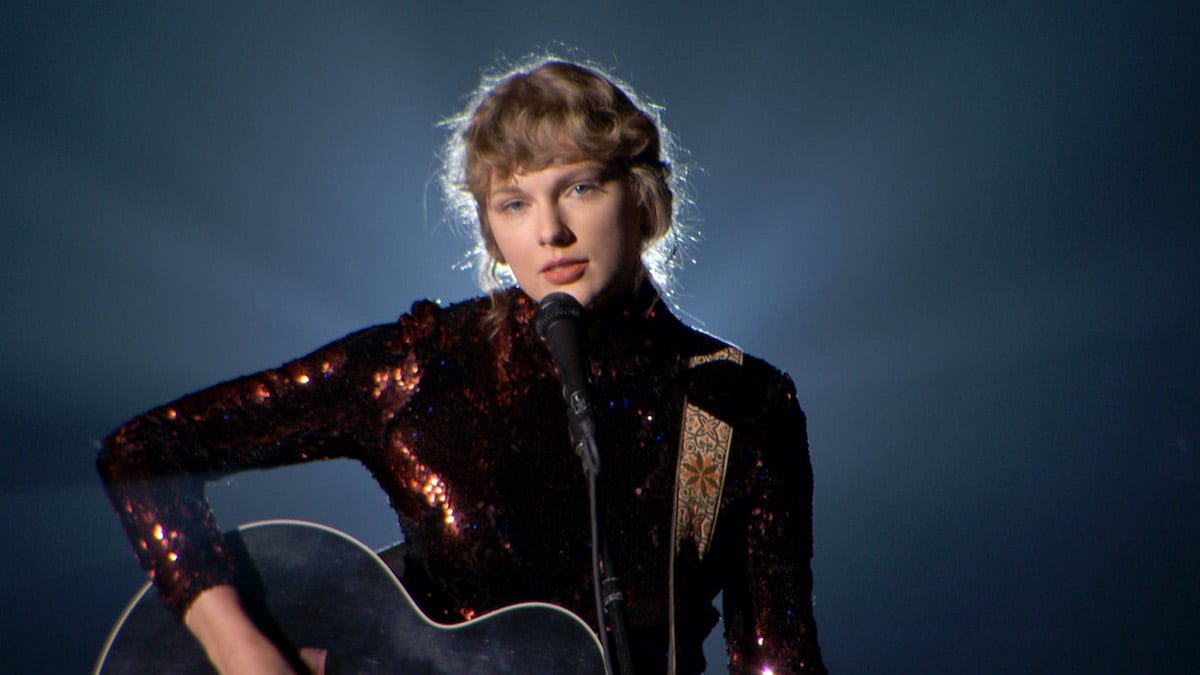 'seven' is about the difficulties of growing up
The lyrics on this track lend themselves to all the ways two friends could escape the bad situations they're in, as told from the perspective of a child.
"Are there still beautiful things?" Swift asks in the first verse.
In the second verse, she speaks to someone who appears to be in an abusive situation. 
And I've been meaning to tell you I think your house is haunted.
Your dad is always mad and that must be why.
And I think you should come live with me and we can be pirates,
Then you won't have to cry or hide in the closet.
'happiness' takes a retrospective look at childhood 
In "happiness," Swift seems to be revisiting the narrative she told in folklore's "seven" with a more mature perspective.
All the years I've given is just sh*t we're dividin' up.
Showed you all of my hiding spots, I was dancing when the music stopped.
And in the disbelief, I can't face reinvention. I haven't met the new me yet.
The lyrics lead listeners to think Swift is going through some sort of nostalgic identity crisis, struggling to know her authentic self but with a very adult mind. 
As she says in the chorus, "There'll be happiness after you, but there was happiness because of you."
While one song seems to be about a broken relationship ("happiness") and the other seems to be about childhood trauma ("seven"), one Taylor Swift fan found a deeper connection between the songs.
'happiness' is the antithesis of 'seven'
One TikTok user found a connection between folklore's "seven" and evermore's "happiness," which both happen to be the seventh track on the sister albums. 
"Track seven of folklore is 'seven' and the first lyric of 'seven' is: 'Please picture me in the trees, I hit my peak at seven feet, yadda yadda, you know the rest," the fan began.
In their opinion, "That song is essentially about yearning for innocence and reminiscing about when you were young and you thought problems were so easily solved, but essentially we're not kids anymore."
According to this fan, Swift is "really sad and hurting over that fact." 
RELATED: This Taylor Swift Song Might Be About This Model, Not Dianna Agron
"Fast forward to track seven of evermore, which is 'happiness,' which starts with the lyric: 'Honey, when i'm above the trees I see it for what it is, now I'm right back down in it,'" they added, continuing:
While 'seven' is yearning for the loss of innocence, 'happiness' takes a more adult approach while saying that there are bad moments of the past that have some good in them and you will have good moments in the future and it's OK to let go of your past. Basically folklore's all about hurting but evermore is all about healing.
Of course, this isn't the only connection between folklore and evermore. But for now, fans have focused their attention on the possibility of a third chapter in this story, the theorized album woodvale.