These Are Chrissy Teigen's Favorite Foods
Chrissy Teigen is a known foodie: she's written cookbooks and loves chatting about food. Here's the model's favorite dishes.
Unless she's recently burned you on Twitter, you probably love Chrissy Teigen. (And if you've been recently burned by the talented woman, chances are you deserved it.)
Teigen is one of the most down to Earth celebrities out there: She's friendly, funny, and fans love her relationship with her husband, singer John Legend. The two have kids together, and Teigen's adventures in motherhood are hilarious and totally relatable.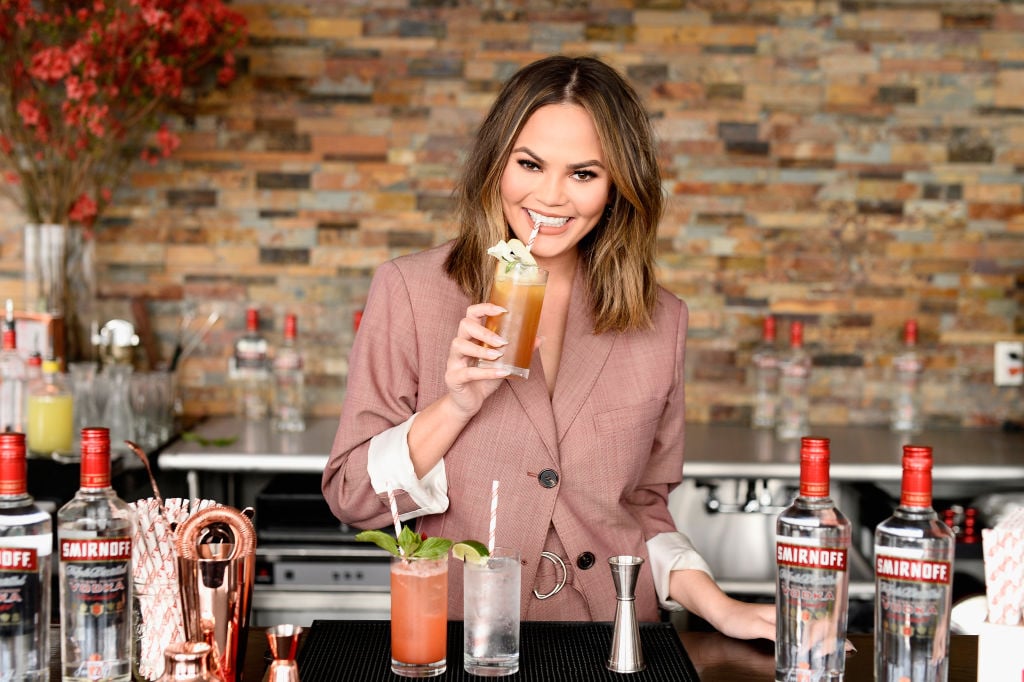 Fans are always looking for ways to learn more about Teigen. She feels like the girl next door, even though she's a household name. Interestingly, her favorite foods are just like her: quirky, delicious, comforting, and occasionally a little weird. 
Chrissy Teigen loves pickled peppers
Yes, like the ones Peter Piper picked. Apparently Teigen is never without them. They're her favorite snack. She'll add them to a dish, or just eat them by themselves. It's not the most popular food, but they are a pretty healthy snack. According to Teigen they also have a satisfying crunch if that's what she's craving.
Teigen's kids, Luna and Miles, are still young: Luna is 3 and Miles is only 2. Still, we can't help but wonder if they love pickled peppers as much as their mom. 
Chrissy Teigen is not afraid of weird food combos
Teigen is an adventurous eater. Her favorite strange food combination? Everything bagels with peppercini. It sounds like a lot of flavor in one place, maybe even too much. Not for Teigen, apparently. 
She also loves spice, acid, and sour flavors. You may have guessed from the pickled peppers, which are apparently very sour and acidic.
She loves Thai food — Teigen is half Thai — which can get pretty hot. When she's feeling like fast food, she eats Doritos Locos Tacos from Taco Bell. 
Her favorite pizza topping is another strange combo. Teigen loves Hawaiian pizza, with pineapple on it. The general public is pretty divided over whether or not pineapple pizza is delicious or an abomination, but we know which camp Teigen is in.
Chrissy Teigen is actually a food expert
Teigen is much more than a pretty face with a sharp wit. She's also the bestselling author of two cookbooks, and she has her own line of cookware at Target. 
Teigen's first cookbook, Cravings: Recipes for All the Food You Want to Eat, came out in 2016. That's the same year her daughter Luna was born. In 2018, she released Cravings: Hungry for More. It's the sequel, if cookbooks have sequels. It also happens to be the same year her son, Miles, was born.
For Teigen, cooking is a family affair. Her mother, Vilailuck, lives with her and Legend, and is essential to Teigen's cookbook writing process. Vilailuck tries all of Teigen's recipes before they make it into her books. It's a tough job, but somebody has to do it.
Fans should be excited to know that they can now cook and eat just like Teigen. She tries to make her recipes low cost, so all her fans can enjoy the same delicious food she does. She sounds like she's planning another cookbook, and she mentioned she will include Mediterranean and Italian recipes next time. Since the food is delicious and affordable, Teigen thinks it will be perfect for her fans.