These Struggles Helped John Legend and Chrissy Teigen Deepen Their Relationship
John Legend and Chrissy Teigen are music and internet power couple. Legend's credentials include being a singer and songwriter who has worked with the who's who in the music industry. Teigen has found success as a model and a television personality, and they have a loving marriage. It is hard to believe that with all this couple has going for them things have not always been easy.
How did John Legend and Chrissy Teigen meet?
Legend and Teigen met when she was cast in his 2007 music video "Stereo." Watching the video is like watching their relationship and future unfold.
Teigen described the experience to Wendy Williams this way: "We spent the entire day together, me in my underwear and him in a full suit, and [when] I went to say goodbye to him, [at] his hotel, we [never said] goodbye."
Needless to say, sparks flew and that was the beginning of a long relationship.  
When did John Legend and Chrissy Teigen get married?
The couple was together for four years before Legend asked Teigen to marry him while on a vacation. Teigen told the story of the proposal on an episode of FABLife.
She said: "We get to the Maldives, and he had planned this beautiful Christmas…the waiter comes out with a silver dome for dessert, [and when he lifts the dome] I see the little box."
She said that her heart stopped, and she got so excited and added: "There was no big grand speech or anything. I think it was just very lovely and sweet."
They were married in 2013 in Como, Italy.
Does John Legend and Chrissy Teigen have any children?
Getting pregnant was not easy for Teigen. She said that she and Legend had been trying for years to become parents before they finally turned to IVF treatments to conceive.
Teigen shared with Tyra Banks the co-host of FABLife: "John and I were having trouble. We would have had kids years ago…but my gosh, it's been a process."
She finally announced to her fans, in October 2015, that she and Legend were expecting. Their daughter Luna Simone was born in April 2016. The couple also has a son named Miles.
Is it true that Chrissy Teigen had struggles with postpartum depression?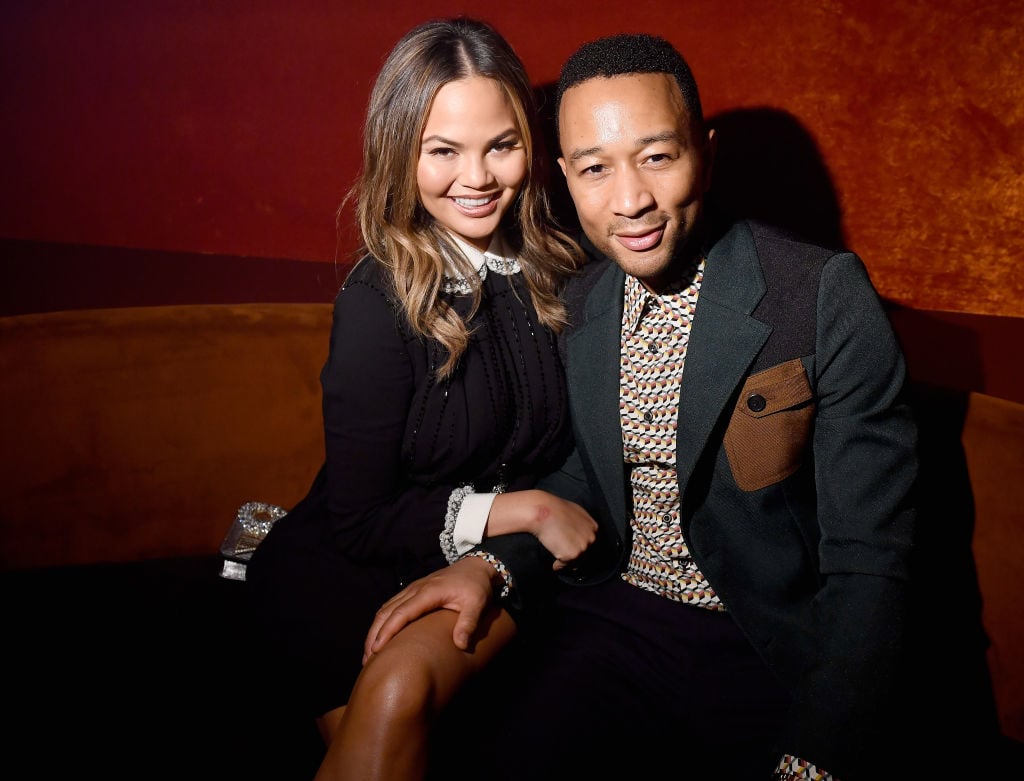 Teigen shared her very painful struggles with postpartum depression when she wrote a passionate essay describing her struggles. In the essay, she described how she had become emotional and moody and found herself snapping at colleagues and friends.
Eventually, Teigen sought out professional help. The doctor reviewed her symptoms and diagnosed her with anxiety and postpartum depression. She decided to share her struggles with her fans because she says: "I want people to know that it can happen to anybody."
Teigen said that throughout all the ups and downs of her depression that she could not have had a more supportive partner. She shared with People Magazine: "John has been incredible…he brings me medicine, and he watches horrible reality TV with me."
She also said that even though Legend is "not the goofiest guy" he made it a point to indulge her sense of humor. Teigen described how he made her laugh by going with her to Medieval Times and "tried on the crazy period hats." Sometimes laughter is the best medicine.
When it came time to try for a second child the couple turned to IVF once more. Legend shared with People that going through the struggles of trying to become parents only strengthened their relationship. Having children "deepens your love for your partner because you see them in a different light going through, in our case, the trouble of actually having a kid," Legend said.
Their love not only survives but it thrives, and their family has become complete with the addition of 18-month-old son Miles.