These Videos From the 1997 'Cinderella' Starring Whitney Houston and Brandy Will Make You Nostalgic
The 1997 'Cinderella' starring Brandy and Whitney Houston was one for the history books. Here are some videos to bring back nostalgia.
The 1997 version of Rodgers and Hammerstein's Cinderella is still one of the best iterations of that musical. Possibly even that story. The concept of Cinderella, where a girl in a horrible family situation catches the eye of a prince and then has to vanish, has been done so many times. But still, no one has done it quite like the one starring Brandy and Whitney Houston. The casting was beautifully diverse and the talent helped the songs jump off of the screen. Not to mention, the blend of all different types of voices — not just straight Broadway or pop — added extra flare too. Since the movie isn't streamable for now, here are six videos you can find on YouTube that will fill you with nostalgia.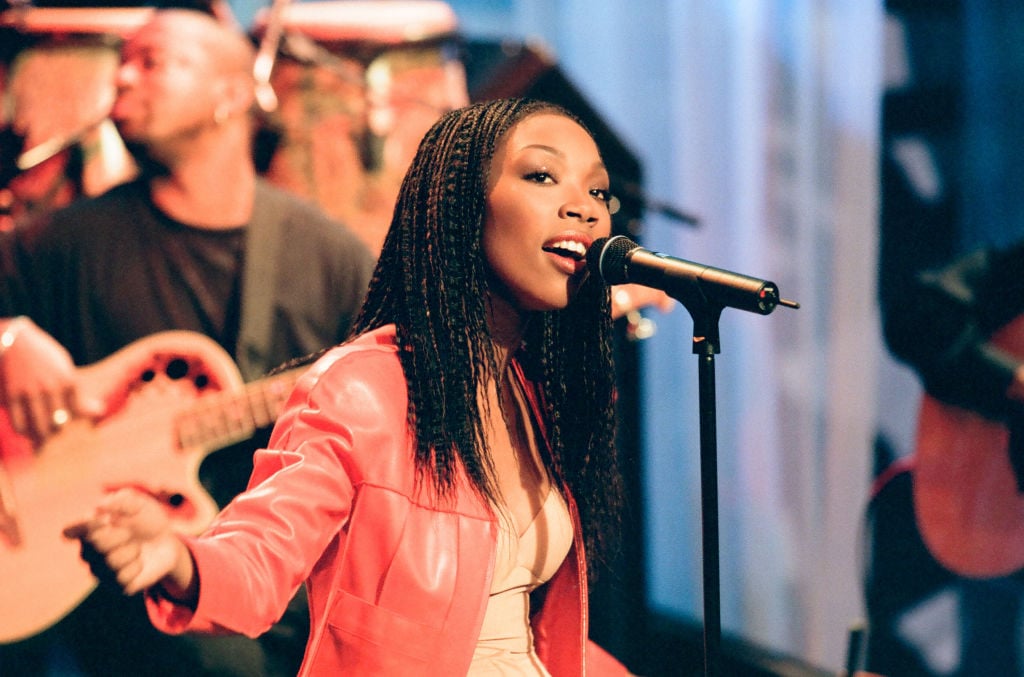 1. "10 Minutes Ago"
"10 Minutes Ago" is played a couple of times, first when Cinderella and the Prince meet and then when she shows up at the ball. It's a sweet song about love at first sight. Prince Christophers' voice is so buttery, which of course meshes really well with Cinderella's. She has the iconic powder blue ballgown, and as a kid it really made Brandy look like the perfect princess. Also, was the color palette of this scene always so soothing? Maybe that's just the nostalgia talking. 
2. "Falling in Love with Love"
Bernadette Peters in the role of the Evil Stepmother was pure genius. She's not the typical mean hag or uptight evil woman. Instead, she's a glamorous, snarky Stepmother. And this song is one of the best in the movie. While it wasn't as cynical as a kid, now you completely get the message she's telling her daughters. Love is for fools. Maybe she was onto something? Regardless, she slayed her ballroom look. 
3. "Impossible"/"It's Possible"
There probably isn't a song in this whole movie as iconic as this rendition of "Impossible"/"It's Possible." Cinderella isn't an overly pessimistic person, despite her situation. However, a fairy godmother offering to send her to a ball in a magic gown and carriage? Impossible at first. But "It's Possible" shows her change of heart. This version of the song infuses it with Houston's and Brandy's more modern voices and honestly makes it the best one out there. 
4. "Stepsisters Lament"
While the Stepmother is great, the two stepsisters in this are also highly entertaining. Whereas they're mean or malicious in other versions of the story, these two are just zany. Sure, they're a bit mean-spirited, but this song perfectly shows off their silly nature. They mean no harm, even though they like to talk a big game.
5. "Do I Love You Because You're Beautiful?"
It can't be said enough how good Paolo Montalbán and Brandy's chemistry was in this movie. Even revisiting the musical decades later and this song still makes your heart soar. This is when the Prince and Cinderella really step back and wonder if it's all too good to be true. Lucky for them, it's the real deal. 
6. "In My Own Little Corner"
It's always astounding just how much abuse Cinderella takes from her "family." While other versions of the story touch on it, "In My Own Little Corner" is finally a moment for Cinderella to get away. It shows how she escapes her horrible situation and how she longs to do so in real life. It's bittersweet; it shows her fun imagination but highlights how unhappy she truly is. And, again, Brandy knocked this out of the park. Maybe we'll get this on a streaming platform one day. Disney+ anyone?