This Buckingham Palace Comment Spotlights How Blindsided the Royal Family Was By Megxit
Meghan, Duchess of Sussex and Prince Harry are back to dominating the headlines after taking the holidays off to spend time with their young son, Archie Harrison. The royal couple dropped a bombshell in early January on their Instagram account, announcing that they intended to step back as senior members of the royal family and …
Meghan, Duchess of Sussex and Prince Harry are back to dominating the headlines after taking the holidays off to spend time with their young son, Archie Harrison. The royal couple dropped a bombshell in early January on their Instagram account, announcing that they intended to step back as senior members of the royal family and spend their time making their own income and developing a brand-new charitable organization.
In the days since, the royal family has been scrambling to come to a compromise with the couple and royal watchers wait and speculate about what this could mean for the future of the monarchy. There has also been a lot of bizarre rumors that have been circulating, with the palace actually taking the time to debunk one or two of them.
The timing of one statement, in particular, from the palace truly showcases how blindsided the royal family was by Meghan and Prince Harry's announcement.
What did Meghan Markle and Prince Harry announce regarding their royal roles?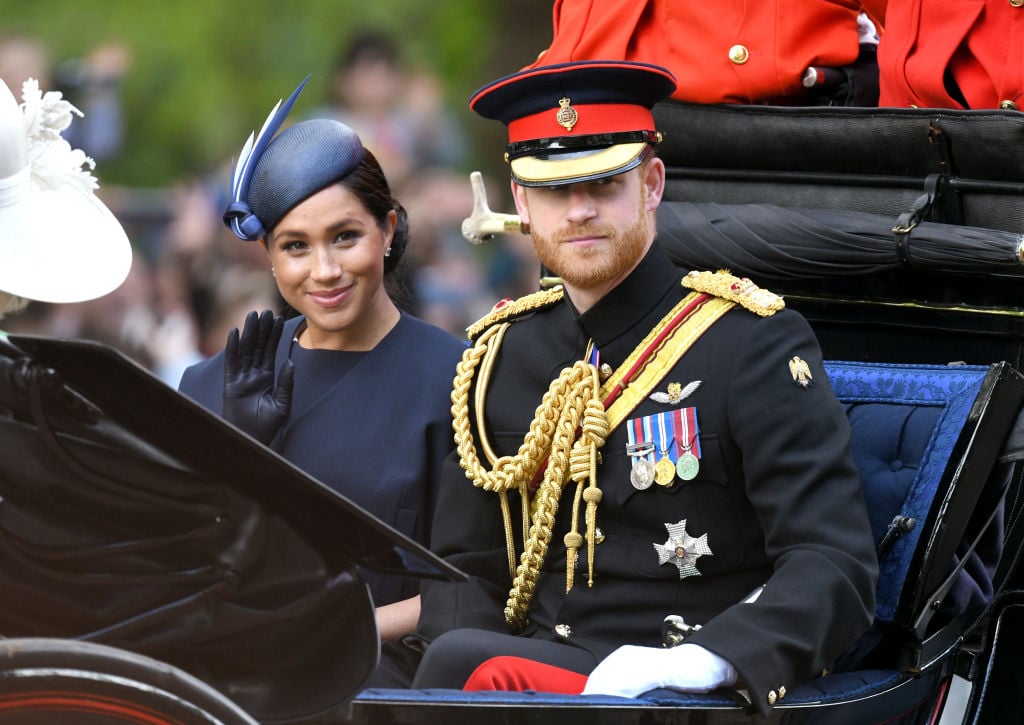 Prince Harry and Meghan have had a difficult year, dealing with the stress of becoming new parents all while undergoing a near-constant volley of attacks from the British media. There's little doubt that the two finally had enough of the negativity, which likely led, in part, to their decision to step away from the royal family.
Their statement revealed that they want to "work to become financially independent, while continuing to fully support Her Majesty The Queen." This indicates that they want to still represent the royal family in some capacity while also pursuing their own interests and make their own money.
However, one thing that their statement did not address when exactly all of this would happen. It is very possible that this transition could take months or the better part of a year. 
Will Prince Harry and Meghan Markle live in Canada?
Another portion of the royal couple's statement indicated that they want to divide their time between North America and the United Kingdom. However, royal fans know that the two have a great fondness for Canada. Meghan spent a great deal of time there prior to her marriage to Prince Harry when she was working on her TV series Suits. 
Many royal watchers have speculated the Duke and Duchess of Sussex actually want to move to Canada, give up their royal titles, and go off the radar completely. An Instagram post to the couple's account made only days before the announcement seems to add credibility to the rumor, as it reiterates the great love that they have for Canada and how much they enjoyed spending their holiday season there. 
What statement did the palace recently release?
Prior to their announcement, The Sun reported — citing a "pal" of the couple — that Meghan and Prince Harry are relocating their office to Canada.
The source said: "It is true that Harry and Meghan will spend a fair amount of time in Canada over the next couple of months and possibly going forward too. Right now they are starting talks with their family about their plans for the future. Those conversations are at a very early stage. There is a very careful and serious process to go through which they are going to respect. But it is clear they are on a different and unique path, and they are very much thinking about what the future looks like for them. That could include being based in Canada or the possibility of walking away from their HRH titles, although hopefully it will not come to that. It's been a very tough year—they're newlyweds and they have a young baby—so they're looking at what their life looks like in the future. Everything is on the table."
In response to these reports, Buckingham Palace denied to comment to the Daily Mail saying it refused to comment on the "speculation." This response — specifically, the use of the word "speculation" — suggests the palace saw no truth in these reports. What's more, this statement was reported shortly before Meghan and Prince Harry made their massive announcement on Instagram. Surely Buckingham Palace would not have wasted their time denying to comment if they knew what the Sussexes were going to announce shortly.
What does Buckingham Palace say now?
The palace clarified further, when, after a January 13th summit, the queen released a statement saying that she is "entirely supportive of Harry and Meghan's desire to create a new life as a young family." The statement also revealed that Prince Harry and Meghan Markle will be splitting their time between the United Kingdom and Canada as the entire family works to draw up some final plans for the couple's new role. However, there were no details regarding any possible title changes, or when the public can expect to see Prince Harry and Meghan Markle stepping back from senior royal positions. Currently, the royal family, as well as Markle and Prince Harry, are experiencing a definite "period of transition."