This Elvis Presley Song Led Zeppelin's Jimmy Page to Learn Guitar
Elvis Presley's success changed the trajectory of popular music — and even inspired Jimmy Page of Led Zeppelin. In an interview, Page said he learned to play guitar all because of one particular Elvis song. In addition, Page was struck by the song's taboo lyrics.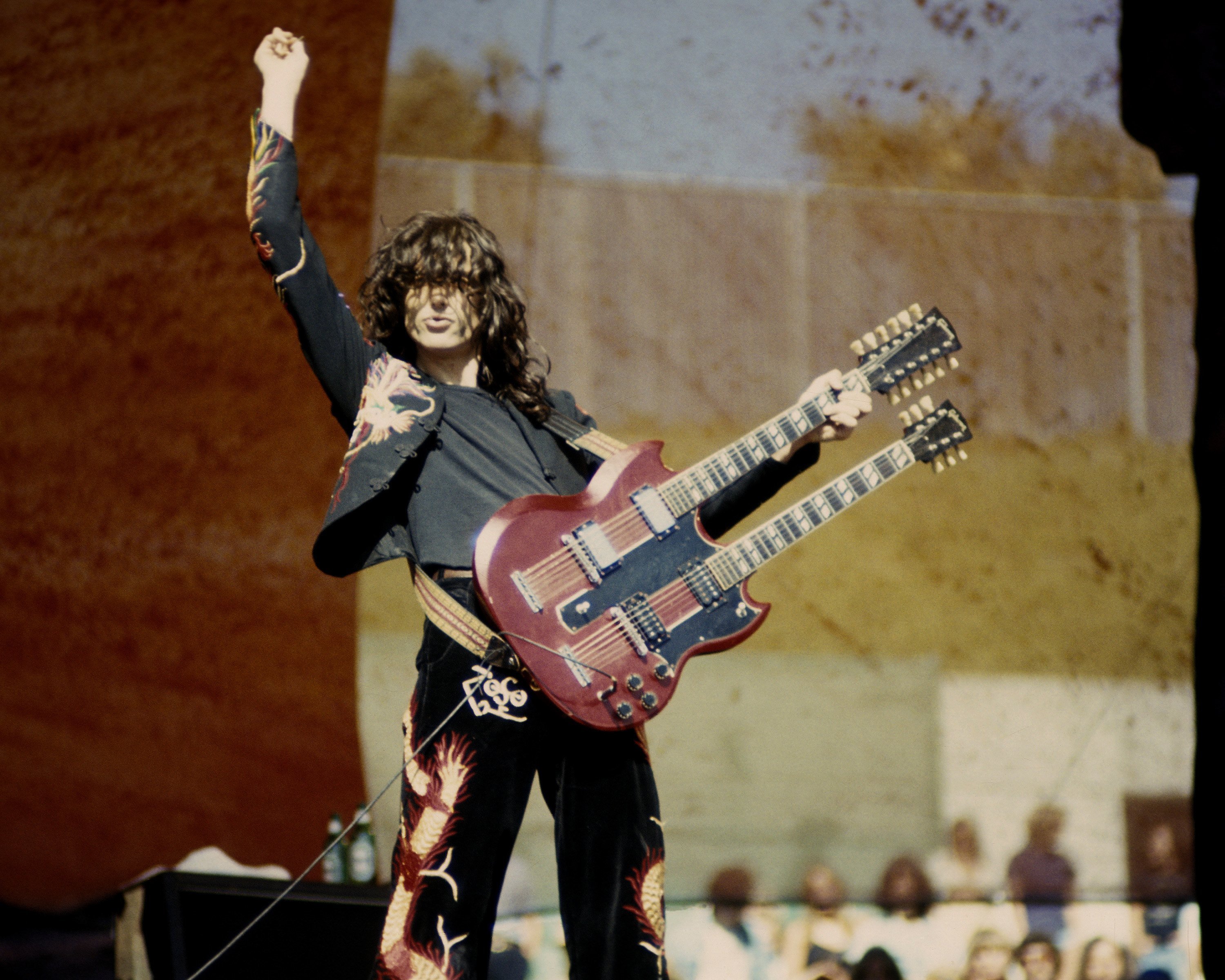 Led Zeppelin's Jimmy Page had a lonely childhood
In a 1973 interview with Rolling Stone, Page discussed his childhood with legendary journalist and filmmaker Cameron Crowe. Page did not have any friends until he went to school at the age of five. "That early isolation, it probably had a lot to do with the way I turned out," Page opined. "A loner. A lot of people can't be on their own. They get frightened. Isolation doesn't bother me at all. It gives me a sense of security."
During this time, Page turned to artistic pursuits. "Somebody had laid a Spanish guitar on us … a very old one. I probably couldn't play it now if I tried. It was sitting around our living room for weeks and weeks. I wasn't interested. Then I heard a couple of records that really turned me on, the main one being Elvis's 'Baby, Let's Play House,' and I wanted to play it. I wanted to know what it was all about. This other guy at school showed me a few chords and I just went on from there."
RELATED: How John Lennon Convinced Mick Jagger to Never Meet Elvis Presley
Why Elvis Presley's 'Baby, Let's Play House' meant so much to Jimmy Page
According to the book Led Zeppelin on Led Zeppelin: Interviews and Encounters, Page was taken with the lyrics of "Baby, Let's Play House." The song is about a couple moving in together, which was rather taboo in the 1950s. In addition, he was taken with the song's sound. He felt the track's instrumentation was "vibrant," praising the commitment of the musicians behind the track.
Page's admission is rather interesting given Led Zeppelin's output. "Baby, Let's Play House" is an example of rockabilly, the countrified version of rhythm and blues music which made Elvis famous. Led Zeppelin released songs in different genres but they are primarily known for their hard rock sound. Their most famous songs don't sound much like "Baby, Let's Play House."
RELATED: Phil Collins Explains His Bad Blood With Jimmy Page of Led Zeppelin
How the world reacted to Elvis Presley's 'Baby, Let's Play House'
"Baby, Let's Play House" certainly meant a lot to Page. This raises an interesting question: Was the public as taken with "Baby, Let's Play House" as Page was? "Baby, Let's Play House" did not chart on the Billboard Hot 100 simply because Elvis released it in 1954, four years before the chart's debut.
However, the Official Charts Company reports "Baby, Let's Play House" reached No. 84 in the United Kingdom — in 2008. This version was a remix by Spankox. Elvis remixes were in vogue at the time in the United Kingdom, as evidenced by the success of remixes of "A Little Less Conversation" and "Rubberneckin'." The fact that "Baby, Let's Play House" charted over 50 years after its debut is impressive — as is its effect on Page.