This Is 'Barefoot Contessa' Ina Garten's 'All-Time Go-To Dinner'
Viewers can't get enough of Food Network's Barefoot Contessa, Ina Garten. There seems to be nothing that the celebrity chef can't make, and she proves it every time on her program. It's not just the recipes, it's ultimately the experience that audiences tune in for. Watching Garten prepare a feast is like sitting on a stool in a good friend's warm kitchen.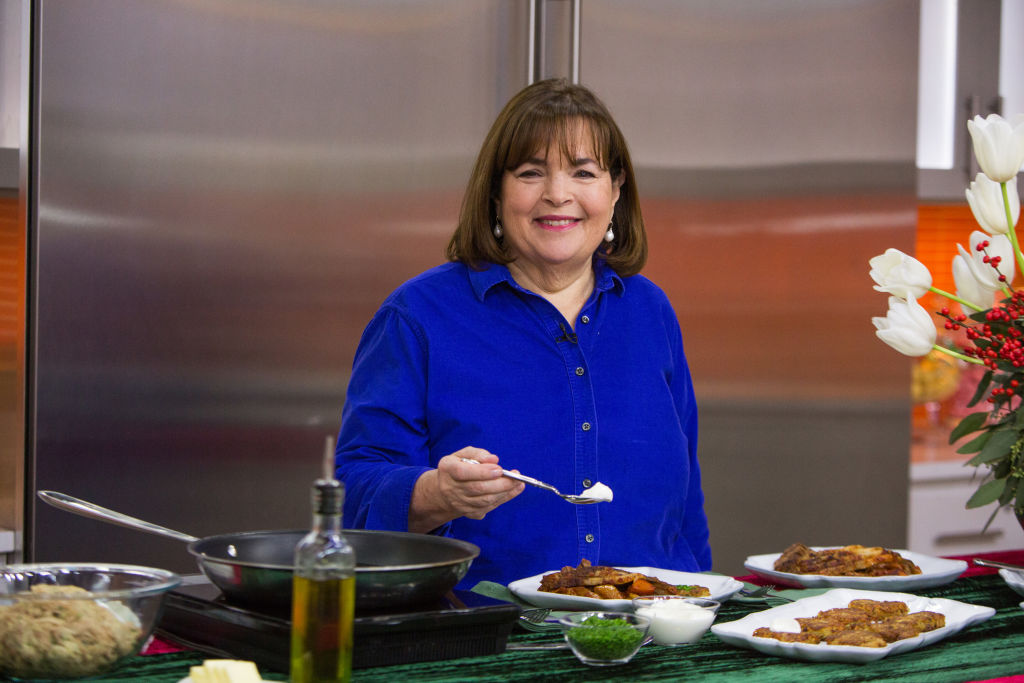 As intricate as some of her recipes may seem, they're not what the chef herself turns to for her absolute favorite dinner recipe. Find out what Garten's go-to dinner is, plus which of her recipes are her close friends' favorites.
Here's Taylor Swift's favorite Ina Garten dinner recipe
Superstar singer Taylor Swift adores Garten's 'Real Spaghetti and Meatballs.' It's a grown-up version of the recipe, featuring a full-bodied red wine in the sauce and fragrant nutmeg grated into the meatball mix.
The songwriter will be turning 30 in December and even included the recipe on a list she compiled earlier this year of "30 Things I Learned Before Turning 30."
"I've always cooked a lot," Swift notes in Lesson 10, "but I found three recipes I know I'll be making at dinner parties for life: Ina Garten's Real Meatballs and Spaghetti (I just use packaged bread crumbs and only ground beef for meat), Nigella Lawson's Mughlai Chicken, and Jamie Oliver's Chicken Fajitas with Molé Sauce. Getting a garlic crusher is a whole game-changer."
Speaking about their friendship, the chef told People in 2016, "I adore Taylor, and I admire her enormously. I was so flattered that she chose to work with me," she said. "We did this photoshoot together which was just one of the fun days of my life. It was just unbelievable."
Jennifer Garner loves making this Ina Garten recipe for dinner
Actress Jennifer Garner is another of Garten's dear friends. They've grown close over the years and seem to enjoy cooking together quite a bit, based on Garten's Instagram account.
When asked by Bon Appetit to honor her friend with a guest column, Garner mused on what her favorite recipe of Garten's is.
"What is my favorite Ina Garten recipe? This is an unfair question, I may have to quit here. How could I possibly choose a favorite? Do you mean to ask me my favorite from each book? My favorite chicken, my favorite shrimp, my favorite muffin? Torture."
Garner eventually settled on beef bourguignon as her favorite of the 71-year-old's recipes.
"I wonder what other gems Ina has hiding in plain sight. Sometimes I go through and read her earlier books over again to come up with fresh ideas. Ina's books, like her beef bourguignon, never ever disappoint," Garner added.
Ina Garten's go-to dinner
One would think Garten's favorite dinner would be something classy or elegant. It actually turns out to be a comfort food of sorts.
"If I had to choose my all-time go-to dinner (besides roast chicken!!) it would definitely be my Parmesan Chicken!," she posted on Instagram. "It's a whole dinner on one plate – juicy, herb-breaded chicken with a cold lemony salad and shaved Parmesan on top. And the whole thing takes 30 minutes to prepare! How great is that?!" 
Sounds good for dinner tonight!
Read more: Snoop Dogg Is A Natural Sushi Chef Thanks To His Years Of Blunt-Rolling