'This Is Us': 1 Series Finale Scene Was Originally Cut From a Season 1 Episode
The This Is Us series finale was emotional from beginning to end, even though Dan Fogelman calls it "simple." Which, it is simple, but the Pearson family will find any way to pull at the audience's heartstrings. And there is one scene that did just that, but according to the cast and crew, they originally filmed the moment for one episode in season 1.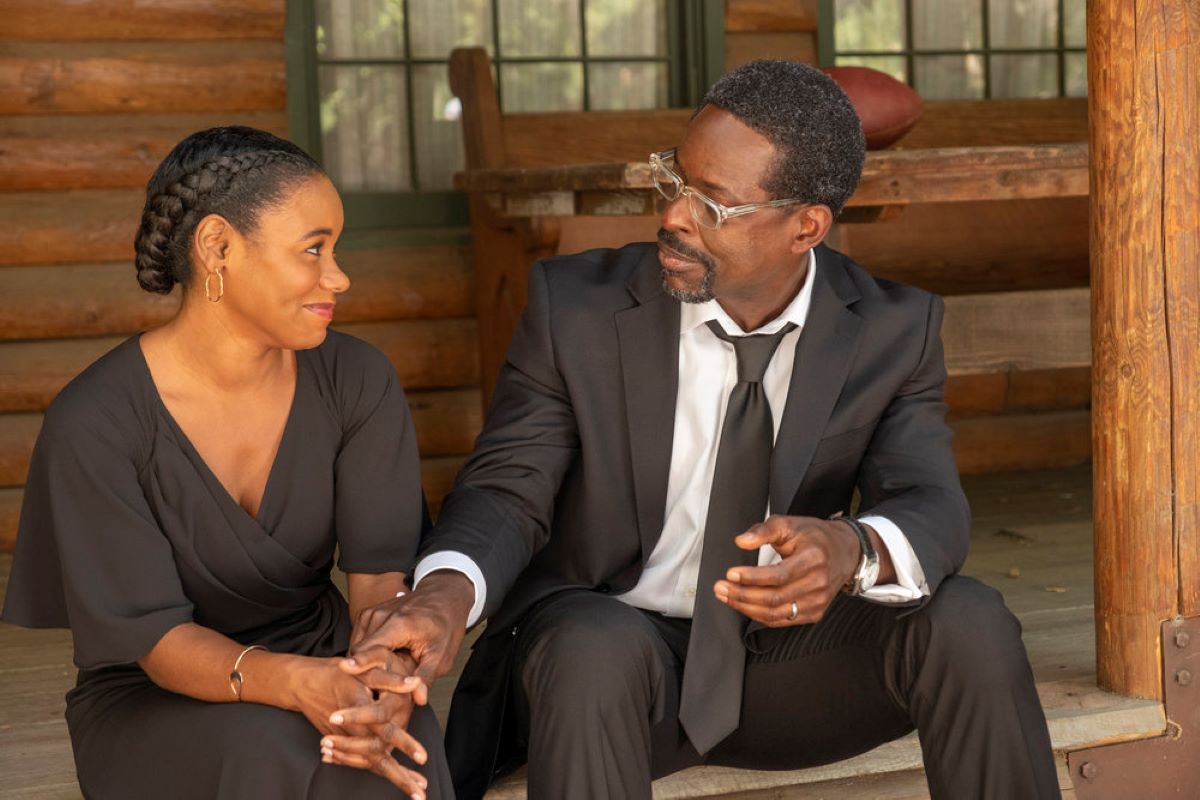 The 'This Is Us' series finale flashed back to a William and Randall moment
Ron Cephas Jones returned as William one last time in the This Is Us series finale. But it was in a scene they filmed years ago.
After Rebecca's funeral, Deja comforts a spiraling Randall, who relays that everything feels pointless now that his mother is dead. She tells him that she and Malik are having a boy and that they're naming William after her grandfather. Deja says, "Your grandson is going to be named after a man I've never met. But I know him because I know you. It's not pointless."
And prior to Deja telling her father the news, the audience sees a flashback to William saying goodbye to Tess and Annie before he and Randall leave for Memphis. Afterward, William reflects on the peculiarness of being a grandparent when Randall approaches him. Grandparents love their grandkids so much, even though they're only around for a short period of time.
William wonders aloud how much his grandkids will remember him. And Randall reassures him, "A lot." As many fans recall, William dies during their Memphis trip.
According to Jones, they originally filmed this heartbreaking series finale scene for This Is Us Season 1 Episode 16. However, the scene never made the final cut for the memorable hour.
Ron Cephas Jones reflects on the William and Randall scene
During an interview with Entertainment Weekly, Ron Cephas Jones explained why the This Is Us Season 1 scene was the perfect addition to the series finale.
"Dan [Fogelman] called me and said, 'Do you remember that scene that we cut? I found the place for it in the finale,'" Jones shared. "To be honest with you, I didn't know how it was going to fit or where they were going to use it. I vaguely remembered it, but I didn't remember the specificity of it. So that was more like, 'Ooh, I'm really glad I get a chance at least be seen in the last episode!'"
"Then when I saw it, it was like, 'Whoa, I forgot how beautiful it was when he was reflecting on being a grandfather — and how in retrospect, it was attached to everything.' You hear that speech, and you go, 'Everything is attached to something else, whether it be in the future or in the past.'"
The actor added, "The genius of Dan Fogelman is that he's able to have these pieces where when they shoot it, it may not fit, and he doesn't throw it away. He'll put it on the shelf. Sometimes [he'll] go back and say, 'Remember that scene we shot where we took that out? This will be a perfect time to place that piece into this tapestry.' That's what happened with that scene."
The This Is Us series finale perfectly summed up what the show is about — nothing truly ends, and the cycle of a family is neverending. Even years after his death, William remains a big part of the Pearson family. His legacy carries on in Deja and her children, even though they never met.
Other 'This Is Us' series finale scenes were filmed years ago
While the This Is Us cast and crew didn't intend to film William's scene for the series finale, they did shoot other scenes years ago with the final episode in mind.
They filmed all scenes in the flashback to the lazy Saturday with the Pearsons three seasons ago. Dan Fogelman wanted to capture the Big Three actors — Parker Bates, Mackenzie Hancsicsak, and Lonnie Chavis — at a certain age.
"That was the beginning of season 3," Milo Ventimiglia told Entertainment Weekly. "We had so much work still to do. It didn't seem that big. It didn't seem like one of those things that you think, 'Wow, this is going to be a massive moment for the show. Thank God Dan was thinking ahead to get it!' [They] just played as any other scene[s] that we shot, which was good. It kind of took the pressure off."
He continued, "I remember getting to that scene where we're sitting around with the kids and Mandy [Moore] sitting on the floor, I'm sitting on the couch, Lonnie's sitting next to me, and Parker and Mackenzie are there. And [director] Ken [Olin] had this push-in on Mandy and push-in on me, and that just ended the scene. I remember Mandy and I walking off set and Dan going, 'Those were the final shots of the show.' I mean, he said it like it was in stone."
This Is Us is available to stream on Hulu and Peacock.
RELATED: 'This Is Us': Where to Find the Cast After the Series Finale