'This Is Us' Fans Can 'Rest Easy' Knowing Kevin Ends up With Sophie
Kevin and Sophie got back together in 'This Is Us' Season 6 Episode 14, and it sounds like they won't be breaking up anytime soon.
After six seasons of patiently waiting, This Is Us fans finally learned who Kevin's soulmate is — Sophie. It took a while, but the childhood sweethearts finally got their timing right, and the rest is history. Or is it? This Is Us has contained numerous twists and turns over the years that it's difficult for the audience to trust that the couple is endgame. Thankfully, one writer is confident their relationship will go the distance.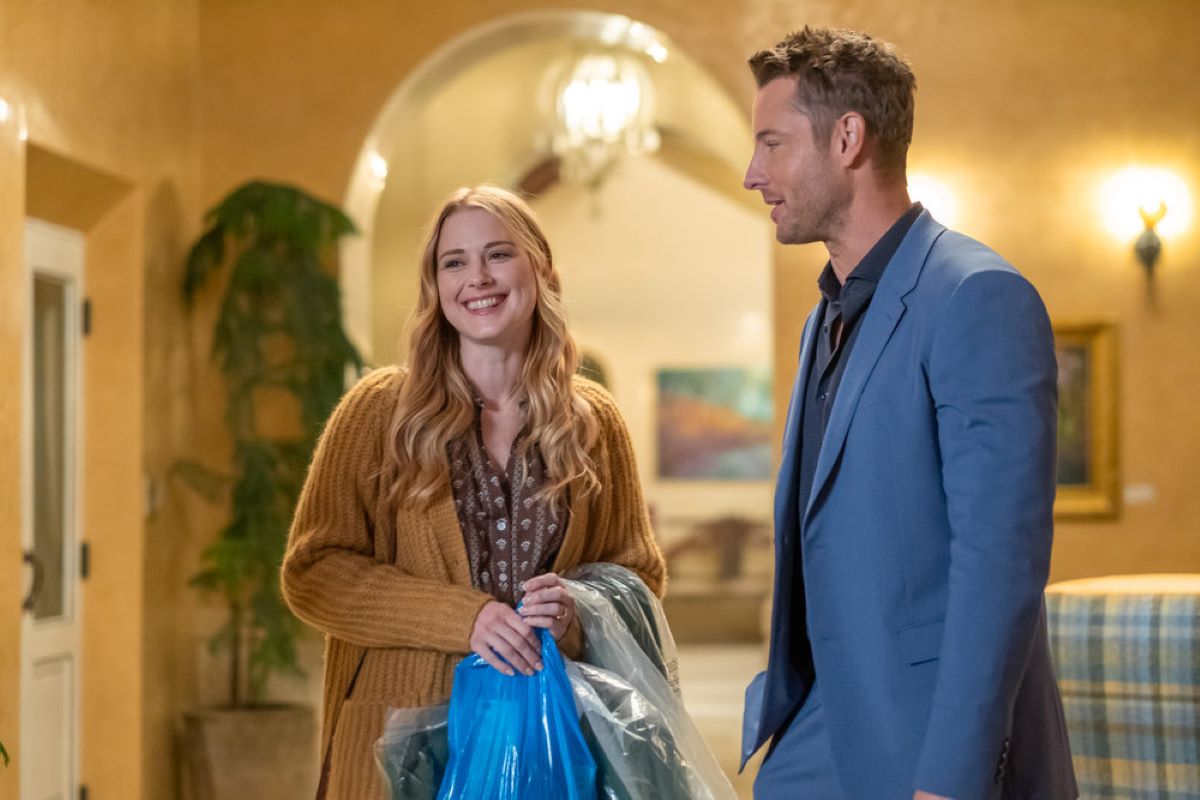 'This Is Us' Season 6 Episode 14 revealed that Sophie is Kevin's endgame
The night before Kate and Phillip's wedding was tumultuous for Kevin, to say the least. And This Is Us Season 6 Episode 14 revealed all of the romantic and heartbreaking details from that night.
Sophie arrived at the venue the day before the wedding. And Kevin, who was reminiscent of a lovesick puppy, was staring at the doors, waiting for his ex-wife. When she finally walked through the doors, Kevin and Sophie's eyes lit up.
The former couple spent the day together. They found Sophie a dress for the wedding since the airport had lost her luggage, and they took a walk through a vineyard. Sophie admitted to Kevin that she was divorced. And later that night, she and Kevin went back to his room. But before things could get too steamy, Sophie got scared and left.
At the wedding reception, Kevin and Sophie received pep talks from Randall and Rebecca, respectively. They realized that they are both fully formed adults who are finally ready for one another. After Kevin showed her a Valentine he created for her that he kept in his wallet, the couple kissed.
1 'This Is Us' writer reassures fans that Kevin and Sophie will stay together
Following the premiere of This Is Us Season 6 Episode 14, the hour's writer, Danielle Bauman, spoke with Entertainment Weekly. When asked if Kevin and Sophie would remain together for the rest of the series, Bauman answered, "I think we can rest easy."
So Kevin and Sophie are it for each other in This Is Us. There will be no surprise twists or breakups that fans have to worry about in the final four episodes.
As for how long the writers knew that Kevin and Sophie would end up together, Bauman said, "I can speak for me, and I can speak for the writers as a whole: For me, Sophie was always the endgame. For us as a whole, there was a push and pull. There was a shortlist. There were times where we were open to the idea that maybe Kevin is going to fall for somebody else, and that's OK."
The writer added, "But even though, yes, there was a shortlist, deep down, most of us were gunning for Sophie," Bauman concluded. "There were some outliers, and there were some people that were like, "No, no, no," but I think deep down they knew that was the way it was going to go. We're all with Kevin on this journey."
Alexandra Breckenridge previews what's next for the couple
During an interview with Glamour, Alexandra Breckenridge teased what fans will see from Kevin and Sophie in the final episodes of This Is Us.
"There's only a few episodes left, but you'll see Kevin and Sophie together," the actor shared. "They continue to have a wonderful relationship because they were able to develop as their own fully formed humans before getting into a relationship. It's so important to find love for yourself so that you can fully love someone else and allow them to love you."
Breckenridge continued, "You'll see them going through this roller coaster toward the end with Miguel [and] Rebecca. It's hard. It's really hard what's coming up. I think throughout the season, they've been teasing this sort of deathbed hospice situation to come with Rebecca, and I think the walking through all of that is going to be tumultuous for the kids."
"Sophie, Beth, and Philip are really just the support system for the family through the rest of the season," she said. "Because we don't have a lot of time to get back into Kevin and Sophie, I think that there is some stuff that viewers might miss out on in terms of that. But you do get to see the dynamic between how they meld their families with Madison and Elijah and the kids."
This Is Us airs Tuesdays at 9 p.m. ET on NBC.