'This Is Us' Fans Frustrated Over Miguel's 'Mistreatment' by Pearson Clan: 'He's Not Jack'
'This Is Us' fans are losing patience with the way Miguel has been treated through six seasons of the NBC drama series.
After years of quietly sitting on the sidelines as the Pearson family navigated life, This Is Us' Miguel Rivas (Jon Huertas) is finally getting his moment in the spotlight during the show's final season. Miguel appears to be standing up for himself in the wake of his long-term "mistreatment" by the Pearson clan since day one of the NBC series. Fans believe this unsavory behavior stems from one thing: "he's not Jack."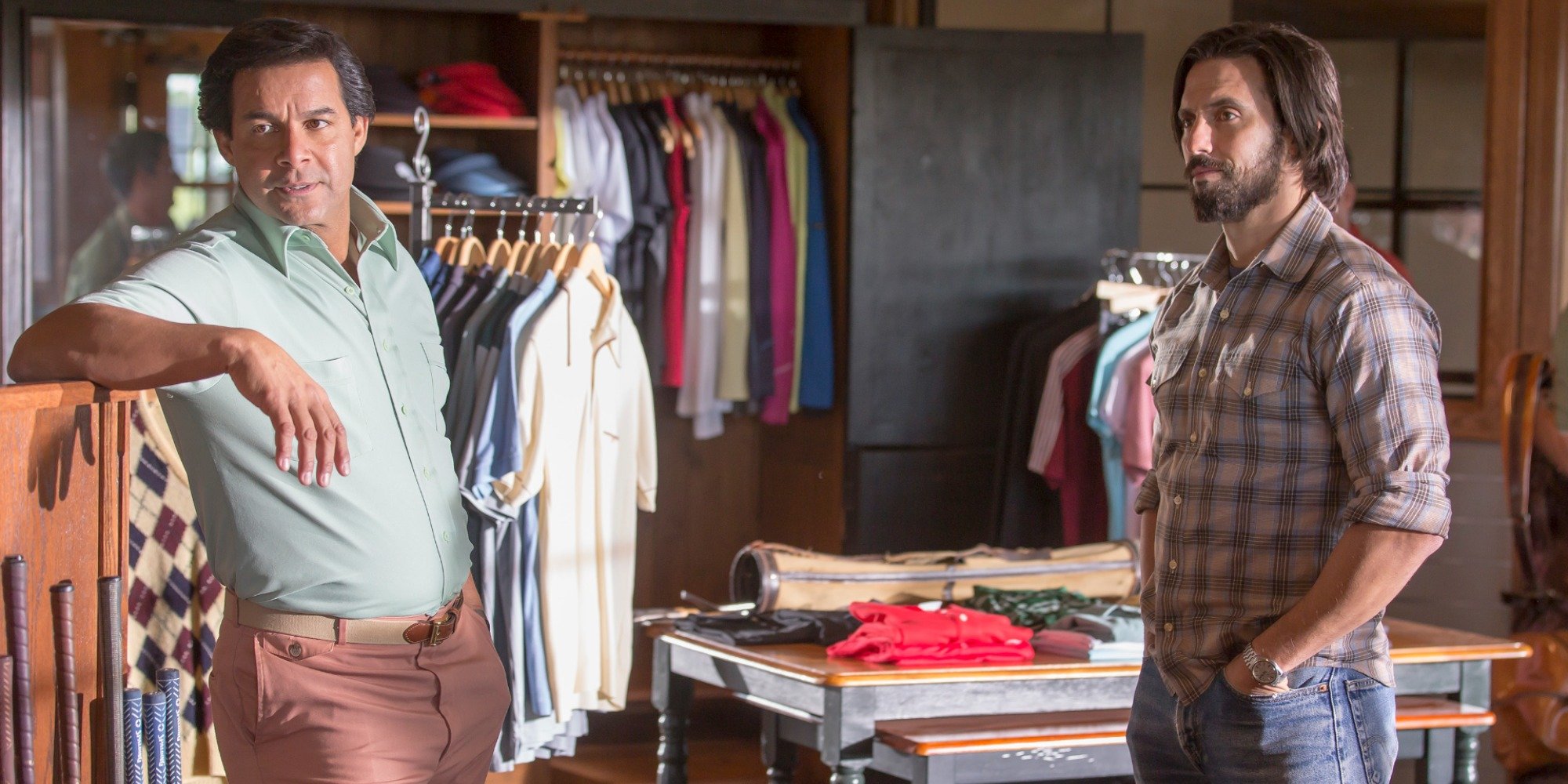 How much do 'This Is Us' fans know about Rebecca's second spouse?
Miguel has quietly resided in the background throughout six seasons of the NBC series.
Pearson family patriarch Jack (Milo Ventimiglia) met his soon-to-be best friend when he needed a sports coat to meet Rebecca's (Mandy Moore) parents for the first time at their country club. He walked into a suit store and told his salesperson, Miguel, of his dilemma. In turn, Miguel let Jack borrow the coat.
The men became best pals, and Miguel was there for Jack during many critical moments in his life.
These included the recreation of Jack's first date with Rebecca so he could propose.
Miguel stood by the couple on their wedding day. He was there for the couple as Jack and Rebecca rejoiced and grieved over the birth of two of three children. He believed in them when Jacka and Rebecca adopted Randall from the hospital.
In an eerie foreshadowing, Jack called on Miguel to watch over Rebecca and their children if something happened to him.
Later, Miguel and Jack both worked together at the same company.
Subsequently, Miguel divorced his wife, Shelly, with whom he had two children, Andy and Amber.
After Jack's death due to smoke inhalation during the Pearson family home fire, Miguel kept his promise to Jack and helped Rebecca and their children navigate their grief.
The Big Three kept Miguel at arm's length at all times, even after he and Rebecca married in 2012.
'This Is Us' fans 'frustrated' by Miguel's 'mistreatment'
In a Reddit post titled "If Miguel was Jack' fans stood up for the long-suffering character, who has dealt with tension from Kevin (Justin Hartley), Randall (Sterling K. Brown), and Kate (Chrissy Metz) throughout his entire relationship with thier mother. Miguel always fought comparisons to their late father.
"Miguel's biggest crime on this show is not being Jack and I'm so tired of it. Jack was a good man but not some paragon of virtue. He was simply human," one fan wrote.
"Definitely!! A human who never tried to replace Jack or resented the big 3 for their treatment of him. During her darkest moments, he was there for Rebecca and is great with the grandkids. His biggest crime is not being Jack," concurred a second viewer.
"Exactly. Miguel is such a stand-up guy, and his mistreatment by so many characters is beyond irritating. The man deserves his flowers," claimed a third Reddit poster.
A fourth fan had a different take on the situation had Jack lived and had to deal with Rebecca's cognitive health issues.
"I have doubts that Jack could have handled Rebecca's illness. His issues would have made it difficult for him to cope with her decline. I don't think Jack was the most supportive husband. Rebecca put up with a lot," they penned.
How will Miguel handle Rebecca thinking her son Kevin is her husband, Jack?
There's still time to figure it out. pic.twitter.com/42tMZN3mnH

— This Is Us (@NBCThisisUs) April 23, 2022
In an interview with Entertainment Weekly, This Is Us executive story editor Jon Dorsey shared his reaction regarding Miguel's response to Rebecca's cognitive deterioration.
"I can't speak for everyone, but that's one of the saddest collateral of all. It feels like Miguel is cast aside at times, like the second fiddle. But it's not necessarily true," Dorsey explained.
"People can have multiple soulmates. And there's an argument that that's the case here. Another thing that the doctor mentioned is that just because Rebecca might be in a period of thinking she's talking to Jack, it doesn't mean that she can't still be loving Miguel at that moment, if that makes any sense. It's this weird swirl."
The NBC drama will feature an episode dedicated to Miguel's story on May 3.
This Is Us airs Tuesdays at 9 p.m. EST on NBC.