'This Is Us' Fans Pointed Out a 'Special' Connection Between Baby Jack and the Family Dog
The connection between human beings and dogs is already noted through science and personal stories, so it's no surprise NBC's This Is Us picked up on a similar thread. Anyone following Kate's (Chrissy Metz) story on the show will know about her dog, Audio.
While still alive in the time when Baby Jack is born, there's still a very interesting connection with the above family dog. Having a name like that for a dog seemed almost preordained with destiny, something This Is Us plays up very effectively.
What was the fan reaction to Audio when he first made his debut in the flashback sequences? Also, what's the eerie connection to Baby Jack? Seeing the latter interact with Audio in a future episode would also see the ultimate bond and a full circle.
Remembering back to why Kate adopted Audio
Casual viewers of This Is Us might have missed the reason behind Kate adopting Audio in the first place. She got him to assuage her emotions of guilt about her dad, Jack (Milo Ventimiglia), dying from smoke inhalation when their house burned. Some may remember the reason he inhaled so much smoke was because he was trying to rescue Louie, Kate's teenage dog.
Kate adopting Audio was a form of therapy and catharsis, making him an important part of the family. It's only too bad there isn't more use of him, even though there may be more coming.
After all, the name Kate gave to the dog is more than a little ironic. She seemed to almost be predicting her own future trajectory in having a blind son. Or was it just coincidence she named the dog Audio?
One thing for sure is many fans took to social media in wanting to learn more about Audio and the real dog behind the name.
Is there any knowledge behind Audio's name?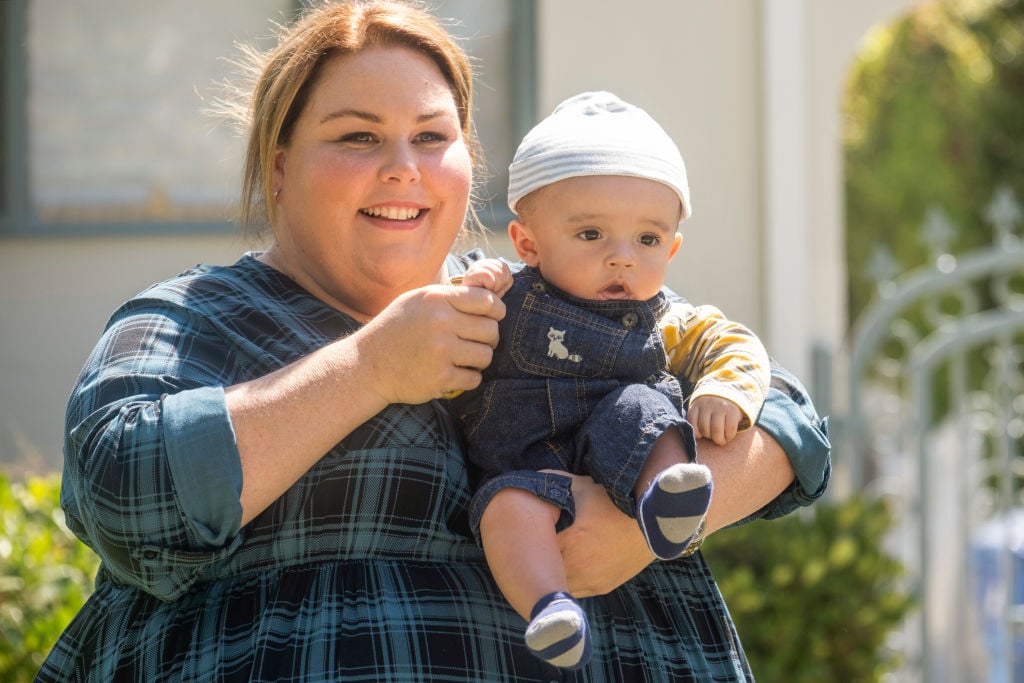 There isn't much known for why Kate initially named Audio specifically. When she adopted Audio, audiences were ecstatic she got the dog as a form of emotional therapy after the overwhelming loss of her father and Louie.
At the time, Kate and Toby described audio as "Jacob Tremblay if he was a dog," referring to the child actor from the movie Room. For whatever reason the name Audio was chosen, the actor dog behind the name became an instant star in his own right.
Apparently his real name is Bean, with the show essentially adopting him within a group of caged dogs in the back of a van. Producers and cast have all tweeted saying how smart and obedient Bean is, making it more than possible everyone will be seeing more of him.
Since This Is Us is all about going full circle in family connections, it's inevitable everyone will see Audio with Baby Jack soon.
Fans continue noting the ironic connection between Baby Jack and Audio
Places like Reddit are still talking about Audio and how the writers didn't let it go unnoticed how Audio and Baby Jack interlink. Since Baby Jack will only be able to hear Audio, those connections run emotionally deep.
Plus, there's that moment when the Pearson kids heard audio of their dad from an unearthed 1993 time capsule.
Hopefully, the show will reflect on this irony in Kate and Toby realizing the amazing coincidence in the dog's name. Even better would be an eventual scene of Baby Jack and Audio interacting with one another.
Considering Bean is reportedly very docile, having the young actor playing Baby Jack playing with Audio would be a true highlight moment. Of course, the emotional arc this would create is what we all expect from This Is Us.
Imagining Kate/Toby watching Baby Jack playing with Audio and the two bonding on a special level is already a tearjerker without any real visuals necessary. Fans are probably waiting for a scene like this before Season Four ends.