'This Is Us': Jack and Rebecca's Last Words Were 'Real' for Milo Ventimiglia and Mandy Moore
Jack and Rebecca's relationship was a highlight of This Is Us for multiple reasons. However, the real-life friendship and partnership between their two portrayers — Milo Ventimiglia and Mandy Moore — was definitely one of them. The two actors brought so much to their characters, and their chemistry was undeniable. And in the This Is Us series finale, Ventimiglia and Moore admitted that their final scene felt natural to them as they said goodbye to their characters.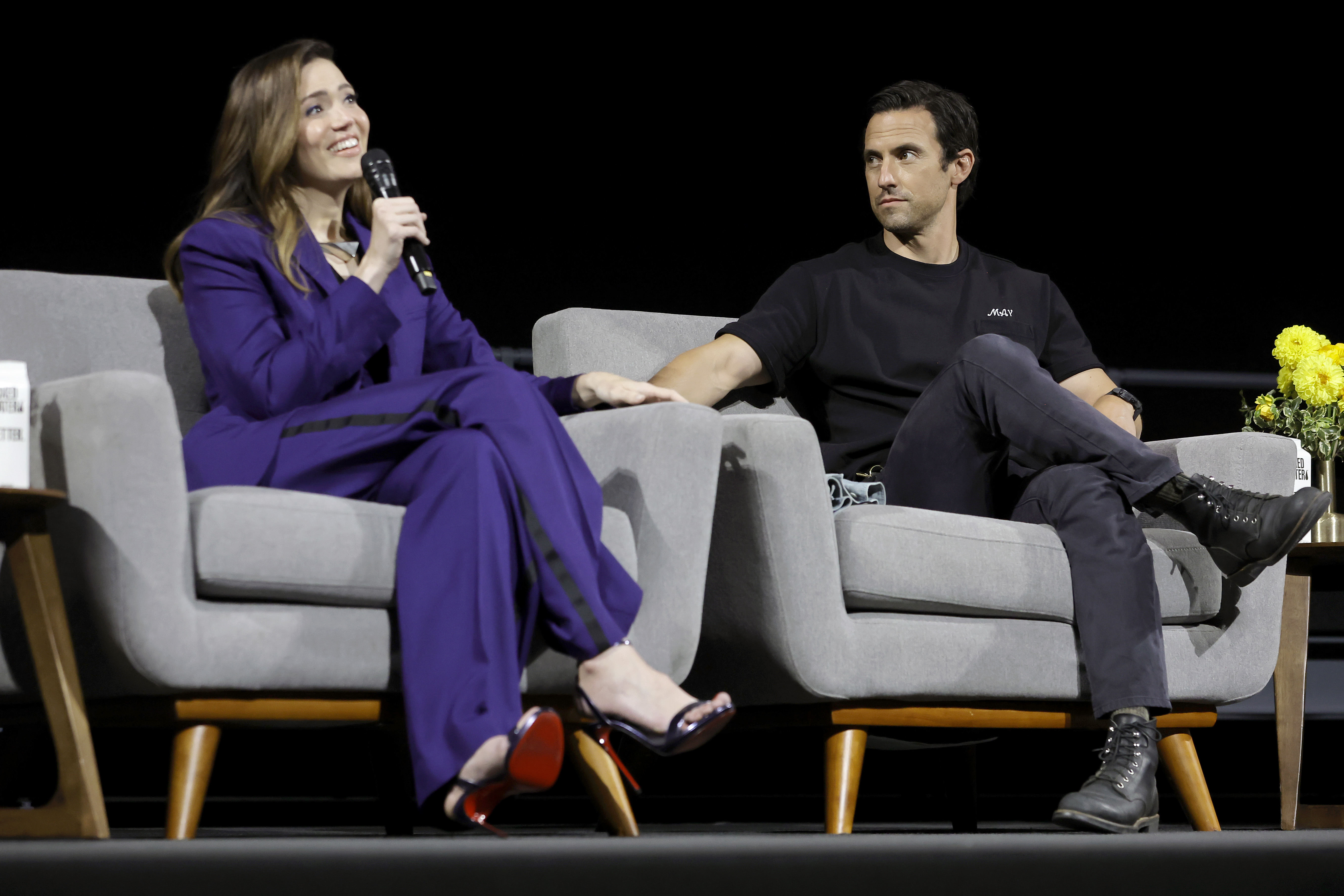 Jack and Rebecca reunited in the afterlife in 'This Is Us'
Following Rebecca's death in This Is Us Season 6 Episode 17, the Pearson matriarch reunited with her first husband, Jack. Once she entered the train's caboose, she laid on the bed, turned her head, and saw Jack staring right back at her.
The audience saw more of their reunion in the finale when Rebecca relayed to her husband that she was scared of leaving their children. Jack comforted her by informing her that she would never truly leave Kevin, Kate, and Randall. The two lovebirds then reflected on how wonderful it was that they found each other in that bar.
To close out This Is Us, Jack and Rebecca, together after so many years apart, said "I love you" to one another. And there wasn't a dry eye in the house.
The final Jack and Rebecca scene reflected Milo Ventimiglia and Mandy Moore's relationship
While speaking with Entertainment Weekly, Milo Ventimiglia and Mandy Moore discussed Jack and Rebecca's This Is Us caboose scene and what it meant to them.
"It was the most important last bit of this show that I was part of shooting, and I was happy that we got to be by each other's side for it," Moore shared. "It was very emotional. I have such a deep relationship with Milo, and we have such a deep sense of trust in one another that it really echoed what our characters were saying."
She continued, "I remember being so daunted by the script, like, 'How am I going to get through this? I've read it four or five times! And every time, I'm just like an emotional mess!' But in the end, it was like, 'Oh!' I just locked eyes with Milo and was like, 'I can do this. I've got him by my side. No problem.'"
Ventimiglia added, "I knew the words front and back. I didn't have to think about anything, I didn't have to do anything … I just was there, looking her in the eye, just saying the words. And also, knowing the context of the scene and what Mandy and I have managed to build for this couple for so many years, there's no acting. That's literally just pure existing. At the end of it, saying, 'I love you' is like … it's just real."
The caboose scene between Jack and Rebecca in the This Is Us series finale was emotional for everyone involved. However, for Ventimiglia and Moore, it was a reflection of their partnership, so their "I love you's" were real.
The actors react to the caboose scene
During their interview with Entertainment Weekly, Milo Ventimiglia and Mandy Moore praised Jack and Rebecca's final This Is Us scene.
"I loved that sense of comfort," Moore explained. "That no one could have gotten Rebecca through that moment but Jack. And the fact that in the end, as she's crossing that threshold and transitioning, he's there to hold her hand and to walk her through it, as an expert in a way. The idea of, 'Don't worry, I've been here for however many decades now living this, and you can trust me in this. I know it seems strange that we're saying goodbye, and you are in one way, but you're also never gone.'"
The actor continued, "I think for all of us who are fearful of the unknown, it's just such a beautiful note to end on, like, 'Oh wow. I really hope that that's the case.' And I believe it is to some degree — that energy never really dissipates, and we carry around those people. And maybe they're there. Maybe they're not. I feel like it's such a fitting note to end on."
Ventimiglia said, "It falls in line with a spiritual quality that I like to hang onto — the idea that we're all connected, energetically. And we don't really leave our loved ones. I felt like in its simplicity, there was so much that was said, and there was so much that was given to the imagination without it being specific, but you know exactly what's to come. There was a confidence that I felt in it."
This Is Us is available to stream on Hulu and Peacock.