'This Is Us': Mandy Moore Deserves an Emmy, but Fans Don't Think She'll Win
Many fans and critics are calling for Mandy Moore to receive an Emmy for her work as Rebecca in 'This Is Us' Season 6, but her competition might be too strong.
This Is Us has come to an end after six seasons, and there's no doubt that the highly acclaimed NBC drama went out on a high note. And that's in large part thanks to Mandy Moore's performance as Rebecca Pearson in the final set of This Is Us episodes.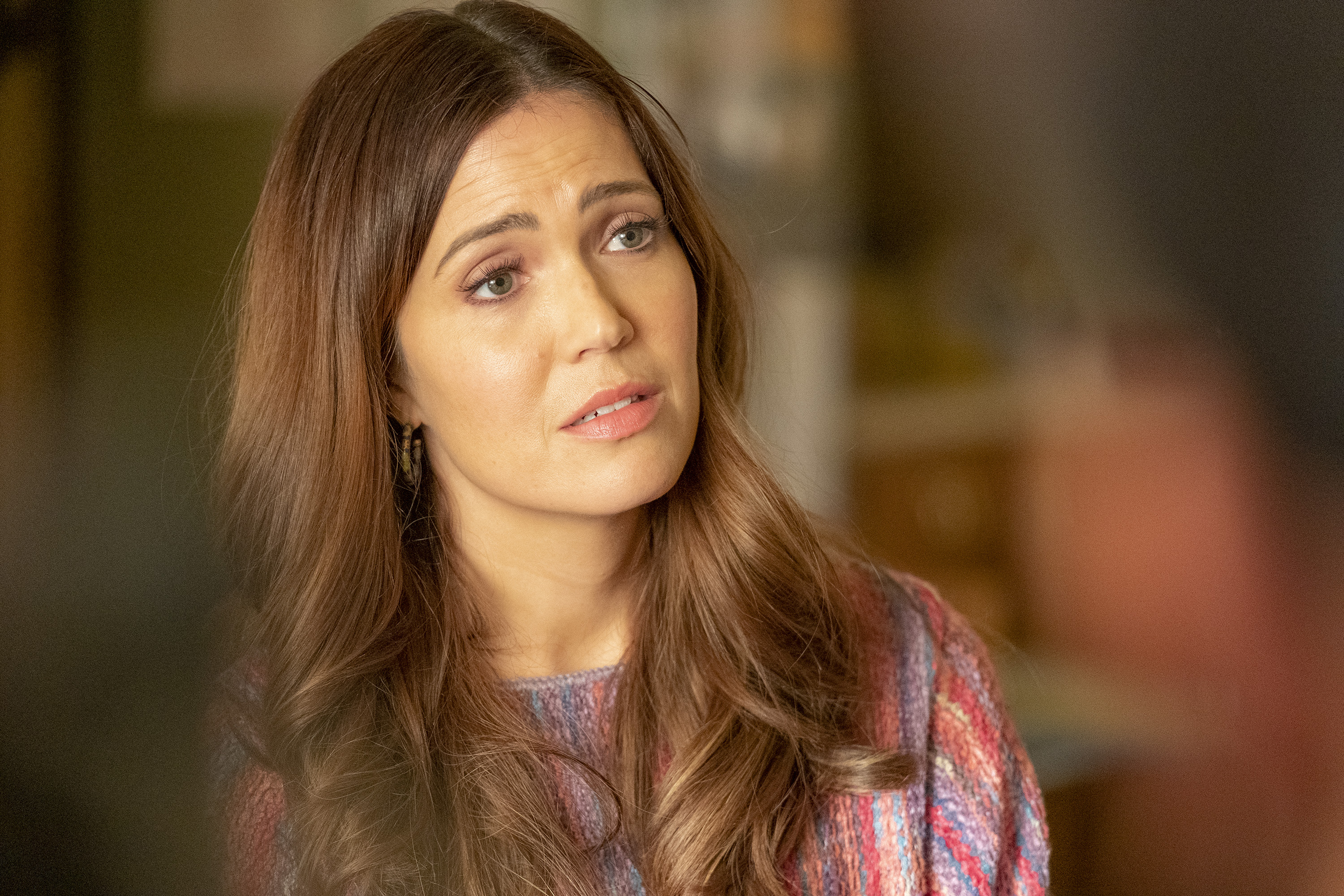 Mandy Moore is generating a lot of Emmy buzz for playing Rebecca in 'This Is Us' Season 6
This Is Us Season 6 primarily focused on Rebecca's Alzheimer's and her worsening health, and Mandy Moore was outstanding through all of it.
From pleading with her children to live their lives fearlessly regardless of her illness to Rebecca singing "The Forever Now" at Kate and Phillip's wedding, Moore was excellent. Plus, no one could forget the actor's work in the penultimate hour, "The Train." As a result, many critics and fans have singed Moore's praises for her performance in the final season.
Multiple media outlets are publishing think pieces explaining why Moore should be nominated for an Emmy for season 6. Fans are begging the academy to recognize her work. And even the actor's castmates have added their two cents.
During an Instagram Live, This Is Us star Sterling K. Brown said, "Anyone who votes in the [TV] Academy … Mandy Moore is killing the game, son. She is killing the game. And she deserves to be recognized."
Why Mandy Moore deserves to win an Emmy for 'This Is Us'
Over here at Showbiz Cheat Sheet, we're inclined to agree with those who say Mandy Moore deserves an Emmy for This Is Us Season 6.
The actor has been wildly underrated throughout the show's run. She played Rebecca Pearson at various ages, including a young adult and a woman in her late '80s. And yet, Moore has only received one Emmy nomination for her performance as the Pearson family matriarch. The nomination came in 2019, but she lost to Jodie Comer for Killing Eve.
While she has always been magnificent as Rebecca, This Is Us Season 6 was Moore's time to shine. And she blew almost everyone out of the water episode after episode with her range. The final season featured Rebecca slowly losing her memory, but it also frequently flashed back to the '80s when she was still full of youth. Moore seamlessly flipped back and forth between two very separate times in Rebecca's life, and we all watched in astonishment.
While many will reference Rebecca's speech during the Thanksgiving episode as Moore's memorable moment, her work in the penultimate hour is what drives home the case for why she deserves an Emmy.
Rebecca was teetering on the edge of death throughout This Is Us Season 6 Episode 17. While her family gathered to say goodbye to her in the real world, her consciousness manifested itself on a train. And Moore was utterly captivating throughout Rebecca's tribute episode. She perfectly balanced the happy with the sad as she reflected on her life and her utter devastation of leaving her children.
"The Train" was a profound masterclass by Mandy Moore. But overall, the academy would be fools not to recognize the actor's work throughout the entire final season of This Is Us.
Fans believe the actor's competition is too good this year
Although we, and many others, think that Mandy Moore should receive an Emmy for her performance as Rebecca in This Is Us Season 6, some fans believe she won't win.
One Reddit user wrote, "Though she 100% deserves [an Emmy], it's so not in her favor. Laura Linney is like exactly who the academy wants to win … I love her too, so [I don't care], but still. It's not in Mandy's favor at all!"
Many believe that Laura Linney will get an Emmy nod for her work in the final season of Ozark. Plus, Zendaya's outstanding performance in Euphoria Season 2 will undoubtedly give Moore a run for her money.
Another fan pointed out, "Her odds of winning are not good. 2015 was the last time an actress on a network show won in that category."
Unfortunately, we won't know if the Emmys will nominate Mandy Moore for This Is Us until July 12. And if she is in the running, fans will have to wait until the Emmys air on Sept. 12 on NBC to see if she wins. Hopefully, the odds are in Moore's favor this year.
For more on the entertainment world and exclusive interviews, subscribe to Showbiz Cheat Sheet's YouTube channel.