'This Is Us' Season 6 Episode 10 Preview: Randall Is 'Disappointed' in Rebecca's Decision
Grab the tissues and your drink of choice, This Is Us fans, because Randall and Rebecca are going on a mother-son road trip in season 6 episode 10. Next Tuesday's episode of the NBC drama will conclude the final Big Three trilogy of the series, and it's all about Randall. Following his mother's speech in episode 7, Randall will begin to navigate his next steps regarding his future.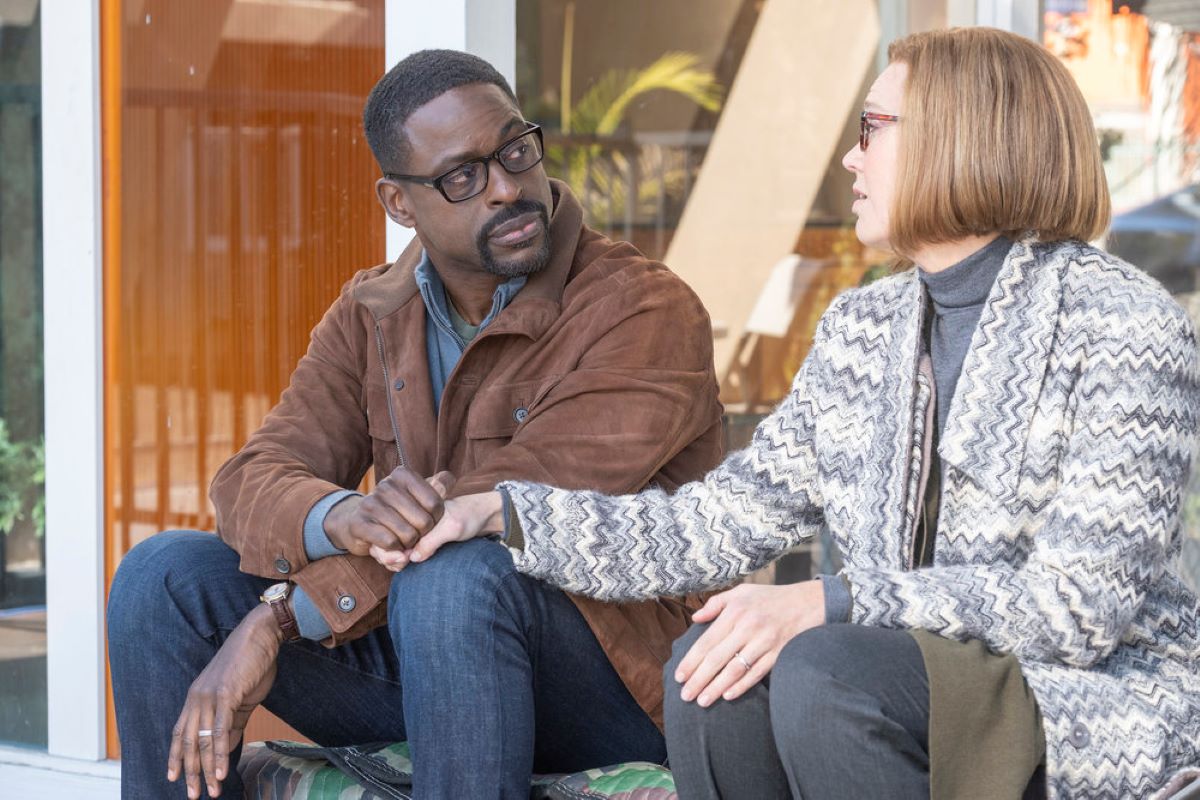 Randall and Rebecca go on a trip in 'This Is Us' Season 6 Episode 10
As was the case with Kevin and Kate's hours of the Big Three trilogy, Rebecca's emotional plea to her kids will force Randall to decide his future.
The Pearson matriarch wanted her children to live their lives to the fullest even though their mother was sick. As a result, Kevin decided to start the Big Three Homes construction company with Nicky and Cassidy and employ veterans. And although Toby was adamant that he, Kate, and their kids move to San Francisco, Kate called Phillip and asked to be considered for a new position at the school. Now it's Randall's turn to make a big movie.
In the trailer for This Is Us Season 6 Episode 10, Randall spends some much-needed mother-son time with Rebecca. They go on a road trip, and he confides to her, "I just don't want to make any major life decisions with so much uncertainty in the family."
As the audience knows from the flash-forward scene in the season 5 finale, Randall becomes a "rising star" in the world of politics. And in episode 7, Randall's chief of staff, Jae-Won, called to inform Randall that a senator wanted to get in touch with him. Randall's big move will likely involve furthering his career in politics.
Randall will also confront Rebecca about her decision to choose Kate over him regarding managing her end-of-life care. The news shocked him, and he will want answers in This Is Us Season 6 Episode 10.
Randall deals with the fallout from his advice to Malik
Randall will have a lot on his plate in This Is Us Season 6 Episode 10. Not only will he have to decide his political future and come to terms with Rebecca choosing Kate, but Randall will also face the consequences of telling Malik to stay away from Deja.
Somehow, Deja will find out about the betrayal while at the cabin. And as seen in the upcoming episode's preview, she confronts her father. Deja tells him, "You told him to stay away from me? I literally hate you."
Elsewhere in the trailer, Rebecca tearfully says to Randall, "When your dad died, any time I needed you, you were there." The video then flashes back to Randall as a young adult with Kevin and Kate. He tells them, "I've been trying to carry this family. I don't know if I'm doing it well."
Hopefully, Randall will make things right with Deja and come to an understanding with his mother in This Is Us Season 6 Episode 10.
'This Is Us' cast and crew tease episode 10
The synopsis for This Is Us Season 6 Episode 10 reads, "Randall and Rebecca embark on a road trip and reflect on their past." The episode is titled "Every Version of You," and Justin Hartley directed the hour, and Kay Oyegun wrote it.
During an interview with Entertainment Weekly, This Is Us co-producer Laura Kenar said, "In Randall's trilogy episode, it's a really beautiful Rebecca-Randall story … [It] pretty much starts with that conversation that Randall will have with Beth after this talk [with Rebecca]. Randall, first and foremost, is just disappointed. It's more just trying to figure out why she made that decision."
And Justin Hartley further teased the Randall-centric hour while speaking with Entertainment Weekly.
"Randall is on this journey with his mother, and he's always been the one that took care of her," Hartley shared. "She's explained to him that it's his time to take care of himself now. There are maybe greater things that he can affect more people than just one. And he might be able to do some things that can affect an entire nation or a world. And he certainly can't do those things if he's hindered by the things that he's allowed to hinder him in the past. It's a really moving episode."
This Is Us Season 6 Episode 10, "Every Version of You," airs Tuesday, March 29, at 9 p.m. ET on NBC.
RELATED: 'This Is Us'' Season 6 Episode 8 Recap: Kevin Reunites With Cassidy in 'The Guitar Man'