'This Is Us' Season 6 Episode 16 Recap: The Big Three Make a Difficult Decision About Rebecca's Future in 'Family Meeting'
The Big Three disagreed about how they should care for their mother in 'This Is Us' Season 6 Episode 16, and we have a recap on everything that happened in the emotional hour.
Just three episodes of This Is Us remain, and, of course, that means that the third to last hour had to feature a Big Three-centric story. Following Miguel's death, Kevin, Kate, and Randall decided to come together to figure out the next steps for Rebecca in This Is Us Season 6 Episode 16. But they had conflicting ideas about what was best for their mother. Read on to recap all of the tear-filled moments from "Family Meeting."
[Spoiler alert: This article contains spoilers from This Is Us Season 6 Episode 16, "Family Meeting."]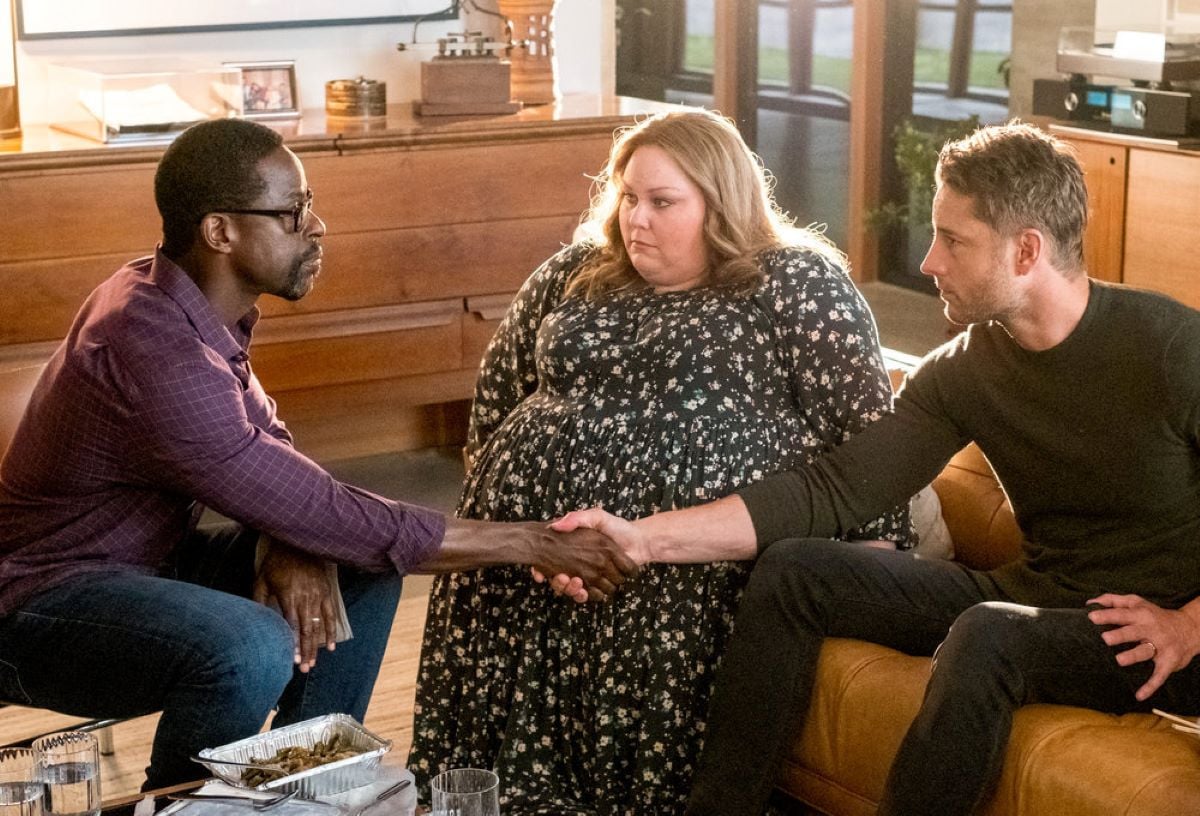 Rebecca takes care of her kids in 'This Is Us' Season 6 Episode 16
While the Big Three try to decide on Rebecca's care in the present, This Is Us Season 6 Episode 16 flashed back to multiple moments when Rebecca took care of her children.
The hour begins with Kevin, Kate, and Randall waking Rebecca up early during different periods of their lives. Baby Kevin starts crying in his crib, six-year-old Kate goes to Rebecca's bedside when she has a nightmare about gremlins, and teen Randall wakes his mother up when he needs her to sign a permission slip.
A month after Jack's death, Rebecca picks her kids up from a party that got too wild. At home, she has a one-on-one with Randall to understand what happened. He said that Kevin took them to the party and got Kate drunk. Then Randall got in a fight with a guy who wanted to take advantage of Kate. Rebecca talks to Kate, who tells her mother that two successful kids out of three is a win. Then, Rebecca berates Kevin for bringing Kate and Randall to the party.
When the Big Three are six, Kevin loses a tooth. He tells Jack and Rebecca that he wants to catch the tooth fairy that night. However, Randall expresses to his mother that he doesn't like the tooth fairy. So Rebecca tells him that she isn't real, but he can't spoil the secret for his siblings. And later, Kate speaks to Rebecca about how she feels like she's always behind her brothers, especially because she hasn't lost any teeth. But her mother comforts her.
And in another flashback in This Is Us Season 6 Episode 16, Rebecca falls asleep with baby Kate in her lap. When she wakes up, Kate is on the floor, seemingly having fallen off the bed. Rebecca calls the emergency clinic and Dr. K for reassurance that Kate is OK. She spends the night by her daughter's side, and in the morning, Kate proves to be alright after her fall.
Randall calls a family meeting
One week after Miguel's death in This Is Us Season 6 Episode 16, Rebecca wakes up calling for her late husband. Her nurse Layla, Kevin, Kate, and Randall come to her bedside. Kate is the one who gets her back to sleep, though. It appears as though the whole family has been in Pennsylvania since Miguel's death.
In the morning, Nicky and Edie take Madison, Elijah, and their kids around the town. Back at Rebecca's house, Randall calls for a family meeting to figure out a plan for Rebecca. He doesn't believe that she should stay in the house Kevin built because she needs family. Kevin promises to visit her every other week, but Randall claims that isn't enough.
Beth, Sophie, and Phillip retreat to the cabin to avoid their spouses' drama. Beth and Sophie hilariously imitate their husbands as they speculate about what Randall and Kevin are fighting about, while Phillip has faith in Kate.
Randall makes a case for having Rebecca live with him. However, Kevin doesn't think that's what's best for their mother because of Randall's hectic schedule as a senator. And he says that building the house for Rebecca was the one good thing he did. Kevin desperately wants to honor his mother's wishes that she made years ago before her illness worsened.
Randall claims that he can adjust his schedule to spend more time with Rebecca. But Kevin brings up how their mother didn't want them to make their lives smaller because of her Alzheimer's. The Big Three then take a break during their family meeting when Rebecca gets up, and Kate joins her on a walk.
After Kate returns, she calls Toby for advice in This Is Us Season 6 Episode 16. He reminds her that she has her masters in education, is currently designing an art curriculum for California, and is a wonderful mother. However, when Kate is around Kevin and Randall, she becomes an "unsteady version of herself." Toby reassures his ex-wife that Rebecca chose her for a reason. And then he jokes, "Should we get back together?" Katoby forever.
The Big Three pay Rebecca back in 'This Is Us' Season 6 Episode 16
Randall finds Beth trying to steal some Chinese food from the house, and he corners her for a talk. Randall believes that he is the one who should be in charge of Rebecca's care because "Kate is overwhelmed" and "Kevin says he'll come visit every couple of weeks, but who knows if that's true?" Beth points out to her husband that he underestimates his siblings, and he talks about them like they are past versions of themselves.
Kate gathers her brothers to continue their meeting. She says she will make the final decision regarding Rebecca's future, but first, Kevin and Randall have to "see" their mother. So Kate takes Kevin and Randall to Rebecca's room. She has Randall brush Rebecca's hair and Kevin rub lotion on her hands.
The next morning, the entire family gathers to eat breakfast and hear Kate's decision. Kate says that she and Phillip want Rebecca to come to Los Angeles to live with them or in a facility. But Kevin offers up another option.
He and Sophie have decided to move into Rebecca's house, and Madison, Elijah, and the kids will also move to the East Coast. Elijah has family in New Jersey, and Kevin was the only thing keeping them in LA. Plus, Nicky and Edie live in the cabin, so they will be close by if they ever need help. Kate and Randall agree with Kevin's plan, and the family meeting is officially adjourned. Then Kate remarks that "Maybe this was the reason all along … That there are three of us."
The final moments of This Is Us Season 6 Episode 16 show a montage of moments of Rebecca taking care of the Big Three as kids and Kevin, Kate, and Randall now caring for their mother in her old age. The Cinematic Orchestra's "To Build a Home" plays during the flashes, the same song heard in season 2 when the Pearsons' house burnt to the ground and in season 4 when the drawing of Jack's dream house for Rebecca came to life.
And in the final scene of the hour, the show catches up to the infamous flash-forward. Kevin, older and gray, tucks Rebecca into bed and calls Randall. He tells his brother, "You and the girls and Beth should get here as soon as you can. They're saying it won't be long now."
Per IMDb, This Is Us Season 6 Episode 17, "The Train," airs Tuesday, May 17, at 9 p.m. ET on NBC.