'This Is Us' Season 6 Episode 17 Preview: The Pearsons Say Goodbye to Rebecca in a Cameo-Filled Hour
The penultimate hour is going to be rough, This Is Us fans. Not only is it the second to last episode of the series, but it also features many heartbreaking goodbyes as Rebecca lays on her deathbed. Thankfully, we have everything you need to prepare for the devastation and pain in This Is Us Season 6 Episode 17, "The Train."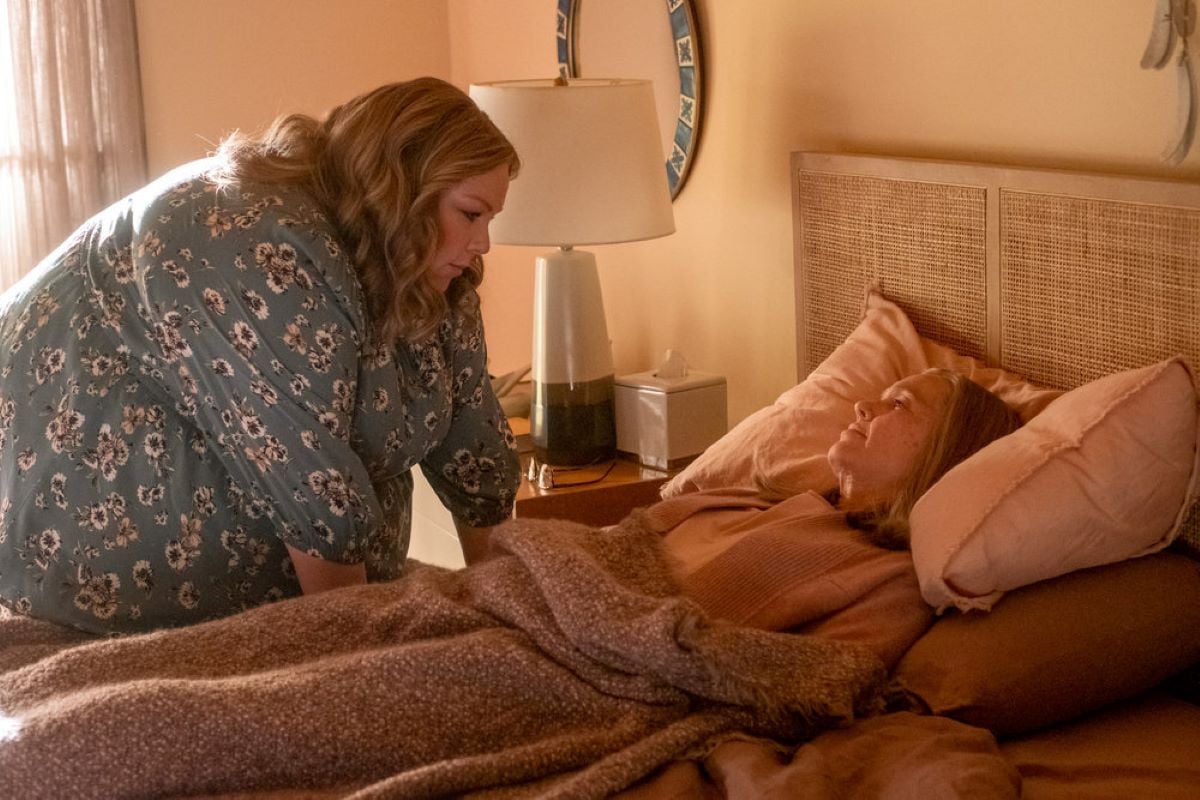 'This Is Us' Season 6 Episode 17 reveals what happens the night of the infamous flash-forward
As fans know from the end of This Is Us Season 6 Episode 16, the series has now caught up to the night of the mysterious flash-forward. This Is Us has been teasing this Pearson family gathering in 2032 since season 2. And now it's finally time for fans to understand exactly what happens that night.
Kevin called Randall at the end of the previous episode to inform his brother of their mother's condition. He said, "You and the girls and Beth should get here as soon as you can. They're saying it won't be long now." So we now know that the Pearsons are arriving at Kevin's house in the future to say their goodbyes to Rebecca.
In the preview for the upcoming hour, Rebecca's nurse Layla tells Kevin and Randall, "Things are happening quickly now. I don't see her making it through the night. I think it's time to start saying goodbyes."
The promo shows almost the entire Pearson family in Kevin's living room. Kevin, Randall, Beth, Deja, Tess, Annie, Nicky, Edie, Sophie, Toby, Phillip, Madison, Jack, Hailey, Nick, and Franny are all there to say goodbye to the Pearson matriarch. And although we don't see Kate in the preview, there's no doubt that she's there.
The This Is Us Season 6 Episode 17 trailer also shows a part of Beth's goodbye to Rebecca. She tells her mother-in-law, "So much of being a mom, you imitate what we think a mom should be. All these years, I was doing my best impression of you." Randall later tells his wife, "I don't know what I want to say to her. But I want to get it right." Beth reassures him, "You will. You always do." Cue the tears.
The cast reacts to the penultimate hour
The This Is Us Season 6 Episode 17 preview only teases a bit of the emotion that's sure to come during the hour. According to the This Is Us cast, "The Train" is a doozy.
Chrissy Metz told People, "I think it is one of the most beautiful episodes of any television show anybody will ever watch, especially culminating six years of this beautiful journey. I'm getting emotional talking about it."
She continued, "The way that [creator] Dan [Fogelman] has orchestrated what is going to take place is so cool and so beautiful and so fulfilling, but also so progressive. It's very special. I remember reading it, and Bradley, my boyfriend, was like, 'Are you OK? Can you breathe?' And I'm like, 'Not really.' So without giving too much away, I just think it's absolutely exceptional."
And Metz isn't the only one who was extremely affected by reading the This Is Us Season 6 Episode 17 script. During the 2022 PaleyFest [via NBC Insider], Fogelman revealed, "The second to last script, I sent it to the cast, and it made Mandy [Moore] throw up."
Moore added, "It was so beautiful and upsetting that that was my physical reaction."
Producers tease multiple exciting cameos in 'This Is Us' Season 6 Episode 17
Following the premiere of This Is Us Season 6 Episode 16, co-showrunners and executive producers Isaac Aptaker and Elizabeth Berger sat down with Entertainment Weekly to discuss the show's end. And during the interview, they revealed that episode 17 is the end of the road for Rebecca.
"I don't think you summon your entire family from their big political jobs and their lives across the country unless you're pretty sure that that the end is very imminent," Aptaker explained. "So this is certainly everyone gathering to say their final goodbyes."
When asked to tease what's to come in "The Train," Aptaker said, "There's a train in it."
Thankfully, his co-showrunner further elaborated on what fans should expect in the penultimate hour. Berger teased, "There might be some really exciting cameos in it that people will find satisfying and exciting." And Aptaker added, "If they don't, they don't like the show."
This Is Us Season 6 Episode 17, "The Train," written by Dan Fogelman, airs Tuesday, May 17, at 9 p.m. ET on NBC.
RELATED: 'This Is Us': Will Ron Cephas Jones as William Return? 1 Actor Gives New Clues