'This Is Us' Season 6 Episode 17 Recap: Rebecca's 'Big, Messy, Gigantic, Spectacular' Life Ends in 'The Train'
The penultimate hour of This Is Us was a doozy, to say the least. Both Mandy Moore and Chrissy Metz warned viewers that the episode was tough to get through, and they weren't lying. The Pearson family arrived at Kevin's house in This Is Us Season 6 Episode 17 to gather the courage to say goodbye to Rebecca. Buckle in and read on for a recap of every emotional and heart-wrenching moment.
[Spoiler alert: This article contains spoilers from This Is Us Season 6 Episode 17, "The Train."]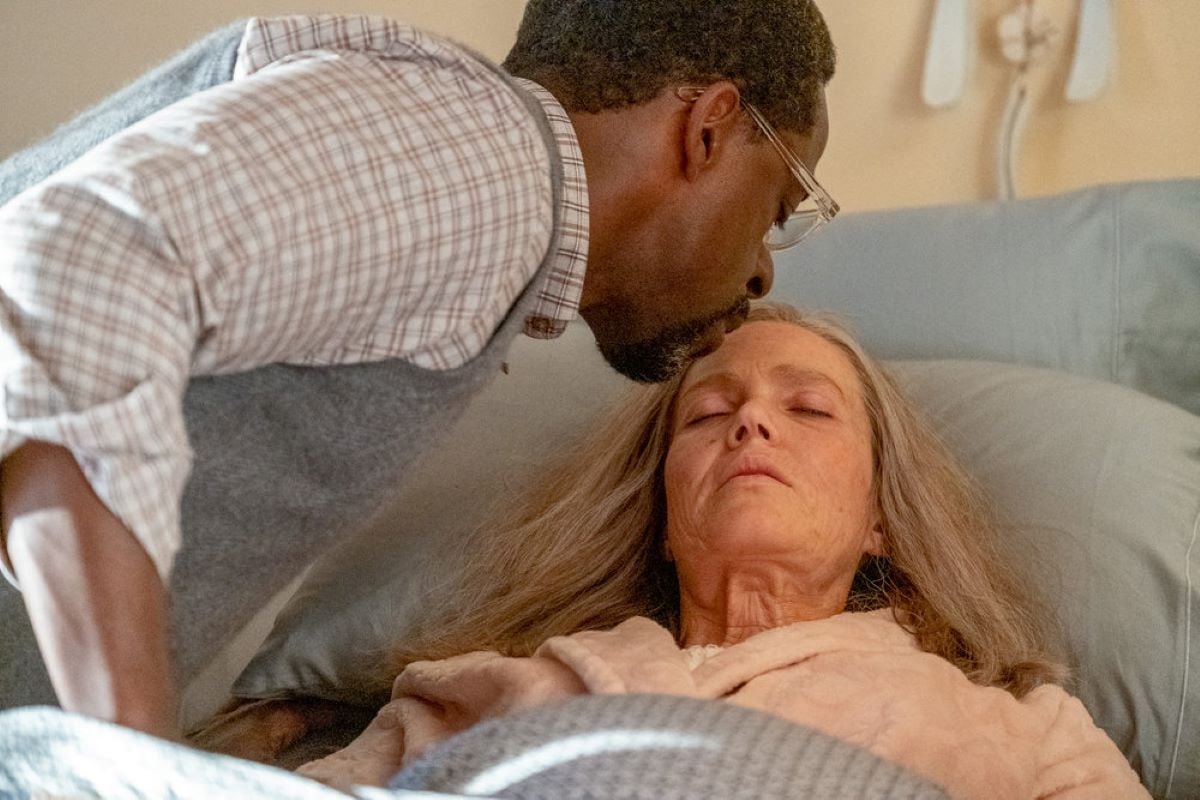 Rebecca finds herself on a train in 'This Is Us' Season 6 Episode 17
This Is Us Season 6 Episode 17 begins with Rebecca in bad condition. The hour picks up from where episode 16 ended, and she is unconscious. But thanks to the magic of television, viewers see what's happening inside Rebecca's mind, which manifests itself on a train. And the first person she encounters is William. Rebecca tells him that she's waiting for someone (it's not who you're thinking) and that her father always wanted to drink vespers with her on a train.
William sits next to Rebecca, and he recites "Luzon" by Dudley Randall, which is where she got the inspiration for Randall's name. The poem reads, "Splendid against the night / The searchlights, the tracers' arcs, / And the red flare of bombs / Filling the eye, And the brain."
The two later make their way to the bar car, seeing Dr. K mixing drinks. The back of the bar displays mementos from the Pearson family's past, and a Steelers game plays on a TV. Dr. K offers to pour Rebecca a glass of limoncello, but that's "too on the nose." So he makes her a vesper as she watches Kevin and Randall as kids, teens, and adults interact on the train. But Kate's missing.
Dr. K admits to Rebecca that he thought she would die during childbirth. And he tells her, "You survived just to lose a child and then a husband. And still, what a thing you made of it all. What a big, messy, gigantic, spectacular thing. I said it to you once, I'll say it again. You're as tough as they come, Rebecca Pearson. And you, my dear, have earned a rest."
Before she leaves with William, Rebecca thanks Dr. K for being her doctor in This Is Us Season 6 Episode 17. Next, Rebecca sees Miguel. He says, "You know, I still can't get over it after all of these years. It's still you — my favorite person." Rebecca and William make it to the caboose, but she tells him, "No. I told you I'm waiting for someone."
The Pearsons say goodbye to Rebecca
The Pearsons, minus Kate, who was in London on business regarding her arts curriculum, gather at Kevin's house in This Is Us Season 6 Episode 17. Rebecca's nurse Layla says she might have a few days left or even a week. And while they wait, Deja informs Randall that she's pregnant. Randall, who is "effortlessly cool," cries and hugs his daughter. Later, Beth reveals that she knew Deja was pregnant even though she didn't tell her.
Layla informs Kevin and Randall that Rebecca's blood pressure is dropping, and she doesn't believe she will make it through the night. And the Pearsons begin saying their goodbyes.
Beth is first up, and if viewers weren't crying before, they definitely are now. Guided by William, Rebecca finds Beth on the train. And Beth's farewell to her mother-in-law is heard over the speakers. Beth tells her that she did her best to emulate Rebecca's parenting over the years and that she will take care of Randall from here on out. Beth says, "Thank you for helping me with that complicated, incredible, beautiful boy that you raised. But I got him now."
Kate boards a flight that will arrive in the States the following day, but Kevin and Randall inform her that she might not make it in time to say goodbye.
The family reminisces on Rebecca's love for Joni Mitchell. Her song "The Circle Game" plays as Sophie, Toby, and Annie say their goodbyes to Rebecca and the family celebrates Rebecca's life. And once the family leaves, Kevin and Randall go to their mother's room. They discuss various moments in their life, including Pilgrim Rick, Jack doing pushups with Randall on his back, Rebecca taking Kevin to get John Smiley's baseball card, and Kevin's painting.
Deja texts the father of her baby that she's pregnant, and he surprises her while she's sleeping. It's Malik, and he proposes to her in This Is Us Season 6 Episode 17.
The Big Three's final words to their mother
Rebecca makes it through the night, and the following day in This Is Us Season 6 Episode 17, Kate finally arrives. She was the one who Rebecca was waiting for. Kate tells her mother, "Hey, Mom. It's me, Bug. I'm here. I love you, mom. I love you so much." Then, Rebecca finally enters the caboose.
Randall says, "I wanted to say the perfect thing to you, Mom. But I'm not sure what that is. I don't even know if you can hear me, but I love you, Mom. We're good now. You made us good. So thanks for all the meals. Thank you for always making us feel loved. Thank you for that one time you beat down David Adams for hitting me in the head with a baseball bat." Kevin adds, "I love you, Mom." And Randall's final words to his mother are, "You tell him, 'Hey.'"
On the train, Rebecca turns to William and expresses how sad the end is. But William gives her some imparting words of comfort. He shares, "The way I see it, if something makes you sad when it ends, it must've been pretty wonderful when it was happening." William urges her to look at the whole picture to see that the end isn't sad. It's "the start of the next incredibly beautiful thing." And he compares it to Kevin's painting.
William leaves Rebecca, and she sits down on the bed in the caboose in This Is Us Season 6 Episode 17. And when she lays down, she sees Jack lying next to her and smiling. They finally reunite and tell each other, "Hey." And there wasn't a dry eye in the house.
'This Is Us' Season 6 Episode 17 brings the entire series full circle
This Is Us Season 6 Episode 17 begins on an ominous note. An unknown family consisting of a father, mother, two sons, and a daughter are driving when one of the sons unbuckles his seatbelt to get something from the back of the car. Another vehicle swerves into their lane, and the family's car flips.
They arrive at the hospital, where the unbuckled son, Marcus Brooks, enters surgery for his injured leg. In the waiting room, the father goes to get them coffee, where he runs into Jack Pearson. Surprise! This car crash happened on the night of the house fire in 1998.
Jack is waiting to get checked out by the doctor when he encounters Marcus' dad. To give him some hope, Jack imparts Dr. K's wisdom about turning lemons into lemonade. That quote becomes their family's motto, and Jack leaves his imprint on them forever when Marcus survives. The same doctor who was treating Jack was Marcus' doctor. While he was tending to Marcus, Jack died.
Years later, Marcus is a scientific researcher who wants to aid in the fight against cancer. When his drug trials fail, he develops drugs that target Alzheimer's disease. And just like that, everything comes full circle in This Is Us Season 6 Episode 17.
Per IMDb, This Is Us Season 6 Episode 18, "Us," airs Tuesday, May 24, at 9 p.m. ET on NBC.
RELATED: 'This Is Us': Mandy Moore Says Rebecca Sets the 'Gold Standard' for the Mother She Wants to Be