'This Is Us' Season 6 Episode 18 Recap: The Series Ends With a Funeral and a Lazy Saturday in 'Us'
'This Is Us' Season 6 Episode 18 served as a simple, perfect end to the Pearsons' complicated story, and we have a recap of all of the full circle, emotional moments in the series finale.
No one ever said the end was easy, but This Is Us made their series finale as simple as possible while still bringing the tears. This is This Is Us, after all. This Is Us Season 6 Episode 18 brought the entire series full circle. And we're hopeful that the ending will leave many fans satisfied. However, the Pearsons' story is finally complete. So read on for every detail of Jack, Rebecca, Kevin, Kate, and Randall's final moments in the series.
[Spoiler alert: This article contains spoilers from This Is Us Season 6 Episode 18, "Us."]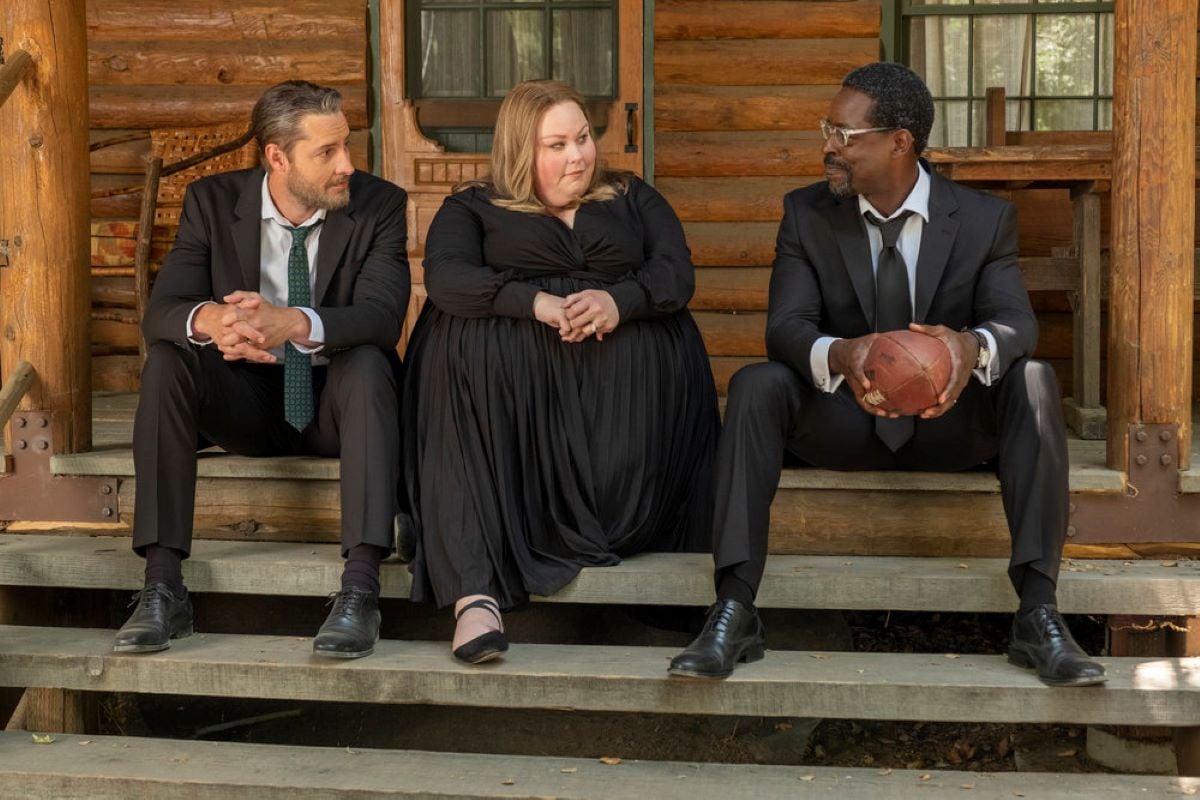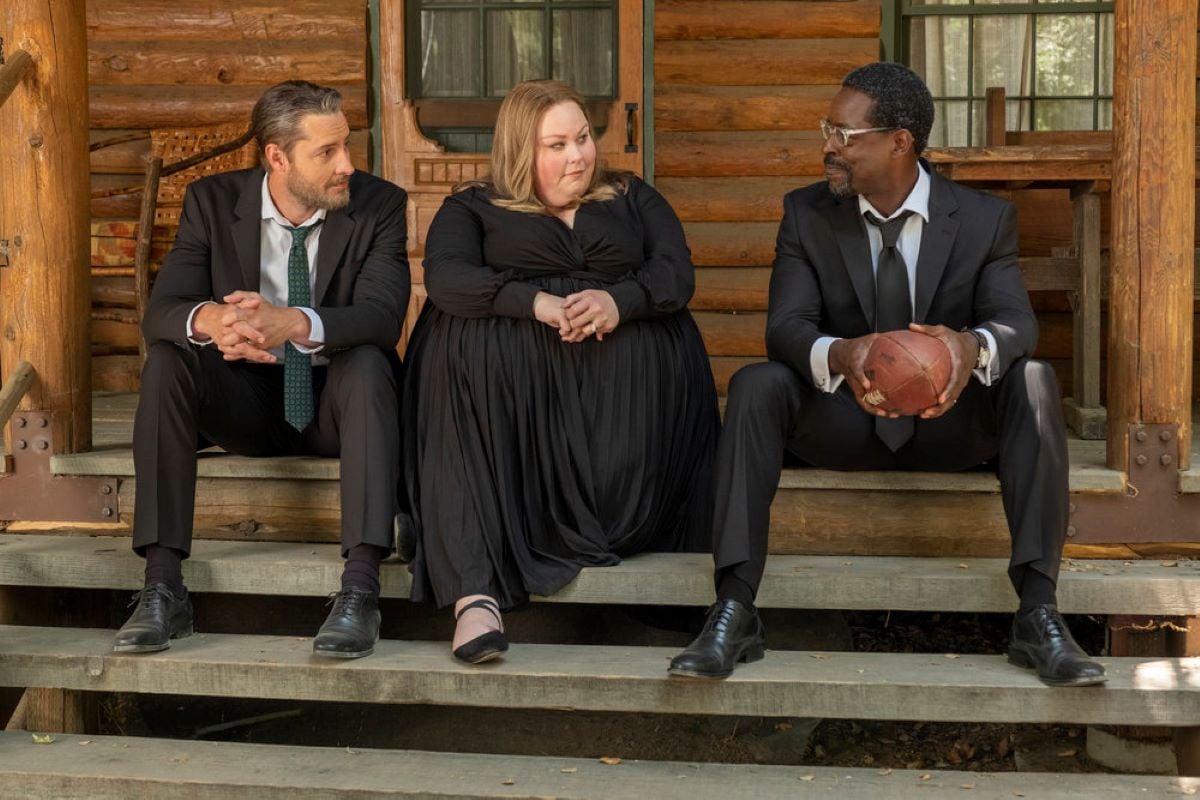 'This Is Us' Season 6 Episode 18 flashes back to an ordinary Saturday with the Pearsons
This Is Us Season 6 Episode 18 begins with a flashback to a Saturday in the '90s. And this is where the scenes filmed years ago come in to play. Randall's mathlete competition is canceled, so Jack, Rebecca, and the Big Three have the entire day free. It's an ordinary day. But as fans know, almost everything that the Pearsons do is extraordinary. They try their best to revel in the small moments as much as the big moments, and that's what the series finale is all about.
The lazy Saturday begins with Jack noticing a small scar under Rebecca's eyebrow while lying in bed. She tells him that she got it while her dad pushed her on a swing as a little girl. Rebecca turned her head one time, and her dad's watch hit her eye. The episode then shows flashes of many generations of the Pearson family on swings, including the Big Three, Tess and Annie, Nick and Franny, Jack and Hailey, and Hope.
At breakfast, Jack and Rebecca tell Kevin, Kate, and Randall that they can do whatever they want that day. Kate is the only one who seems enthused about the idea, though. She and Rebecca draw with chalk on the sidewalk and a court for four square. Afterward, the family watches a video where Kevin, Kate, and Randall first did their Big Three chant as toddlers. Unfortunately, Kevin and Randall continue to be in the dumps.
Rebecca finds Kevin in his room, and he tells her that he's mad because he couldn't do a pull-up in gym. She tells him, "Not everything is gonna come easy to you. I think you're gonna have to work pretty hard to become the person I know you can become." Kevin informs her that she always knows the perfect thing to say.
Randall coincidently opens up to Jack about why he isn't doing mathletes. His teacher made him sit out because Randall pulled a kid's chair out from under him to shift the focus onto him when another kid was making fun of the hair on his face. So Jack teaches Randall and Kevin how to shave. During the moment, he tells them that Kate is eager to do all this "baby" stuff because she knows how to appreciate the little moments.
The family then plays pin the tail on the donkey, which they originally got when the children were babies because the picture on the box looks like the Big Three. Jack and Rebecca watch on, and Rebecca tells him that he's a "10" as a parent, and Jack says she's a "12."
Kate accurately pins the tail on the donkey in This Is Us Season 6 Episode 18. When Rebecca questions her, Kate states, "Before you put the blindfold on, I look to see where you guys all are. And you never shut up, so as long as I know where you are, I always know where I'm going."
The Big Three attend Rebecca's funeral
This Is Us Season 6 Episode 18 directly follows the penultimate hour, meaning the Pearsons have Rebecca's funeral to attend. And Kevin, Kate, and Randall all have speeches to prepare for the service.
Before the funeral, Randall and Beth play a round of "worse case scenario." Beth thinks that he might lose it during Rebecca's burial, and she comes up with numerous part-hilarious, part-depressing scenarios about what Randall might do. But he reassures his wife that he's "appropriately sad" on the day of his mother's funeral. Beth asks him if he's "made a decision about deep-fried Oreos." He responds, "Musing." This tease will come back around later in the hour.
While Kate watches all of the children play four square, Toby joins her and tells her three things that "will surely cross multiple ex-husband lines and protocols." He says that Rebecca was proud of Kate, he's proud of Kate, and he loves her. Toby wouldn't change one thing about their past.
Uncle Nicky later approaches Kevin before the service begins. He jokingly calls him "a dick" for making him care about people.
Kevin, Kate, and Randall give their eulogies at the funeral in This Is Us Season 6 Episode 18. Most of their words go unheard, but Kate sings "Time After Time" by Cyndi Lauper. And Randall later admits that he doesn't remember one word he said.
What does the future hold for the Pearsons following 'This Is Us' Season 6 Episode 18?
After the funeral, Randall tells his three girls that everything feels pointless following Rebecca's death in This Is Us Season 6 Episode 18.
The episode then flashes back to William telling Tess and Annie goodbye before leaving for Memphis. After, he tells Randall that being a grandparent is unusual. It's unconditional love, but children usually only remember fleeting moments from their grandparents. William wonders what Tess and Annie will remember about him, and Randall reassures him "a lot."
In the present day, Deja tells Randall that she's having a boy, and they're naming him William. She says, "Your grandson is going to be named after a man I've never met. But I know him because I know you. It's not pointless."
Kevin and Kate then join Randall on the cabin's porch steps. They discuss what happens next now that their parents are dead. Kate is going to open more schools for the visually impaired. Kevin is going to focus on the non-profit. And Randall plans to attend the Iowa State Fair and run for president.
Kate fears that the three of them are going to drift apart. Randall tells them that when he closes his eyes and thinks of his family, he thinks of the three of them and Jack and Rebecca. They then do the Big Three chant for the final time in the series, breaking hearts everywhere. And Kevin tells Kate that if she drifted, he and Randall would drift after her.
This Is Us Season 6 Episode 18 jumps to Jack and Rebecca's reunion on the caboose. After greeting one another, Jack caresses her face and tells her that he missed her scar. Rebecca confides to him that she's scared and that there is so much more she wants to do with their kids. But Jack comforts her by saying, "It's hard to explain, but you'll do all of those things with them."
Rebecca declares, "Quite a thing, isn't it? Us finding each other in that bar that night." Jack responds, "I don't know. When the world puts something that obvious right in front of you, you don't just walk away." He then asks her if she's ready, but Rebecca doesn't want to leave their kids. Jack tells her that she won't. And for the final words of the series, Jack and Rebecca express their love for one another.
This Is Us is available to stream on Hulu and Peacock.